Current projects
West Point Treatment Plant
Capital improvement projects at West Point Treatment Plant focus on protecting ratepayer investments through improving system reliability, protecting worker and public safety and the environment, and increasing efficiency.
Projects
West Point Treatment Plant seismic upgrade
Project description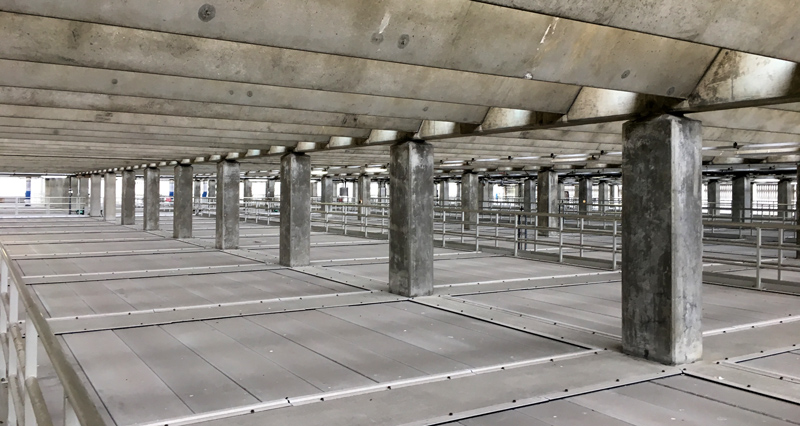 West Point Treatment Plant is undergoing upgrades to make the facility more resilient in the event of an earthquake. We are improving large enclosed sedimentation tanks that play a key role in the wastewater treatment process. A seismic evaluation performed in 2010 showed that the roof above the tanks did not meet minimum seismic safety standards.
In order to improve resilience of the facility, this project will include:
Removing a series of large, concrete beams above the tanks
Improving the odor control system
Increasing the wall thickness between the two tanks
Upgrading the walkways on the tank walls so staff can access the facility safely and efficiently
These tanks not only clean wastewater in order to protect public health but also allow King County to recycle valuable resources for the Puget Sound region. The sedimentation tanks are where about 60 percent of organic solids in the flows from our homes, schools and businesses are removed. Wastewater sits in sedimentation tanks for about six hours so that heavy materials sink and light materials float. These organic materials are then skimmed from the top and scraped off the bottoms of the tanks and further treated, recycled and used in products such as Loop, a nutrient-rich biosolids product sold to farms and forests as an alternative to chemical fertilizers.
Located in Discovery Park, West Point cleans wastewater from homes, schools and businesses in a large area that includes Seattle, Shoreline, north Lake Washington, north King County and south Snohomish County.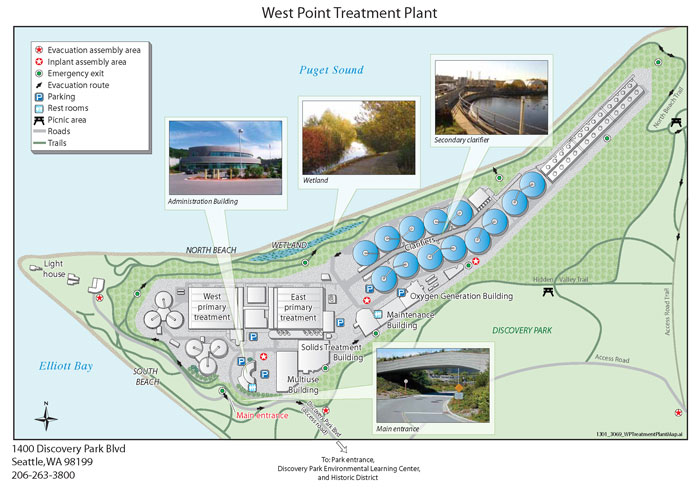 Upgrades for this project will focus on two twin sedimentation tanks (labeled above as West primary treatment and East primary treatment), where more than half of organic solid waste is clean out in the wastewater treatment process.
Project schedule
The project is currently in the design phase and expects to complete final design in early 2020. Construction is expected to begin in 2021 and take approximately two years.
What to expect
During the project, there will be increased vehicle traffic through Discovery Park to West Point Treatment Plant, mainly due to the removal of large concrete beams that are part of the existing roof structure. Community members may notice construction related traffic and noise but work activities will otherwise be inside the boundaries of the treatment plant. More information will be provided as the project design is finalized.
Project history
In 2017, King County began an alternatives analysis process to identify the best way to upgrade the sedimentation tanks to meet seismic standards. Several alternatives were studied and considered, including options to upgrade the existing framing or removing the roof altogether. Following alternatives analysis, the County determined the best approach was to remove the roof. Removing the roof reduced both the overall project cost and upgrades required for the facility. The sedimentation tank have been operating continuously since 1966. The project will also include an upgrade of the existing odor control system, which was installed in the late 1990s.
Community outreach
King County recognizes that Discovery Park is a popular spot for the local community as well as residents city-wide. We will provide ongoing updates on our website as the project progresses. For more information, contact Eunice Lee at elee@kingcounty.gov or 206-263-1614.
Water Reservoir Modifications Project
Protecting people and water sources
King County Wastewater Treatment Division (WTD) will carry out a project to upgrade the existing underground water facility that serves West Point Treatment Plant, South Beach, and the West Point Lighthouse. The water system carries both potable (drinkable) and non-potable water. Potable water is used at the treatment plant, in water fountains, and at the lighthouse. Non-potable water is used at the treatment plant for industrial processes. The potable water is separated from the non-potable water by a below-grade air gap in the potable water tank.
Project description
This project will protect public health in several ways. King County will upgrade the underground water facility to provide safe and efficient access for annual inspection, and meet current standards for protecting water sources.
The existing below-grade air gap keeps the water sources separate in the event of an overflow inside the underground structure. Overflows are very rare, but could cause mixing of the two water sources and damage to equipment. King County's contractors will install new above grade air gaps over each water tank.
The contractor will install an approximately 460-foot outfall pipe to address the potential for overflows. In the very rare event of an overflow, the pipe will carry flows away from the facility to a discharge site, protecting water sources and the facility.
How we will build this project
This work is expected to take about three to five months. The work area is located near the Loop Trail, just north of where the path forks and splits off at South Beach Trail. Equipment and vehicles will use the existing access for the site.
Construction will involve demolition of the concrete access hatches to the reservoirs, installing new interior pipes, and building a new roof and access hatch to protect the entryway from rain and debris. The outfall pipe will be installed in an excavated trench, which is then backfilled and replanted.
This project will affect some vegetation. The project team has coordinated with the City of Seattle Parks Department on a plan to restore plants with a palette that blends in to the natural environment and supports the park's wildlife.
The South Beach area that park visitors cherish today did not look like this long ago. The West Point Treatment Plant once took up far more space. When West Point Treatment Plant was upgraded in the 1990's, designers used improved treatment technologies to make the plant footprint smaller. This opened up space for people and wildlife on trails and natural areas around the treatment plant. King County's employees still maintain many of these features today.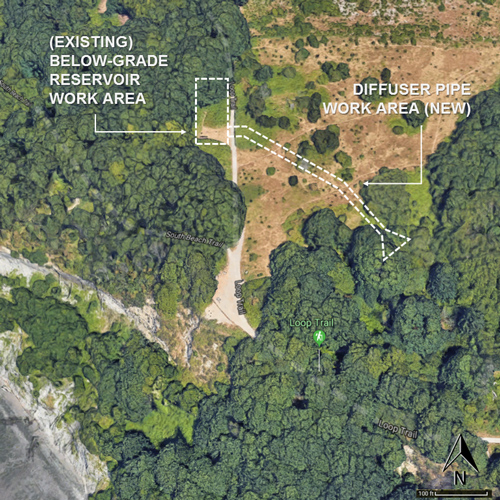 Wildlife considerations
During design, WTD determined that an avian nesting study will need to be conducted. Construction will take into consideration potential impacts on wildlife, including the nesting periods of birds, and comply with the federal Migratory Bird Treaty Act. The project will include some cutting of small branches on deciduous trees and some brush, including black berry bushes.
Community outreach
King County recognizes that Discovery Park is a popular spot for bird enthusiasts and anticipate that this project will generate interest from community members who frequent the park. WTD will provide ongoing updates as the project progresses. For more information, contact Eunice Lee at elee@kingcounty.gov
Meetings, news, project materials
Contact us
For more information about capital projects at West Point Treatment Plant, please contact Eunice Lee, Community Services, elee@kingcounty.gov, 206-263-1614.
24-hour emergency and odor reporting: 206-263-3801
Administration: 206-477-9800

Address
1400 Discovery Park Blvd.
Seattle, WA 98199
Directions and map
Did you know?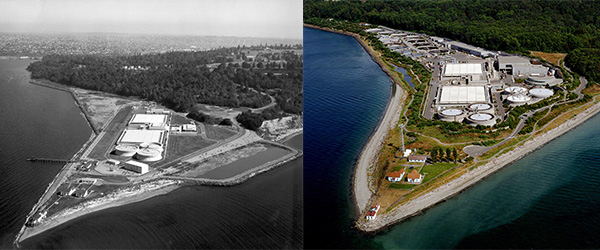 From then to now: Since 1974, when open sludge lagoons were present on the South Beach at Discovery Park, West Point Treatment Plant has been upgraded to provide award winning wastewater treatment service to our growing region, protecting Puget Sound water quality. Covering treatment processes, installing odor scrubbing equipment, and modifying maintenance practices helps to control odor. Landscaping improvements have restored shoreline areas to a natural area with public access.