West Point environmental monitoring
Monitoring update: February 2018
King County has completed analysis of water quality monitoring data that were collected during the restoration of the West Point treatment facilities damaged by the flooding of the plant that occurred on February 9, 2017. The West Point Flooding Event Water Quality Monitoring Report (27MB) was peer-reviewed by three external scientists and presents the data and findings regarding the effects of the flooding event on effluent and marine water quality.
Overall, the report presents encouraging news with regard to any significant water quality impacts observed near the West Point outfall. The flooding of West Point resulted in changes to effluent characteristics from February 9 through May 9. The largest impact observed was the increase in bacteria levels in water at beaches following the two untreated emergency discharge events in February. Water quality observations in Puget Sound showed typical conditions compared to the last decade with the exception of a few elevated parameters at some sites. All measurements in marine waters met applicable water quality standards throughout the monitoring period, with minor exception of bacteria and dissolved oxygen at a couple of sites in June due to natural seasonal conditions.
In addition, effluent concentrations of most nutrients were lower or comparable to historical conditions and toxicity tests conducted on effluent samples showed that the effluent was not harmful to organisms. Additional analysis of fish, crabs, clams, and other organisms are on-going and will be assessed in future reports, expected to be completed later this year.
Monitoring update: June 23, 2017
This page provides information regarding the additional effluent quality monitoring that was conducted during the restoration of the West Point Wastewater Treatment Plant following the flooding and damage of the plant that occurred on February 9, 2017. As a result of the damage, West Point provided limited treatment of wastewater flows during the restoration until the biological secondary treatment process was restored on April 27. The secondary treatment system resumed normal operation on May 10 and West Point once again met compliance with its environmental permits.
The June 23, 2017 update of the periodic analysis of West Point effluent monitoring data while the restoration was underway, listed below, was the last routine monitoring report produced regarding the West Point flooding event.
Summary: Marine and Environmental Monitoring Results as of June 23, 2017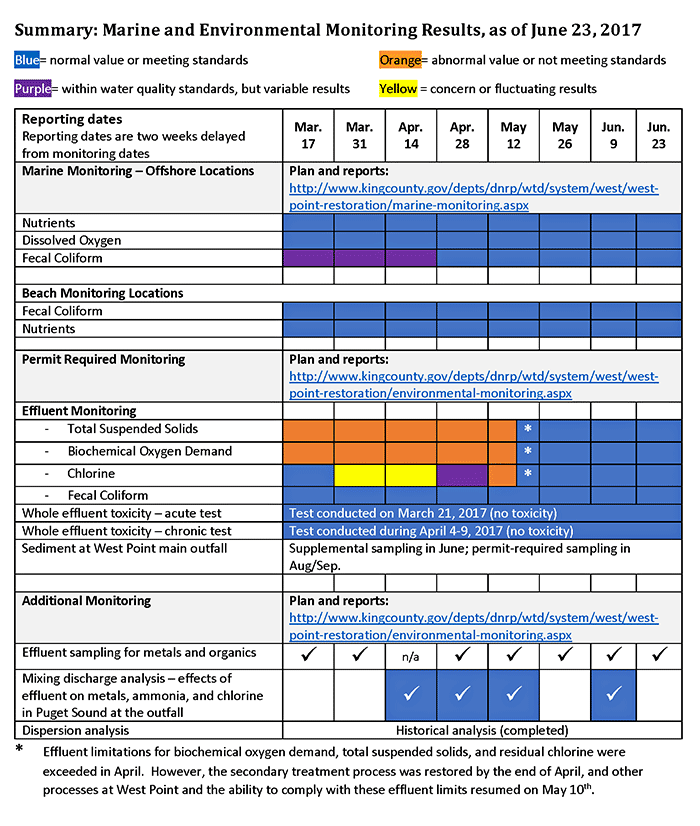 King County Wastewater Treatment Division (WTD) takes our commitment to environmental stewardship seriously. WTD conducted permit-required and supplemental monitoring following the major equipment failure at the West Point Treatment Plant on Feb. 9. Flooding of the treatment plant resulted in bypasses of untreated stormwater and wastewater into Puget Sound and reduced the level of wastewater treatment while repairs were being made.
The focus and primary objectives of the effluent monitoring work plan were:
Provide comprehensive, representative, and accurate monitoring and analyses of West Point discharge conditions and effects to the marine environment of Puget Sound.
Document West Point treatment performance and effluent quality improvements over time as repairs to West Point are made.
Evaluate the potential for short-term water quality effects of wastewater discharges to Puget Sound while repairs to West Point occur.
Evaluate West Point effluent quality for correlations with any observed significant changes in marine water quality from offshore marine monitoring program data.
Evaluate the potential long-term water quality and sediment quality effects in Puget Sound (if any).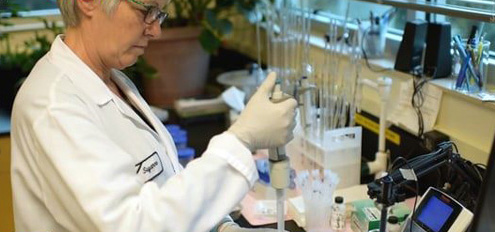 Follow WTD on social media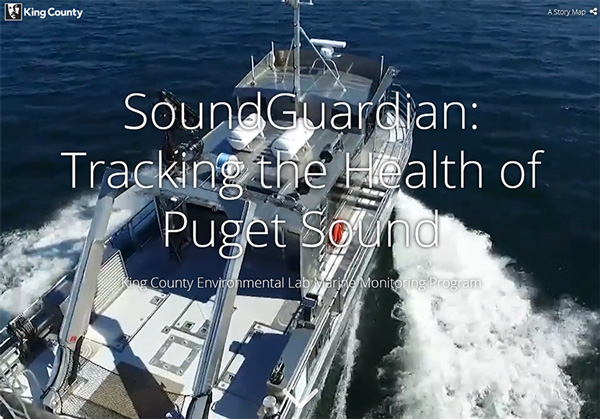 Meet the SoundGuardian: King County's working research vessel
Below you will find information about water quality monitoring data being collected at West Point, status of compliance with NPDES permit requirements, potential water quality effects in Puget Sound, and how effluent disperses in central Puget Sound.
King County monitors the West Point wastewater coming into the plant (influent) and the discharge to Puget Sound (effluent) for multiple parameters that can affect water quality: flow, total suspended solids, biochemical oxygen demand, pH, fecal coliform bacteria, residual chlorine, and nutrients. These parameters are routinely sampled either daily, weekly, or monthly, as required in the NPDES permit for West Point that is overseen by the Department of Ecology. This data is used with the marine water quality monitoring data, and compared to permit limits.
Information can be found here regarding:
Bi-weekly updates of laboratory data for routine West Point effluent monitoring and comparisons to our NPDES permit limits.
Results of effluent tests that evaluate the potential for acute and chronic toxicity on marine life.
West Point Treatment Plant Restoration Routine Effluent Water Quality Monitoring Data
The monitoring update for June 23, 2017 shows the final influent and effluent data collected in May, and draft partial data collected through June 16, 2017. The data shows that with the secondary treatment process restored on April 27th, and additional restoration of processes occurring by May 10th, effluent quality met all permit requirements for discharge to Puget Sound in May.
The first quarter 2017 test for acute toxicity in West Point effluent was conducted for samples collected on March 21, 2017, and second quarter test for chronic toxicity was conducted for samples collected during the period of April 4-9, 2017. Both toxicity tests were conducted while the treatment plant was at a reduced level of treatment due to the flooding incident on February 9th. The acute toxicity test is conducted to observe for potential adverse effects of exposing sensitive aquatic organisms to effluent over short test periods (2 to 4 days depending on the test organism used). The chronic toxicity test is used to observe for potential adverse effects to organisms over a longer period of 7 days.
For both the acute and chronic toxicity tests, the data show that the test results have been normal with no substantial toxicity observed in the effluent. The detailed reports for download are:
Immediately following the damage to West Point on February 9th, King County conducted its required 1st quarter monitoring for EPA priority pollutants (i.e., primarily metals and organic compounds found in trace levels) in the influent and effluent. While repairs to West Point have been underway, we collected additional samples for the priority pollutants on a generally bi-weekly frequency. The data are compared to water quality criteria and historical conditions to evaluate effects on Puget Sound.
Information can be found here regarding:
Bi-weekly updates of routine and additional West Point monitoring data for the priority pollutants.
Comparisons to water quality criteria and historical conditions to evaluate potential effects on Puget Sound.
West Point Treatment Plant Restoration Effluent Priority Pollutant Monitoring Data
The attached report contains the final data for influent and effluent samples that were collected on May 10th and May 22nd, and the available partial data for samples collected on June 5th. Data collected over the most recent four weeks of sampling events (May 10th, May 22nd, and June 5th) indicate that measured concentrations of the priority pollutants are at normal levels and stable, and routine monitoring of priority pollutants will resume to a once-per-quarter frequency as specified in the NPDES permit.
West Point Treatment Plant Restoration Near-Field Effluent Mixing Water Quality Analysis
The attached technical report discusses the effects of West Point effluent discharge to trace metals, ammonia, and residual chlorine concentrations in the initial zone of mixing created by the discharge outfall. These parameters, when elevated above water quality criteria beyond the initial zone of mixing, may cause unacceptable harmful effects to aquatic organisms.
The analysis compares estimated concentrations in the zone of mixing for normal West Point operating conditions to current conditions measured on May 10th and May 22nd reflecting the level of treatment since repairs to West Point were completed to a level that it is anticipated the effluent will consistently meet effluent limitations.
The analysis shows that under normal conditions, West Point effluent results in water quality concentrations that are well below any of the applicable water quality criteria for aquatic organisms.
The analysis also shows that with the current level of treatment, the effluent also is not causing any concentrations to rise above any water quality criteria.
Report:
This information addresses questions about how effluent is discharged from the West Point deepwater outfall, and how it disperses with tidal flow in Puget Sound.
The West Point effluent is discharged approximately 3,600 feet offshore from West Point at a depth of about 240 feet below mean lower low water. The last 600 feet of the outfall pipeline contains multiple ports to increase the dispersion of effluent.
The discharge pattern and mixing (or dispersion) of the West Point effluent in the tidal flows within the central basin of Puget Sound are generally well understood through numerous studies conducted over the past 40 years.
The effluent is buoyant and rises through the water column to the water surface during the winter and spring periods of the year.
The diffuser creates rapid mixing of effluent with seawater such that by the time the effluent reaches the surface, the mixture is about 1 part effluent to 99 parts seawater (or 100:1 dilution).
Within this initial zone of mixing, the mixture of effluent must not exceed Washington's water quality criteria.
During the winter and spring cold and wet months, typical of conditions while the West Point restoration is underway, the tidal currents result in effluent being dispersed along a dominant north-south axis near the outfall.
During each tidal cycle, the initial buoyant and rapidly mixed plume then disperses as a generally well-defined plume and moves about 5 miles north on ebb tides, and 2.5 miles south on flood tides.
As the plume moves with each tidal cycle, the plume with initial 100:1 diluted plume is further mixed by an additional factor of 5 to 10 fold (i.e., diluted to ratios of 500:1 to 1000:1).
During slack tide conditions, and through the reversal of tidal flow direction, additional and greater levels of dispersion and dilution occur.
Dye tracer study by King County and University of Washington researchers in the 1970's found that the area of detectable dye levels, indicating effluent dispersion, was limited to the east side of the sound (grey outline shown in the map).
Map of Typical Winter/Spring Dispersion of the West Point Treatment Plant Effluent , April 2017
Historical technical reports on effluent plume studies of West Point: