West Point marine water quality monitoring
Monitoring update: February 2018
King County has completed analysis of water quality monitoring data that were collected during the restoration of the West Point treatment facilities damaged by the flooding of the plant that occurred on February 9, 2017. The West Point Flooding Event Water Quality Monitoring Report (27MB) was peer-reviewed by three external scientists and presents the data and findings regarding the effects of the flooding event on effluent and marine water quality.
Overall, the report presents encouraging news with regard to any significant water quality impacts observed near the West Point outfall. The flooding of West Point resulted in changes to effluent characteristics from February 9 through May 9. The largest impact observed was the increase in bacteria levels in water at beaches following the two untreated emergency discharge events in February. Water quality observations in Puget Sound showed typical conditions compared to the last decade with the exception of a few elevated parameters at some sites. All measurements in marine waters met applicable water quality standards throughout the monitoring period, with minor exception of bacteria and dissolved oxygen at a couple of sites in June due to natural seasonal conditions.
In addition, effluent concentrations of most nutrients were lower or comparable to historical conditions and toxicity tests conducted on effluent samples showed that the effluent was not harmful to organisms. Additional analysis of fish, crabs, clams, and other organisms are on-going and will be assessed in future reports, expected to be completed later this year.
Monitoring update: June 23, 2017
This page provides information regarding the additional marine water quality monitoring that was conducted during the restoration of the West Point Wastewater Treatment Plant following the flooding and damage of the plant that occurred on February 9, 2017. As a result of the damage, West Point provided limited treatment of wastewater flows during the restoration until the biological secondary treatment process was restored on April 27. The secondary treatment system resumed normal operation on May 10 and West Point once again met compliance with its environmental permits. For that reason, the additional marine water quality monitoring was discontinued in late June 2017, and the County resumed its routine monitoring programs in Puget Sound.
King County Wastewater Treatment Division's mission is built around protecting our region's waters. For decades, WTD has provided high quality treatment at our regional treatment plants. As part of our commitment to water quality, King County has conducted decades of water quality monitoring in the central Puget Sound basin where our treatment plant outfalls are located.
The County's marine water quality monitoring program collects and analyzes water quality samples at 12 offshore sites and 20 beach locations. This year-round monitoring program has collected data for up to 50 years in some locations, and provides an understanding of water quality throughout the Puget Sound Central Basin.
While repairs to restore operations at West Point were underway, monitoring frequency was increased at four routine offshore sampling sites and one additional offshore sampling site close to West Point. The June 23, 2017 update of the bi-weekly marine water quality report, listed below, was the last routine monitoring report produced regarding the West Point flooding event. The periodic updates provided a brief summary of the marine water quality conditions observed over the course of the additional monitoring that King County conducted for the West Point incident since late February through June. With West Point processes now able to consistently meet permit requirements since May 10th, the County's routine marine monitoring program resumed its regular schedule of collecting offshore water quality samples twice per month and beach samples once per month.
Water Quality Reports. Download complete reports:
Summary: Marine and Environmental Monitoring Results as of June 23, 2017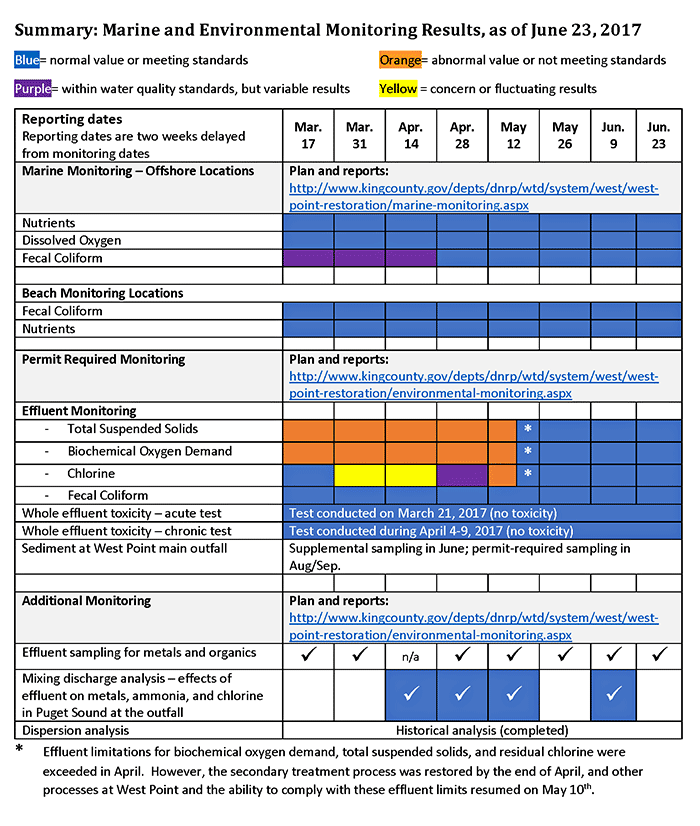 The
marine monitoring program
is conducted in accordance with scientific protocols of the region-wide Puget Sound Estuary Program (PSEP). King County conducts the marine water quality monitoring program in collaboration with Ecology's Environmental Assessment Program.
Below you will find a current snapshot for three important water quality tests: fecal coliform bacteria, ammonia (nitrogen), and dissolved oxygen.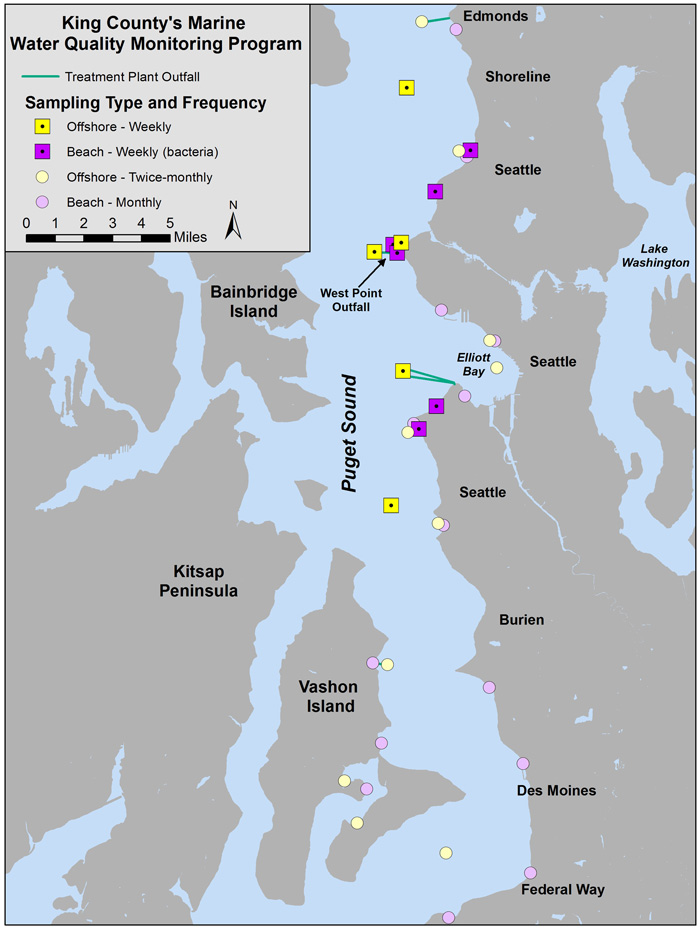 King County Marine Water Quality Monitoring Program - Sampling Type and Frequency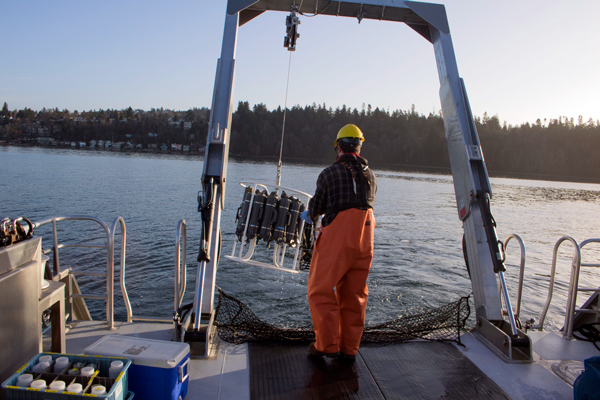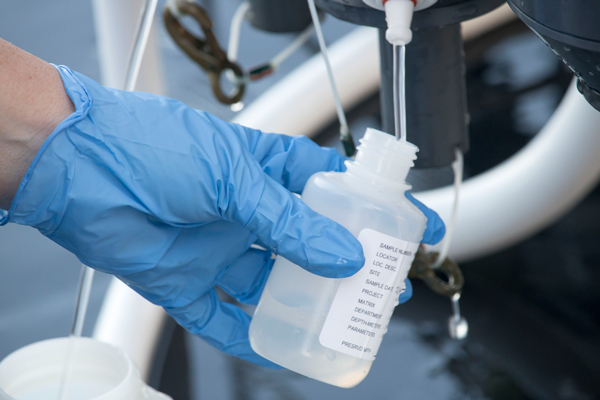 Follow WTD on social media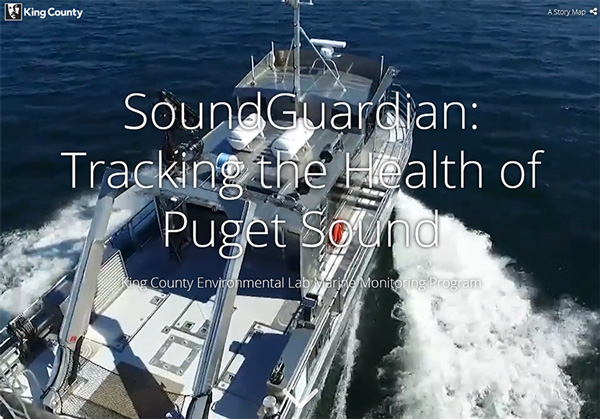 Meet the SoundGuardian: King County's working research vessel