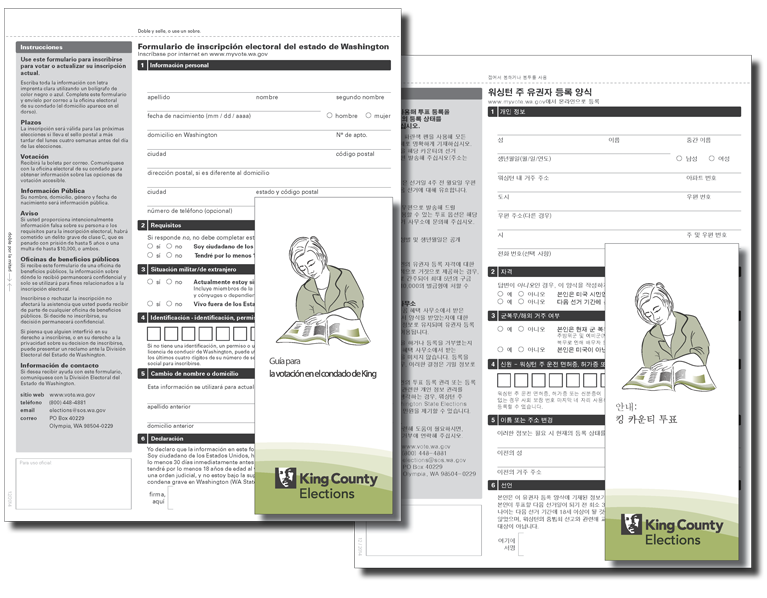 Voting materials in Spanish and Korean

Two new languages
Election materials will be provided in Spanish and Korean, in addition to the current English, Chinese and Vietnamese materials. This includes the voter pamphlet, ballots and all other election-related documents. The department will also be collecting and analyzing data to determine whether or not additional languages should be added in 2017.
Partnerships with community-based organizations
Elections will be piloting a new program that will provide funding to community-based organizations to spread the word about our new languages and get more individuals in those communities registered to vote. The department will also be launching a liaison program for smaller communities with a primary language other than English. These trusted ambassadors will assist community members in navigating registration and other election processes and provide feedback to the department on community barriers and needs.
30 new drop boxes
With funding approved by the County Council, Elections will be quadrupling the number of permanent drop boxes for the 2016 Presidential Election. Locations for the new drop boxes will be determined by a rigorous, criteria-based process in collaboration with the County Council and other stakeholders. The first round of drop boxes will be placed mid-summer in time for the primary election in August with remaining boxes installed in time for the presidential election in November.
New web application for voters
There will be a new, easy way to access all of your voting information, track your ballot and connect with King County Elections. The application will allow voters to update their information, see what candidates and races are on their ballot, find out where their ballot is in the process, and access their voting history.
Sign up for email or text notifications