King County consistently has one of the lowest youth detention rates of any urban county in the United States – today, the second lowest according to the Juvenile Detention Alternatives Initiative. The county's juvenile detention population has declined almost 70 percent since the 1990s.
But, at the same time, the proportion of youth of color in detention has grown. King County is committed to being the first urban county in the nation to decrease its detention population while also reducing the racial disproportionalities within it through investments in:
Alternatives to Detention
Racial Equity
Juvenile Justice Reform
Average Daily Juvenile Detention Population 1998-2016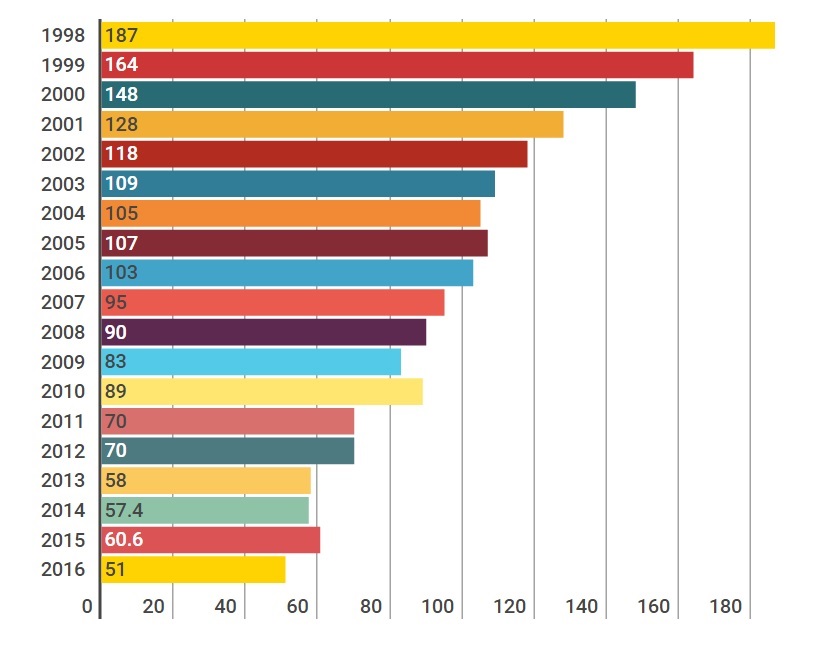 Alternatives to Detention
Family Intervention & Restorative Services
Family Intervention and Restorative Services (FIRS), offers youth arrested for family violence incidents space at an overnight respite center instead of secure detention. FIRS staff offer de-escalation counseling to safely reunite youth with their family. At no cost to them, families are offered in-home family counseling, mental health services, drug and alcohol services, and the Step-Up Program, which specifically addresses adolescent family violence.
Creative Justice
Creative Justice is a community-based alternative to detention that arts agency 4Culture launched in early 2015 in coordination with the Prosecuting Attorney's Office and Superior Court. The program's mentor artists use writing, music, performance, and visual art to increase the participants' understanding of themselves and circumstances that often lead to incarceration. It also strengthens positive decision-making and emotional expression skills that, together, help them avoid future court involvement.
180 Program
The 180 Program, created in a partnership between the Prosecuting Attorney's Office and community-based leaders, is a diversion program that offers youth a chance to have their charges dismissed if they participate in a workshop that helps them work through personal struggles that may be leading to misbehavior. Youth can also be paired with mentors after taking the 180 Program workshop. The program has helped dismiss the charges of more than 1,500 youth since its inception in 2012.
Restorative Mediation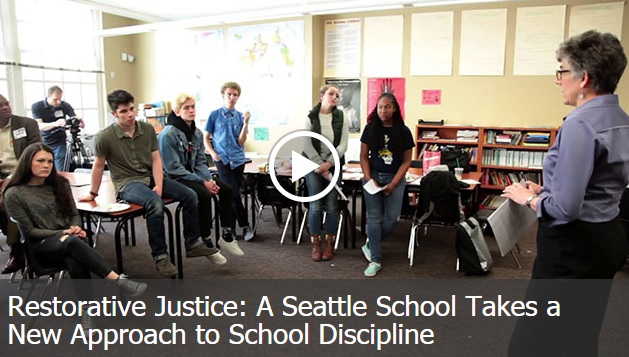 Restorative Mediation sessions are led by mediators who help offenders understand the full impacts of their actions directly from victims and find the community-based support they need to stay out of the criminal justice system in the future. Youth mediators trained locally at schools like Garfield High participate in the mediation process.
Drug Court
Drug Court allows juveniles charged with an offense who have alcohol or drug problems to participate in a 9- to 24-month program that includes early, continuous and intensive court-monitored treatment. This approach motivates participants to finish their mandatory treatment, maintain school or employment, complete community service and other court-ordered conditions. If a juvenile successfully completes the Drug Court program, their charges are dismissed.
Step-Up Program
The Step-Up Program is a nationally recognized adolescent family violence intervention program designed to address youth violence toward family members. The goal is for youth to stop violence and abuse toward their family and develop respectful family relationships so that all family members feel safe at home. Step-Up will work with a pilot program beginning in 2016, Family Intervention Restorative Services, to deliver resources to families without involving youth in the juvenile justice system.
Programs in development
Public Health model to restructure juvenile justice services
Juvenile justice services including juvenile detention will be restructured under a public health model according to an Executive Order signed by King County Executive Dow Constantine. Public Health – Seattle & King County and its partners will work with community on a reform plan that will improve training support for staff who work with youth in detention, expand innovative programs and alternatives to detention, and ensure that transitions out of detention are linked to an overall plan for each youth's success.
New Youth Program Space
An area of the Children and Family Justice Center initially intended to hold 32 detention beds has been converted to non-detention youth program space. The 10,200 square-foot space will instead be operated by programs that help steer youth away from future court-involvement through counseling and other resources. The County is just beginning to assess programs that could operate in the space, and will ask the public for programming proposals and recommendations through a formal Request for Information and Request for Proposals process.
Racial Equity
Even as the overall number of youth in detention has gone down, the proportion of black youth in detention has gone up. Black youth make up about 10 percent of the county's total youth population, but they now make up almost half of the detention population on any given day. Black youth are not benefiting from King County's work to reduce the detention population as much as others. In partnership with community organizations, youth and school districts on the Juvenile Justice Equity Steering Committee, King County is focused on becoming the first urban region in the country to see the juvenile detention population and the racial disparities within it shrink at the same time.
King County's newly voter-approved Best Starts for Kids program is intended to help youth from all communities get a healthy start in life through parent support, health care, and other supportive programs through age 24. The initiative will invest almost $400 million in these services over the next six years to help give every child a chance to achieve their full potential.
Road Map to Zero Youth Detention
To continue a paradigm shift in King County's approach to juvenile justice, King County has pledged to meet several goals:
Restructure juvenile justice services under Public Health model
Move youth charged as adults to the Youth Services Center
Reform the warrant system to keep more youth out of detention
Create an on-call evening judge to review whether a youth should be held in detention
Bring to zero the number of youth admitted to detention for running away from home, curfew violation, truancy and other so-called "status violations" except in cases when a youth's life is in danger
Cut in almost in half the current number of detention beds, 212, to a cap of 112 detention beds in a smaller, more therapeutic replacement detention facility inside the Children and Family Justice Center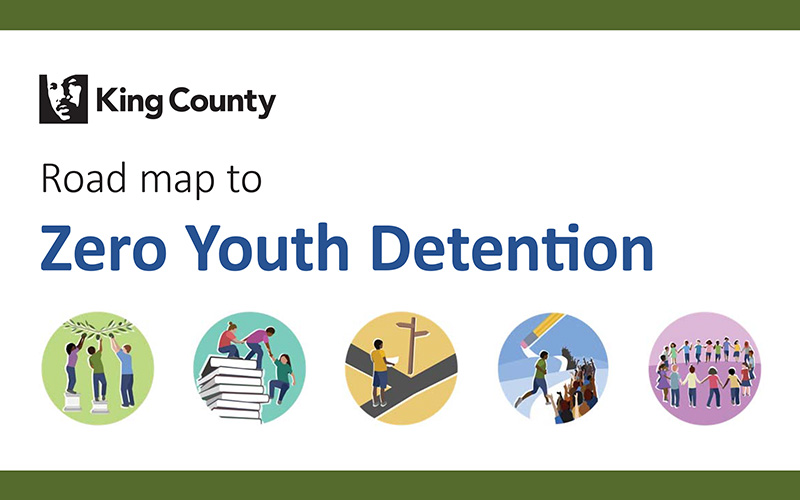 Follow our juvenile justice reform efforts at the King County Zero Youth Detention blog and on Twitter at @KingCountyZYD.