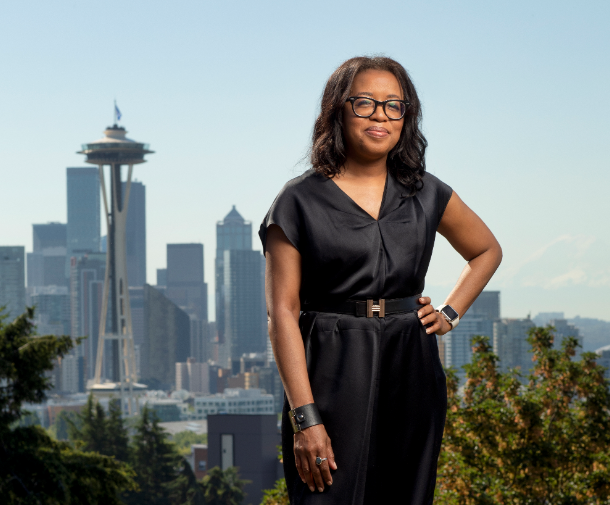 Message from Tanya Hannah, Director and Chief Information Officer
Welcome to #KCIT3.0!
KCIT uses the power of technology to digitally transform King County. Building vibrant communities through digital equity and social justice, KCIT offers innovative solutions that engage, empower, and serve our residents, businesses, communities and interested stakeholders. KCIT invested in the foundation over the last seven years, building effective digital systems and data-driven platforms that promote mobility and civic engagement, all of which enables King County's best-run government efforts to thrive today.
Customers are inspiring KCIT's priority: use technology to solve King County's pressing challenges. We harness the power of data, change the way technology opportunities are viewed and get to evidence-based outcomes that help King County employees make informed policy decisions and answer complex questions. The result: make the Puget Sound region better and improve the lives of our community members. Being customer-driven also means increasing community engagement with the County by making it easier for residents and customers to interact with government, access services, and complete business. This critical work is happening right here, right now, and our dedicated employees are making it possible.
KCIT is breaking down organizational silos to innovate – collaborate – accelerate through our workplace culture. KCIT is an inclusive and diverse team of talented technologists who are working with regional and private sector partners to create and roll out innovative solutions that solve business problems. Although the latest in artificial intelligence, mixed and virtual reality, natural language processing, geo-spatial data, and IoT is incubating here, at its core, KCIT's work is about making life better and creating opportunities for county residents to thrive.
This is why King County earns 2017 top honor, #NumberOne, for large county and third in #CustomerExperience from the Center for Digital Government as well as e-911 Excellence in Multicultural Marketing Award from the National Association for Multi-Ethnicity in Communications. KCIT is raising the bar on what technology looks like in the public sector.
Please take a moment to look at our Annual Report to learn about our product, services and capabilities. Together, I look forward to continuing the digital transformation that is already underway in King County.
#GetExcited