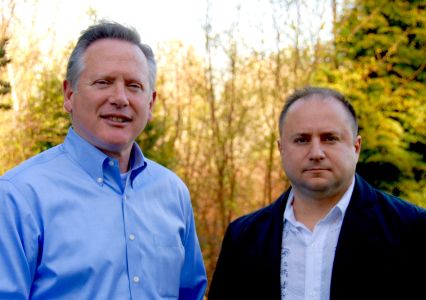 It was the call you never want to receive. Leo Milkin was serving with the National Guard in Iraq in 2006 when he received the devastating news that his 28-year-old wife, Olga, two young sons, and his sister-in-law had been murdered. His house had been burnt to the ground.
Leo traveled for two days to get back from Iraq to Kirkland, Wash. When he landed, he went to his home which was now a crime scene.
He met investigators and crime scene detectives, as well as Scott O'Toole, senior deputy prosecutor for King County.
"Scott told me how shocked and sorry everyone was; how everybody was grieving with me. I immediately felt like Scott really cared," Leo said. "I found it comforting to know I wasn't just going to be dealing with law enforcement and officials, but there was this person going through this with me who really cared about me. Scott was professional, and I felt like I was so fortunate Scott was the person on this case."
Kirkland police arrested Conner Schierman, a man who had moved into a duplex across the street from the Milkin home two weeks earlier. Schierman, possibly attracted to the women, broke into Leo's home, stabbed and killed Leo's wife, children, and sister-in-law, and then returned to douse the house with gasoline and burnt it to the ground.
Prosecutors charged Schierman with four counts of aggravated first-degree murder and one count of first-degree arson, but it took four years before the case was brought to trial in January 2010.
Despite Scott's busy schedule, Leo says Scott always took the time to meet with him, answer his questions, and help him through things over the years. "He always made time for me," Leo says. "I consider Scott my very best friend."
"One time, I said to Scott, 'Why do you keep doing this? You could go anywhere; do anything; run for a big office.' Scott told me he cared about people and wanted to work to bring people justice and relief," Leo recalled.
Work in the prosecutor's office has been a calling for Scott, who has tried dozens of high profile cases and murder trials. The Stanford graduate, who also has a master's degree from the London School of Economics, smiles and says he was ranked an uninspiring 300 out of 320 in his graduating class in high school. Thus, a three-year stint in the Army at age 17 preceded college and graduate school.
After graduation from UC Davis School Law, Scott spent five years with one of Seattle's oldest and largest law firms, Bogle and Gates, before he requested a two-year leave of absence to gain trial experience working in the King County Prosecutor's Office. He had never been to the courthouse to try a single case in his years at Bogle and Gates.
The prosecutor's office put him to work on felony trials. Later he handled cases from the Sexual Assault Unit. When he returned to Bogle and Gates after two years, Scott immediately realized he wanted a career in public service. While some leave the prosecutor's office for more lucrative work in private law firms, Scott took the reverse route and left Bogle and Gates for the prosecutor's office. It's been 25 years of serious murder trials and serial rapists and most recently, the high-profile Carnation murder trials which stretched out for eight long years.
People are resilient, strong. They are scarred but not defeated. I am impressed to see how loyal friends can be; how communities step up to offer support.
Does the constant confrontation with human darkness get to him? Scott says he gains inspiration from seeing how people survive despite some of the horrific things they experience.
"People are resilient, strong. They are scarred but not defeated. I am impressed to see how loyal friends can be; how communities step up to offer support," Scott said.
In March, the news media covered the conclusion of the trial of Michele Anderson who was found guilty of six counts of aggravated first-degree murder. As lead prosecutor for the case, Scott says he was inspired watching Pam Mantle, mother of one of the Carnation murder victims, show so much resilience in the face of losing her daughter and grandchildren.
In 2010, Conner Schierman was sentenced to death for the murder of Leo's wife Olga, her sister, and Leo's 3- and 5-year-old sons.
The convictions and sentences don't bring anyone back to life, Scott says, but he prays for families to know their loved ones are never forgotten and for these families to receive some semblance of justice.
Photographed: Scott O'Toole (left) and Leo Milkin
Other Profiles:
Mafe Rajul ~ Accountability and respect for a working legal system.
Val Richey ~ Fighting against sexual exploitation.
Jason Simmons ~ Justice for Marginalized Victims.
To see more Profiles, please follow us on Facebook.

King County Prosecutor
Dan Satterberg
Subscribe to Our Newsletter
The Prosecutor's Post