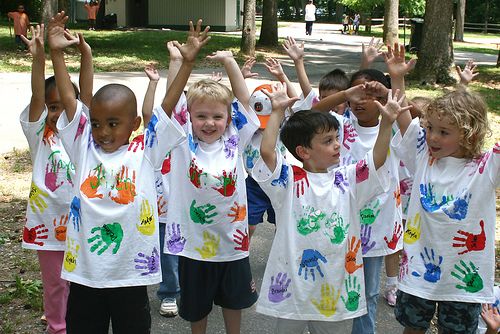 Childhood Victimization:
Kids' Court Assists the Most Vulnerable
Kids' Court is an innovative court awareness program developed to:
Help child victims of sexual abuse and other forms of victimization and trauma and their families participate effectively in the criminal justice process, AND

Help these children and families better cope with the experience of going to court.
The Kids' Court Session
Kids' Court is an experiential and activity-based program held at least six times a year on Saturdays in a courtroom at the King County Courthouse in Seattle or the Norm Maleng Regional Justice Center in Kent, Washington. Through a standardized curriculum, participants engage in discussions with a judge and prosecutor. Utilizing role-plays, question and answer sessions and fun games, the program increases children's knowledge of courtroom personnel and procedures. The afternoon session focuses on enhancing self-confidence and introduces stress reduction techniques.
At Kids' Court, kids learn that the most important rule of the court is telling the truth.
Kids' Court is designed for children ages 4-12. As the day progresses children in the group learn:
Why a witness is important and how to be confident in that role

How kids can participate successfully in a the legal system through enhancing knowledge of courtroom procedures

How to reduce feelings of fear and anxiety though relaxation techniques that are fun, easy and helpful

Practical methods to manage courtroom worries such as, "What if I start to cry?" or "What if I don't understand a question?"

To support and reinforce these sessions when Kids' Court is over, each participant receives a book entitled, "You Are Very Brave" and a relaxation tape.
Parent Session
While children attend the Kids' Court Program, parents and caretakers attend a concurrent program designed to address their needs and answer their questions about the justice system.
Parents learn:
How to support their child during their involvement with the justice system

Stress management techniques to help reduce anxiety and other negative emotions

To share common concerns about being involved with their child in the legal process

Greater insight into the criminal justice system

Our community cares and will respond with sensitivity to the needs of victims and families
To support and reinforce the parent program, each participant receives a Parent Informational Packet and a relaxation tape.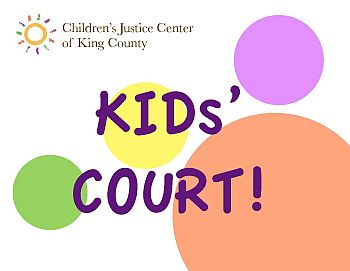 King County Kids' Court Mission Statement
Children who have experienced sexual victimization or have suffered from other forms of crime or traumatic events may suddenly and involuntarily become involved in the criminal justice system. Many things about this system are complicated and can evoke feelings of anxiety. The Kids' Court philosophy is that no child should encounter having to testify in court without assistance in making that experience less intimidating. Kids' Court educates and supports children and their parents and caretakers as they participate in the criminal justice process.
Kids' Court Awards and Recognitions
Kids' Court is nationally recognized as a "best practices" program and has received many awards and recognitions including:
Lee Ann Miller Award – presented by the Children's Justice Interdisciplinary Task Force in cooperation with the Department of Social and Health Services (DSHS) Children's Administration. Each year the award goes to a program that has made the greatest impact and / or contribution to furthering the Mission of the Children's Justice Act.

The U.S. Department of Justice, Office for Victims of Crime recognizes Kids' Court as a "best practices" model program that is exemplary in innovation, development of partnerships, outreach methods and multidisciplinary approaches that address the needs of children.
Kids' Court has served thousands of child victim/witnesses of sexual abuse and other crimes and their families since the program began in 1989. One parent of a very young child-abuse victim conveyed the opinion of most Kids' Court participants when she said, "Kids' Court was the most positive experience we've had (in dealing with the legal system).
Photo by Woodley Wonderworks, courtesy of Creative Commons
State and Local Resources:
National Resources:
Ana's Story
Ana, an eight-year-old victim of sexual abuse, entered the courthouse rotunda of the Maleng Regional Justice Center. Small for her age—with large, liquid brown eyes and long, black hair—she appeared frightened and withdrawn. Invited to take part in Kids' Court, a program designed to help children learn about the court process and gain skills in managing the potential fear and anxiety related to testifying in court, she clung to her mother as she approached the registration table. Head down, she timidly looked away when staff tried to engage her. Although the program facilitators drew most of the children into the entertaining activities, Ana refused to participate on her own, though she listened intently and courageously whispered responses to her advocate who sat with her. It seemed as if Ana's extreme discomfort and shyness might impair her ability to fully benefit from the group learning experience.
As the morning progressed, however, Ana gained confidence and a sense of safety. She became more involved with the other children, participated in activities, and at the program's end, consented to work with the facilitators on a one-to-one basis. Ana amazed everyone when she role-played with the prosecutor and practiced responding to questions confidently and truthfully into the microphone while sitting in the witness chair. As the parents reunited with the children after their special session, Ana, wearing a huge smile and bursting with energy, cornered her worried mother to share all that she had learned.
Like so many other children who suffer hurt, loss, and trauma from sexual abuse, Ana was transformed during Kids' Court from a victim—fearful and unfamiliar with the justice system—to a brave young person with increased knowledge, self-worth and coping skills—an individual who understands that adults respect and believe in her.
October, 2012 will mark the 23rd birthday of King County Kids' Court. The value of this "best practices" program, staffed entirely by dedicated volunteers from the legal system, advocacy organizations, and the community, is reflected in the following words of the late King County Prosecutor, Norm Maleng: "Being tough on crime is only half the job. Reaching out to victims, especially child victims, to begin the healing process is also our responsibility—one that we must never fail" (Maleng, 1997).
Photo by Pai Shih, courtesy of Creative Commons.