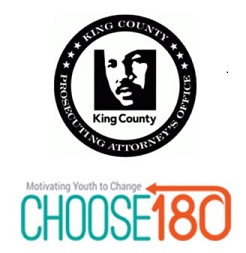 THE CHOOSE 180 YOUTH WORKSHOP IS A PRE-FILING DIVERSION WORKSHOP DESIGNED TO BE A TOOL TO GET AT THE HEART OF WHY YOUTH SOMETIMES MAKE BAD CHOICES, AND TO HELP KEEP YOUTH OUT OF THE CRIMINAL JUSTICE SYSTEM.
In July of 2011, the PAO, in partnership with the nonprofit organization Choose 180, launched its first half-day workshop, where youth were invited to participate and hear from volunteer speakers who had dealt with some of the same issues and struggles the youth were dealing with and who made their own commitment to Choose 180 and change the direction of their life.
Today, the 180 Program diverts approximately 400 youth each year from the criminal justice system. Saturday half-day workshops are held each month at Seattle University's School of Law. The university loans the space to Choose 180 and hosts the Youth 180 Workshops free of charge. Each of these 400 youth represents a host of costs that are avoided. For example, when 400 youth cannot be located or fail to respond to the diversion letter, each is arrested, charged with a crime, booked into the Youth Service Center, and assigned a public defender to represent them in juvenile court.

A 2012 EVALUATION OF THE CHOOSE 180 WORKSHOP
BY THE UNIVERSITY OF WASHINGTON'S DIVISION OF PUBLIC BEHAVIORAL HEALTH AND JUSTICE POLICY FOUND:
Choose 180 is effective at reaching youth, inspiring them to change, and helping them identify the assets and liabilities in their lives that can help or hinder their desire to change. The Choose 180 Workshop is effective in changing attitudes and behavior, and has a lasting effect on youth and families.
"GOING IN, WE WERE VERY RELUCTANT. WE DIDN'T KNOW WHAT TO EXPECT, BUT THE BIG THING WE LEARNED IS THAT THERE IS A TURNAROUND. THERE IS A 180 THAT CAN HAPPEN.
IT'S NOT LIKE HE'S STUCK ON A BAD PATH FOREVER."
ANGIE | MOM OF A CHOOSE 180 WORKSHOP PARTICIPANT
Click here to read Angie's whole story

HELP KEEP KIDS OUT OF JAIL | INSPIRE THEM TO MAKE A 180

Choose 180 is regularly looking for volunteers to support the Youth Workshop as speakers, small group facilitators, and greeters.
If you are interested in volunteering with Choose 180, please fill out the brief form available here: http://choose180.org/volunteer/
"WHAT WE ALL NEED IS THE ABILITY TO MAKE A MISTAKE IN OUR LIVES, RECOGNIZE THE ERROR OF OUR WAY, AND BE CONNECTED WITH PEOPLE WHO CAN HELP US SEE WHAT THE WAY OUT LOOKS LIKE."

SEAN GOODE | CHOOSE 180 EXECUTIVE DIRECTOR

THE CHOOSE 180 YOUTH WORKSHOP IS CAREFULLY DESIGNED TO HELP TEENS TO FIGURE OUT MORE POSITIVE WAYS TO MOVE FORWARD IN THEIR LIVES, WITH THE HELP OF MENTORS.
Choose 180 volunteers lead small group discussions with the youth. These discussions are a safe space for the youth to talk openly about the struggles they are facing. The volunteers are empathic, but also realistic. They challenge the youth to respond to their struggles differently – to make good choices, instead of bad ones. Choose 180 offers to help connect the youth and their families with resources for future support.
"IT'S NOT A PROGRAM.
IT'S AN OPPORTUNITY FOR CHOICE."
DOUG WHEELER | CHOOSE 180 FOUNDER