Internships at DPD
An opportunity to grow
The Department of Public Defense offers full-time summer internships (paid, subject to budget approval) to law students who have completed their second year of law school. We're looking for students with a demonstrated commitment to social justice and advocacy on behalf of indigent persons. In return, students receive courtroom experience, excellent training, and mentoring by skilled public defenders. When possible, our summer interns appear in court (under close supervision) and represent clients at bond hearings, motion hearings, even at trial. We offer internships in nearly all of DPD's practice areas, including criminal defense (misdemeanor and felonies), juvenile defense, family defense, involuntary treatment (civil commitment), and sex offender commitments. All this, while living in or near Seattle, a lively city surrounded by mountains and water. It's a great place to spend the summer.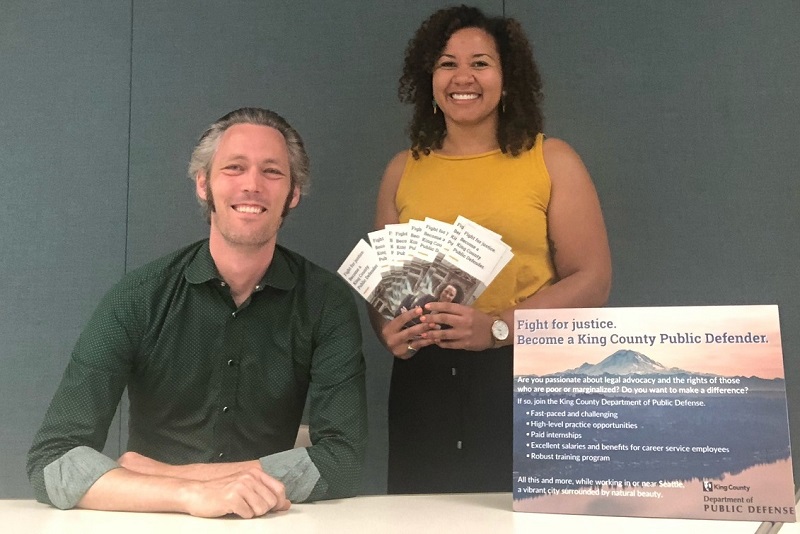 Staff attorneys Reid Burkland and Lauren Conner at a job fair in Los Angeles.

Read about our 2022 internship program

Rising 3Ls said they found the opportunity to fight for clients thrilling and meaningful. They challenged search warrants, worked to suppress unlawfully seized evidence, represented both adults and children in first appearances, co-counseled entire misdemeanor trials, and supported attorneys in felony trials. Read more on DPD's blog, For the Defense: A summer of substantive work: DPD interns learn what it means to stand with clients.
Watch a short video about our 2020 internship program