It's Time for Wheel Options!
Dear Employee Transportation Coordinator,
Wheel Options is both a great way to promote alternative modes of transportation to your employees and an effective way for your employer to meet the
goals of its commute trip reduction program. Read on for exciting details and ideas on how to successfully administer this annual campaign!
Take Your Commute to New Heights!
Our grand prize is truly grand this year, because one eligible participant from the Wheel Options campaign will win a $2500 prepaid MasterCard to explore our
National Parks, or anywhere you want for that matter!
The Contest
Any employee who records at least six days of eligible Wheel Options commutes in October 2016 will be entered to win a $2500 MasterCard
or many other great prizes. Wheel Options modes include carpool, vanpool, bus, train, light rail, streetcar, bicycle, walk, working from home or a
compressed work schedule (e.g., four, 10-hour shifts in a week).
Two Easy Ways to Enter
Employees can record their trips at www.WheelOptions.org

starting Oct. 1

. The deadline for recording trips is Monday, Nov. 7, 2016.
Alternatively, employees can record trips on paper Wheel Options entry forms (included in this packet). If using the paper calendar form, you must enter
data into the online calendar on behalf of your employee(s). We recommend doing this every week or two as you can only retroactively enter trips for 28 days
using the online Wheel Options entry tool. The deadline for you to enter data from paper forms is Monday, Nov. 7, 2016.
Your Tools


This toolkit includes all the things you'll need to run a successful Wheel Options campaign!
Click on the image below to download the poster: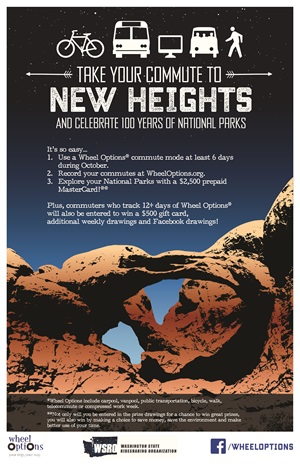 Download your toolkit here.