King County Metro is launching online commuter van fare payment via the orcacard.com website.
We are pleased to provide our vanpool and vanshare participants with a new option to pay all or part of their monthly fares or personal use charges online via credit card starting in January 2018.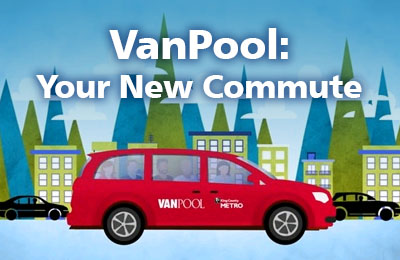 Highlights:
In late December, King County Metro Rideshare Operations will notify existing Metro Commuter Van bookkeepers about this new online payment option.
The new payment option will allow van participants to pay all or part of their monthly fares, personal use/excess mileage, or late fees online via credit card.
To take advantage of this new payment option, van participants will need to register their ORCA card at orcacard.com.
The credit payment option is for van fares and fees only and would not add value to the ORCA card.
This payment option is already functional on the orcacard.com website or by phone and our accounting team is pilot testing this process with select commuter van groups and individuals with great success. We will continue to accept checks and vouchers through the monthly payment process, so this provides another choice for our van participants. Please see below for more information about the process, or download a copy of the instructions here.
If you have any questions or would like more information about this new payment option or the Metro Commuter Van program, contact Julie Paone - or 206-625-4500.
Purchasing Online Vanpool Fare Facts:
Payment due date is still the 10th of each month
Payment must be made by Visa or Mastercard. (Sorry, no e-purse)
Purchase is for Vanpool fare only (including personal miles and late fees). Bus pass is not included
You can only pay Vanpool fares at www.orcacard.com with a registered ORCA card or by phone (206-533-3000). You cannot pay your vanpool fare at retail outlets.
What You Need to Know when Paying Vanpool Fare Online:
Their ORCA Card number (ORCA card must be registered)
Fare amount (Group's bookkeeper should provide this to riders)
Pay Period
Operating Agency (King County Metro)
Vanpool Group ID # (HOV # will not be accepted)
Enter details in Comment Field if paying for a late fee, personal miles or past due balance
Log in to ORCA:

Log in to your registered ORCA Card account on www.orcacard.com and click Pay Vanpool Fare in the left column.

A registered ORCA card is required to make online payments.

Pay Vanpool Fare:

Select the active ORCA card you want to use. Enter the amount owed, fare period, operating agency (King County Metro), Group ID, and rider name.

You will need to indicate if you are paying for a late fee, excess miles, or Monthly Report Adjustment (MRA) in the comment field.

Click Continue.

Shopping Cart:

After confirming the item(s) in the shopping cart, click Pay Now.

If you see an error or need to make any changes, you will need to Cancel Order and restart the process.

Complete Order:

Enter credit card information (VISA or MasterCard) and click Submit Payment.