Special snow service
When Metro activates its Emergency Snow Network, it also includes the operation of Route 90, which serves downtown Seattle, First Hill and Capitol Hill. The route number does not appear on any bus stop sign, but all bus stops will be served, road conditions allowing. If snow and ice are present on street surfaces, stops on hills/inclines cannot be made. Please wait for a bus at a stop that is not on a hill. Route 90 will operate approximately every 20 minutes (beginning on 3rd Ave at Virginia St) weekdays, only, from 5:30 AM to 11:30 PM.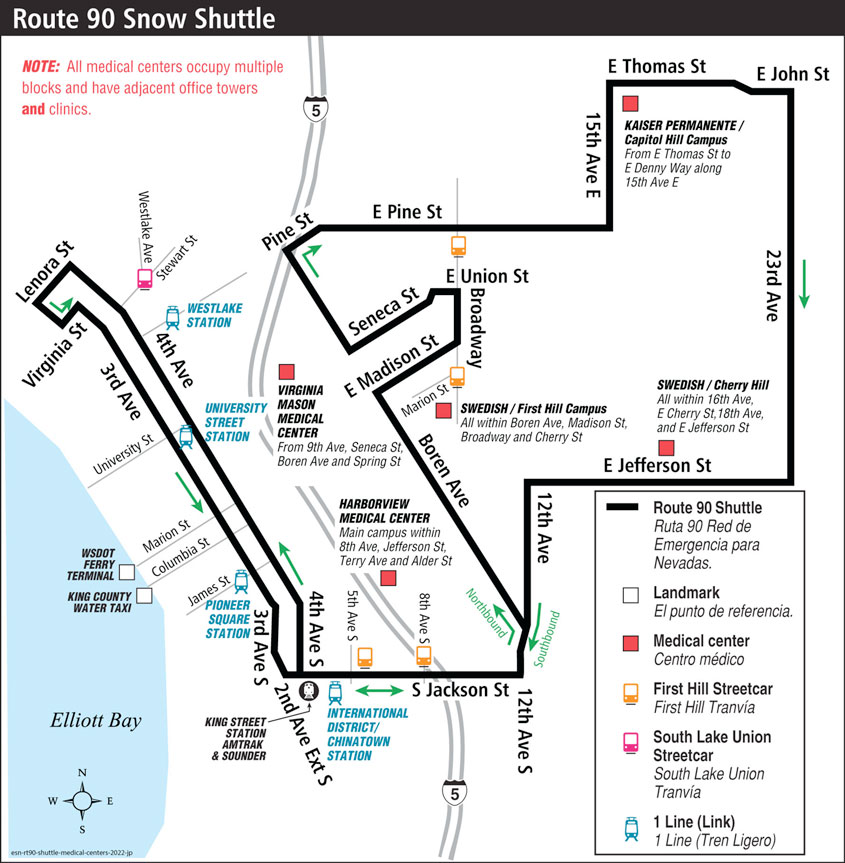 Effective 09-17-22 thru 03-17-23
Vigente del 09-17-22 al 03-17-23
2022 年 9 月 17 日至 2023 年 3 月 17 日有效
2022년 9월 17일부터 2023년 3월 17일까지 유효
Có hiệu lực từ ngày 17/9/2022 đến ngày 17/3/2023
Some weekday trips are canceled
To address ongoing operational and vehicle maintenance capacity limitations, some trips have been temporarily canceled.
Schedule Notes
The following notes apply only if the codes are found in the schedule:
AB - Returns to Atlantic Base Garage.
BB - Returns to Bellevue Base Garage.
CB - Returns to Central Base Garage.
EB - Returns to East Base Garage.
NB - Returns to North Base Garage.
RB - Returns to Ryerson Base Garage.
SB - Returns to South Base Garage.
LR - Returns to Link SODO Garage.
FH - Returns to First Hill Streetcar Garage.
SL - Returns to South Lake Union Streetcar Garage.
Accessible Information
Schedules and route information can be printed in braille, large print, or sent electronically via email. For special requests, please fill out our Reasonable Modification Request form.