Safe Routes to School (SRTS) programs support families choosing to walk, roll, bike, and carpool to school. SRTS activities help cut traffic congestion and make it easier and more fun for families to share the trip to school. Use King County Metro's Safe Routes to School toolkit and resources to get started.
Safe Routes to School Toolkit: Main Section
Browse, print, and share activities, templates, and other resources available in this toolkit to promote and create a Safe Routes to School program or event at your school.
Table of Contents
PDF Format
---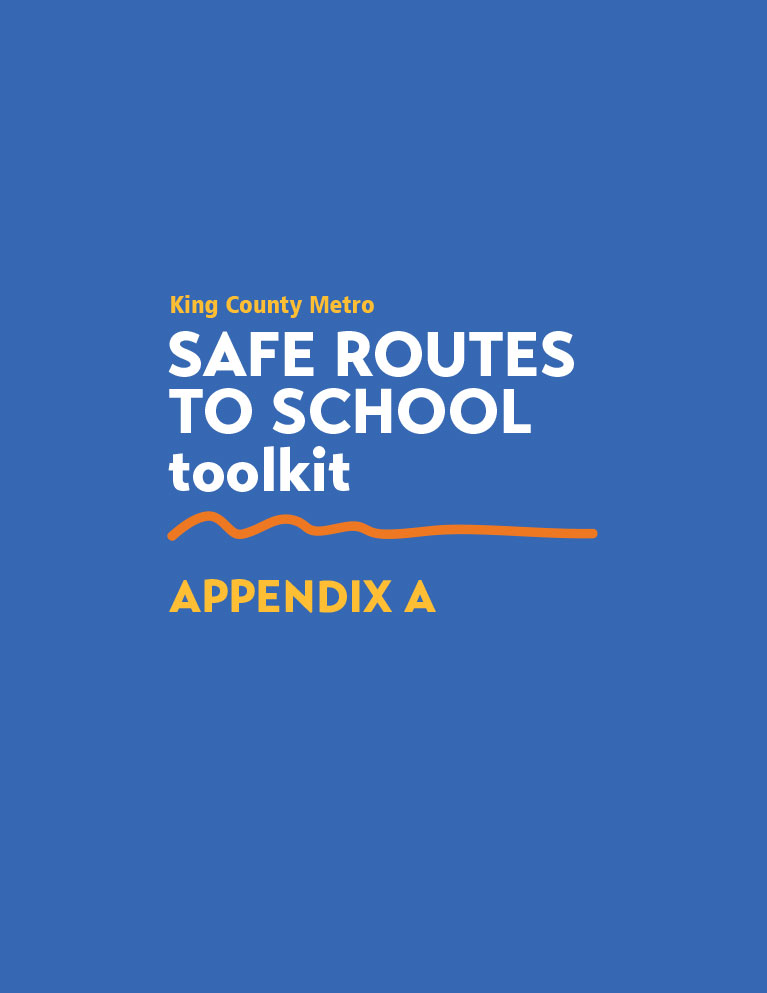 Appendix A: Outreach Materials and Templates
Collateral Materials
PDF Format
Word Format
---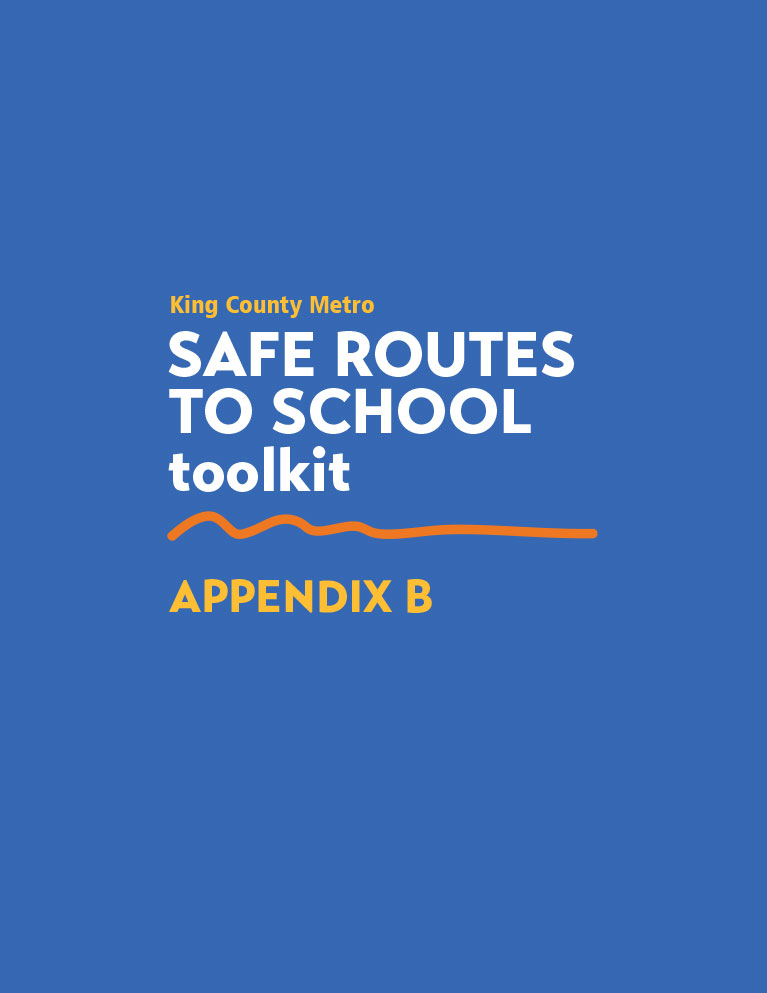 Appendix B: Implementation Toolkit
The Implementation Toolkit guides the what, who, when, and how to organize and implement the various Safe Routes to School activities described in the Toolkit. Guidance on equity and accessibility is also provided to support you in making these activities and programs more inclusive.
Download these King County SchoolPool guides to get a specific program or event started:
Metro Vanpool program
fare schedules
Effective 10-1-19
What's included in your monthly fares?
Fuel, maintenance, insurance, 24-hour Emergency Roadside Assistance, Guaranteed Ride Home and toll-free roadways!
Questions? If you have fare-related questions, or need assistance calculating your fares, please have your van's bookkeeper contact your assigned Accounting Rideshare Service Rep. For recruiting questions or other support, contact King County's Commuter Van Program via email.
Please note: Fares resumed Oct. 1, 2020. Groups who are parked and not commuting may not drive the van, are not allowed personal use, excess miles and/or driver bonus miles at any time. Any driving must be for commute purposes and is charged at the full monthly rate.
Not sure who your Accounting Representative is? Please call anyone listed below for help or a referral.
Contact us
联系我们
ਸਾਡੇ ਨਾਲ ਸੰਪਰਕ ਕਰੋ
Contáctenos
Зв'язатися з нами
Liên Hệ với Chúng Tôi
Local Calls: 206-625-4500
WA Relay: 711
Fax: 206-684-2166
本地电话: 206-625-4500
WA Relay: 711
传真: 206-684-2166
Llamadas locales: 206-625-4500
WA Relay: 711
Fax: 206-684-2166
ਸਥਾਨਕ ਕਾਲਾਂ: 206-625-4500
WA Relay: 711
ਫੈਕਸ: 206-684-2166
Місцевий номер телефону: 206-625-4500
WA Relay: 711
Факс: 206-684-2166
Điện Thoại Nội Vùng: 206-625-4500
WA Relay: 711
Fax: 206-684-2166
Send a comment
发送评论
Enviar un comentario
ਇੱਕ ਟਿੱਪਣੀ ਭੇਜੋ
Надішліть коментар
Gửi bình luận
Mailing Address:
Rideshare Operations
KSC-TR-0812
201 S Jackson St
Seattle, WA 98104-0770
邮寄地址:
Rideshare Operations
KSC-TR-0812
201 S Jackson St
Seattle, WA 98104-0770
Dirección postal:
Rideshare Operations
KSC-TR-0812
201 S Jackson St
Seattle, WA 98104-0770
ਈਮੇਲ ਪਤਾ:
Rideshare Operations
KSC-TR-0812
201 S Jackson St
Seattle, WA 98104-0770
Адреса електронної пошти:
Rideshare Operations
KSC-TR-0812
201 S Jackson St
Seattle, WA 98104-0770
Địa Chỉ Nhận Thư:
Rideshare Operations
KSC-TR-0812
201 S Jackson St
Seattle, WA 98104-0770