¿Vive o trabaja en Kent? Es posible que sea elegible para una tarifa mensual de $49* de Metro Vanpool.*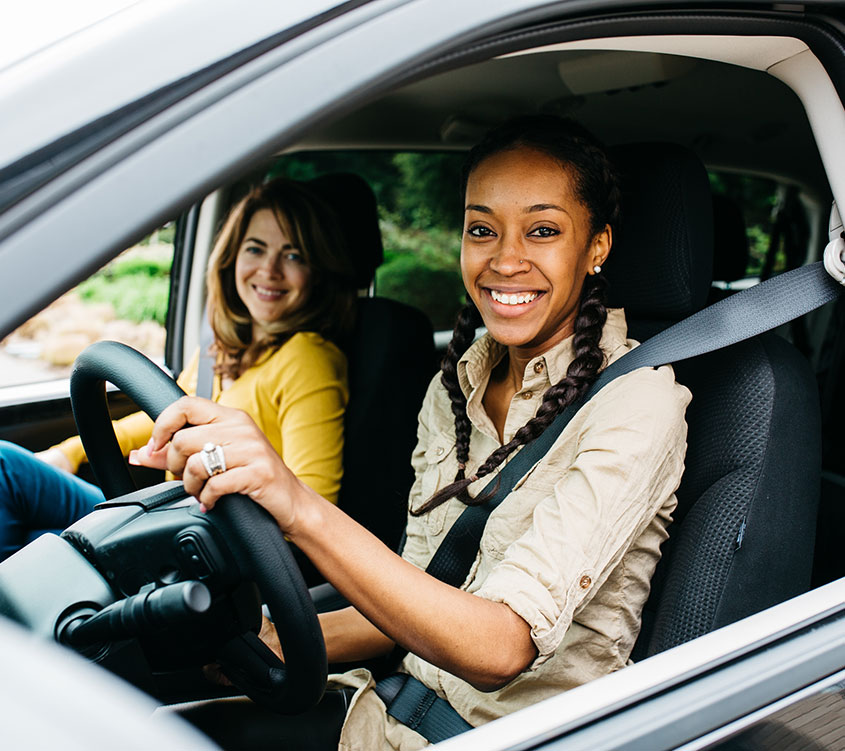 Viaje al trabajo con Metro vanpool (van compartida), la forma de trasladarse asequible, práctica y aliviadora del estrés. Los miembros del grupo comparten el viaje conduciendo la van y acordando la ruta, los horarios de trabajo y las ubicaciones de recogida. Se incluye todo lo que necesita para su viaje: la van, la gasolina, el mantenimiento, el seguro, la asistencia en carretera e incluso un viaje de emergencia a casa. Cuantos más conductores calificados tenga en su grupo, mejor podrán repartirse la responsabilidad de conducir.
Comience una Metro Vanpool
Comience una King County Metro Vanpool hoy mismo con al menos tres personas, que podrían ser compañeros de trabajo, vecinos o amigos con un viaje diario similar, y empiece a aprovechar una mejor manera de llegar al trabajo. Los participantes con ingresos que califican* pagan una tarifa mensual de solo $49 por su Metro Vanpool.
Comience una Vanpool
Únase a una Metro Vanpool
Busque una Metro Vanpool existente que coincida con su viaje diario con la herramienta Find a Metro Vanpool. Los participantes elegibles* pagan solo $49 de tarifa mensual de Metro Vanpool y el programa Kent Vanpool Pilot paga el monto restante. Solo comuníquese con el grupo de vanpool al que quiere unirse, confirme la ruta, programe los detalles y averigüe si hay lugar.
Únase a una Vanpool
Metro cubre sus necesidades de viajes diarios:
hacia/desde el trabajo o conexión hacia/desde un centro de tránsito
"El mayor beneficio de ser un usuario de Vanpool es evitar el desgaste de tu propio vehículo y ahorrar en combustible mientras disfrutas de la compañía de quienes te rodean. Algunos conversamos de regreso a casa y otros pueden dormir la siesta".

JOHN - GRUPO 6177
Acerca del vanpooling
vanpooling (uso de vans compartidas) es un grupo constante de trabajadores que tienen similitudes de origen para el viaje diario, destino de lugar de trabajo y agenda de trabajo. Con el vanpooling, los trabajadores comparten el viaje, las responsabilidades de conducción y la tarifa mensual baja, y Metro ofrece el vehículo y todo lo demás para el viaje diario al trabajo. Los participantes se reparten el rol de conductor, envían informes y tarifas mensuales a Metro y coordinan la logística de su grupo, como horarios de recogida y ruta al trabajo. La tarifa mensual incluye la van, la gasolina, el mantenimiento, el seguro, la asistencia en carretera y un programa de viaje de emergencia a casa.
¿Necesita solo una conexión hacia/desde el tránsito?
Puede que una Vanshare sea perfecta para su viaje de primera/última milla hacia otros tipos de transporte público, como el tren Sounder, Link light rail, autobuses o el ferri de Washington State.
Pruebe una vanpool antes de unirse
¿Quiere probar viajar con una Metro Vanpool existente antes de unirse? Puede recibir hasta tres viajes GRATUITOS en una Metro Vanpool para ver si le resulta conveniente, nuestro Ticket-2-Ride form (formulario de Ticket-2-Ride) le muestra cómo hacerlo.
Elegibilidad para el programa piloto
* Para calificar para la tarifa mensual de $49 de Metro vanpool, los trabajadores deben vivir o trabajar en Kent, WA y ganar $25 o menos por hora. Los participantes deberán completar el Reduced fare pilot form (formulario de tarifa reducida) para furgonetas compartidas de Kent, la solicitud del programa, seguir otros requisitos del programa y cumplir con ellos. La tarifa mensual de $49 de los participantes lo cubre todo: la van, el combustible, el seguro, el mantenimiento y más. El programa Kent Vanpool Reduced Fare Pilot está disponible hasta que termine abril de 2023 o hasta que se agoten los suministros. Se les pedirá a los participantes del programa piloto de Vanpool que vuelvan a confirmar a lo largo del año su elegibilidad por ingresos para seguir recibiendo la oferta de tarifa fija. El equipo del proyecto piloto también evaluará y verificará la disponibilidad adicional de fondos para continuar con la tarifa reducida de vanpool.
¿Vive o trabaja en Kent y no cumple con los requisitos de ingresos? YAún puede iniciar o unirse a una vanpool con una tarifa mensual baja. Visite nuestras páginas de tarifas para conocerlas, envíenos un correo electrónico a vanpool@kingcounty.gov o lleme al 206-625-4500 para obtener más información.
Comience una King County Metro Vanpool
---
Pasos para comenzar
Reúna a compañeros de trabajo o vecinos con un viaje diario similar. Su grupo necesitará al menos tres trabajadores con al menos dos conductores y alguien que complete los informes mensuales y reúna las tarifas, además de alguien que coordine al grupo.
¿No conoce a nadie con un viaje diario similar? Busque a otros trabajadores en www.RideshareOnline.com, la plataforma gratuita regional para encontrar compañeros de viaje.
Acuerden detalles grupales, como estacionamiento, ubicaciones de recogida, ruta, cronograma de trabajo, etc.
Todos los participantes que soliciten la tarifa de $49 de Metro Vanpool deberán enviar una pilot application (solicitud piloto)..
¿Usted coordina el grupo? Use esta worksheet (planilla) práctica para recopilar y enviar la información de su grupo, y el equipo de Metro se comunicará para informarle los próximos pasos.
Únase a una King County Metro Vanpool
---
Pasos para comenzar
Busque una Vanpool que pase por su ruta. Ingrese las direcciones completas de su hogar y trabajo a continuación para obtener la lista más precisa de resultados. Visite

RideshareOnline.com

para crear y ver listas personalizadas de viajes con filtros de búsqueda avanzados, un calendario personal de viajes y las recompensas disponibles.


Cuando encuentre una vanpool para unirse, presente su pilot application (solicitud piloto).
Metro Vanpool program
fare schedules
Effective 10-1-19
What's included in your monthly fares?
Fuel, maintenance, insurance, 24-hour Emergency Roadside Assistance, Guaranteed Ride Home and toll-free roadways!
Questions? If you have fare-related questions, or need assistance calculating your fares, please have your van's bookkeeper contact your assigned Accounting Rideshare Service Rep. For recruiting questions or other support, contact King County's Commuter Van Program via email.
Please note: Fares resumed Oct. 1, 2020. Groups who are parked and not commuting may not drive the van, are not allowed personal use, excess miles and/or driver bonus miles at any time. Any driving must be for commute purposes and is charged at the full monthly rate.
Not sure who your Accounting Representative is? Please call anyone listed below for help or a referral.
Contact us
联系我们
ਸਾਡੇ ਨਾਲ ਸੰਪਰਕ ਕਰੋ
Contáctenos
Зв'язатися з нами
Liên Hệ với Chúng Tôi
Local Calls: 206-625-4500
WA Relay: 711
Fax: 206-684-2166
本地电话: 206-625-4500
WA Relay: 711
传真: 206-684-2166
Llamadas locales: 206-625-4500
WA Relay: 711
Fax: 206-684-2166
ਸਥਾਨਕ ਕਾਲਾਂ: 206-625-4500
WA Relay: 711
ਫੈਕਸ: 206-684-2166
Місцевий номер телефону: 206-625-4500
WA Relay: 711
Факс: 206-684-2166
Điện Thoại Nội Vùng: 206-625-4500
WA Relay: 711
Fax: 206-684-2166
Send a comment
发送评论
Enviar un comentario
ਇੱਕ ਟਿੱਪਣੀ ਭੇਜੋ
Надішліть коментар
Gửi bình luận
Mailing Address:
Rideshare Operations
KSC-TR-0812
201 S Jackson St
Seattle, WA 98104-0770
邮寄地址:
Rideshare Operations
KSC-TR-0812
201 S Jackson St
Seattle, WA 98104-0770
Dirección postal:
Rideshare Operations
KSC-TR-0812
201 S Jackson St
Seattle, WA 98104-0770
ਈਮੇਲ ਪਤਾ:
Rideshare Operations
KSC-TR-0812
201 S Jackson St
Seattle, WA 98104-0770
Адреса електронної пошти:
Rideshare Operations
KSC-TR-0812
201 S Jackson St
Seattle, WA 98104-0770
Địa Chỉ Nhận Thư:
Rideshare Operations
KSC-TR-0812
201 S Jackson St
Seattle, WA 98104-0770