Metro Rideshare Operations furthers innovative public transportation with 100% electric, zero-emission vehicles (EVs) known as Metropools. Twenty new five-passenger Nissan LEAFs are added to the Commuter Van Program. To support the EV effort, the Department of Transportation is installing 54 public-access electric charging stations in buildings and at transportation hubs such as park & ride lots and ferry terminals. Many private employers have also installed charging stations.
About Nissan LEAFs
The LEAF is a 100% electric, no gas, no tailpipe, no emissions vehicle with an estimated driving range of 84 to 151 miles on a single charge, depending on model year. The LEAF seats five people and is capable of driving highway speeds and includes a navigation system, keyless entry and mobile-device connectivity. The LEAF includes a screen to show the driver how the heater or A/C usage is affecting the driving range to help the driver choose the most efficient way to drive.
Charging the LEAF
Your employer may have installed a Level 2 (220 volt) charging station(s) that will allow your vehicle to be fully charged in approximately 7 hours if your battery is completely empty.
For charging stations on the go, the LEAF is equipped with an innovative EV-IT system that keeps the driver in the know by showing where nearby Level 2 and 3 charging stations are and their availability.
Other ways to find charging stations
ChargePoint - The world's largest network of electric vehicle (EV) charging stations in the US, Europe, Australia.
Alternative Fuels Data Center - Find alternative fueling stations near an address or ZIP code or along a route in the United States
West Coast Green Highway - Extensive network of electric vehicle (EV) DC fast charging stations located every 25 to 50 miles along Interstate 5 and other major roadways in the Pacific Northwest.
Personal use
Each group is allowed 40 free miles per month for personal use by primary and/or backup drivers. This mileage is automatically deducted during the monthly reporting process. Up to 250 miles per month above the allowable commute miles is available for personal use. Those miles must be paid for by the approved drivers who utilize them at the stated personal use rate from our current fare schedule. Drivers who use the LEAF for personal use will be required to keep a mileage log.
Please note
Groups travelling in a LEAF will be provided with a Good To Go pass and will be exempt from the tolls on SR-520, in I-405 hot lanes and SR-167 hot lanes.
Sorry, LEAFs do not accommodate bike racks.
Find a Metro Vanpool
Look for a Vanpool along your route
Enter complete home and work addresses below for the most accurate list results. Visit RideshareOnline.com to create and view custom trip lists with additional search filters, personal trip calendar, and available rewards.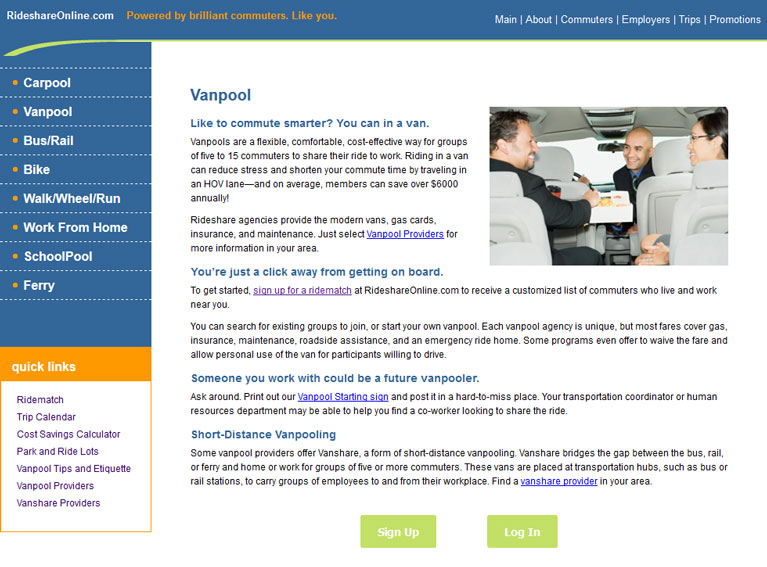 Create a profile
Go to RideshareOnline.com to create a profile and search for Vanpool groups. When you find a Vanpool match, contact the listed coordinator to confirm seat availability, route and schedule to see if it is good fit.
Start your own Vanpool
Recruit four or more members (at least two drivers and a bookkeeper), agree on group details (parking, route, schedule, etc), and we will follow up with next steps!
Connect with Rideshare
Local Calls: 206-625-4500
WA Relay: 711
Fax: 206-684-2166
Mailing Address:
Rideshare Operations
KSC-TR-0812
201 S Jackson St
Seattle, WA 98104-0770