Restart your commute with Vanpool!
Restart Your Commute With Vanpool!
King County Metro's VanPool Program is here to help you get to and from work and stay healthy on your commute. We support social distancing through fewer riders per van, flexible schedules, and we provide all vanpools with public health recommendations. Join a vanpool today to share the responsibility of driving, save money, and improve your commute.
Find a Metro Vanpool
Look for a Vanpool along your route
Enter complete home and work addresses below for the most accurate list results. Visit RideshareOnline.com to create and view custom trip lists with additional search filters, personal trip calendar, and available rewards.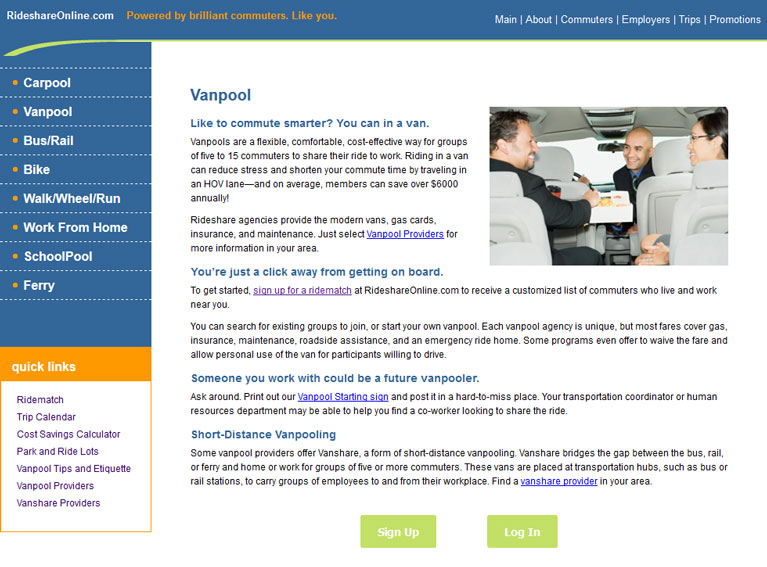 Create a profile
Go to RideshareOnline.com to create a profile and search for Vanpool groups. When you find a Vanpool match, contact the listed coordinator to confirm seat availability, route and schedule to see if it is good fit.
Start your own Vanpool
Recruit four or more members (at least two drivers and a bookkeeper), agree on group details (parking, route, schedule, etc), and we will follow up with next steps!
Connect with Rideshare
Local Calls: 206-625-4500
WA Relay: 711
Fax: 206-684-2166
Mailing Address:
Rideshare Operations
KSC-TR-0812
201 S Jackson St
Seattle, WA 98104-0770