'Report it to Stop it' campaign aims to reduce sexual misconduct, increase awareness and reporting
Summary
Unwanted harassment and sexual misconduct occurs daily on public transportation across the world, and King County Metro is working with advocates and law enforcement on a campaign to increase awareness, encourage reporting, support victims and reduce misconduct. The "Report It to Stop It" campaign starts April 24, during National Sexual Assault Awareness Month.
Story
Bus riders, regardless of gender, race or age, can be targeted in incidents of indecent exposure, lewd behavior, unwanted touching, harassment or unwanted comments. But these incidents go largely unreported, or reported by witnesses, allowing offenders to continue to victimize people.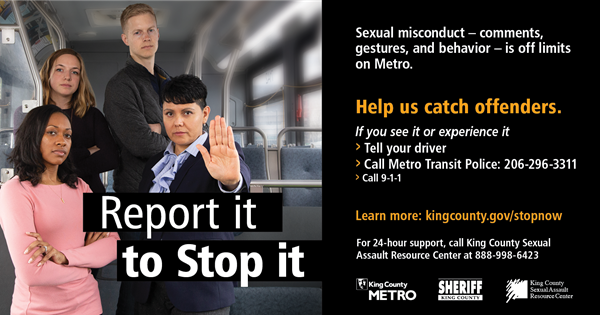 We want to put an end to it. Through a joint multi-year effort with the King County Sexual Assault Resource Center and the King County Sheriff's Office, Metro Transit Police (MTP) expect an increase in the number of reports. In turn, MTP expects that with bus riders reporting more frequently, they can hold offenders accountable through successful prosecutions to reduce the problem.
"We want to make sure riding Metro is safe for all people, all the time. By encouraging victims and witnesses of sexual misconduct to report it, we are putting offenders on notice that this behavior is not tolerated on public transportation, or anywhere," said Executive Dow Constantine.
"Everyone has the right to feel safe. This program sends a strong message that sexual misconduct will not be tolerated and that our Metro Transit Police deputies and detectives will partner with prosecutors to support and pursue justice for victims" said King County Sheriff Mitzi Johanknecht.
"For many different reasons, more than 60 percent of people who have experienced sexual violence do not report it to law enforcement," said Mary Ellen Stone, executive director of the King County Sexual Assault Resource Center. "We're pleased to partner with Metro Transit on this campaign, which promises to achieve shared goals: removing barriers to reporting sexual violence, holding offenders accountable, and ensuring justice for survivors."
Metro is calling on riders to report misconduct by:
Telling their Metro bus driver at the time of the incident,

Calling the King County Sheriff's Office/Metro Transit Police 206-296-3311,

Calling 911.
Metro is providing resources and information
Promoting awareness that anyone can call the King County Sexual Assault Resource Center's 24-hour Resource Line for support at 1-888-998-6423.

Visiting

Metro's "Stop Now" website

for tips on how to stay safe and how to report an incident.

Reviewing tips and assistance in new brochures on Metro buses.
Offenses against riders on public transportation have led major transit agencies in New York, Boston, Washington D.C., Los Angeles, London and Vancouver, British Columbia, to raise awareness through campaigns and focus resources to help victims, bystanders and law enforcement address the problem. London's "Report It to Stop It" campaign launched in 2014 and resulted in a 31 percent increase in the number of reports of sexual misconduct.
The "Report It to Stop It" campaign builds on Metro's existing "All Are Welcome Here" promotions, which encouraged riders, bus drivers and law enforcement to support each other and fight instances of racism and discrimination.
"Everyone has a right to safe and accessible transit, and our community – bus drivers, police and riders – are teaming up to help catch offenders and support victims," said King County Metro General Manager Rob Gannon.
Since 2013, Metro Transit Police have focused resources on investigating sexual misconduct reports, and they expect the awareness campaign will further increase the number of reports and help them better improve safety on Metro services.
"These crimes have been hidden in plain view for too long. Sexual misconduct is often a crime – or a precursor to crime – and it is important to the transit police to investigate and make transit safer," said Metro Transit Police Maj. Dave Jutilla. "By coming forward, victims and bystanders will help us make Metro's system safer for everyone."
A texting app for Metro riders to report sexual misconduct, other crimes or emergencies is in development and is scheduled to be released later this year.
Offenders, victims and bystanders
Anyone can be the victim of sexual misconduct. Law enforcement experts said sexual misconduct offenders ride crowded public transit due to the easy access to victims and for the anonymity it can provide.
The targets of sexual misconduct can include riders with disabilities, riders who have mental illness, riders who are older, women who are riding alone, people who might appear to have limited English proficiency, young people, and visitors who are unfamiliar with the area. Bystanders and targets of sexual misconduct might not report an incident due to the trauma they experienced, or out of fear, embarrassment or guilt. Some victims might not know who to call for help, or want to avoid the legal system.
Bus riders have support to overcome those concerns with help from advocates at the King County Sexual Assault Resource Center and the King County Sheriff's Office through Metro Transit Police.
"We're here to support anyone who has experienced or witnessed sexual violence, whether they need information, legal advocacy, or therapy to work through trauma. While we encourage reporting to law enforcement where possible and can help anyone in making that report, our services are available to anyone whether they choose to report to law enforcement immediately or not," said Stone.
What is the difference between a crime and unwanted harassment?
Examples of crimes

: Indecent exposure, unlawful imprisonment, stalking, sexual assault (rape, indecent liberties), simple assault, groping or grabbing passengers, rubbing up against someone in a sexual manner, harassment/threats, disorderly conduct, unlawful transit conduct.

Other offenses to report

: Unwanted personal or sexual comments, behavior intended to humiliate and intimidate people, verbally or physically; aggressive staring, insulting language, crude sexual comments or gestures; other behaviors that cause offense.
By the numbers
King County Metro carried a record 122.2 million riders in 2017, propelling the Seattle area to lead the country in ridership growth. Demand continues to rise. Based on the size and ridership, Metro is a safe system, but things can still happen. In 2017, Metro's system experienced 16 passenger assaults, 89 operator assaults, 313 physical disturbances between passengers. The enforcement efforts of the Metro Transit Police included 1,369 arrests or infractions.
It's difficult to quantify the size of the problem of sexual misconduct, but by raising awareness, identifying and arresting suspects and encouraging riders and bystanders to speak out, we will reduce the number of instances that occur. Police can sometimes establish links between multiple incidents of misconduct and identify perpetrators in order to make arrests.
Dozens of victims or bystanders contact Metro police, transit operators and customer service each year with reports of sexual harassment or sexual misconduct. But statistics don't tell the entire story, and by some estimates up to 90 percent of incidents are underreported or unreported.
Since the #MeToo movement gained widespread attention in October 2017, calls to KCSARC's Resource Line have increased by more than 50 percent compared to the previous year. The increase also appears to be reflected in Metro Transit Police reports: 66 incidents were reported in 2017, about half of which were from October-December. Most reports are for indecent exposure, indecent liberties such as unwanted touching, and other sex offenses.
Overview of only reported incidents of sexual misconduct

(some incidents might be reported in each column)

Metro Transit operator reports

Complaints to Metro customer service

Metro Transit Police investigations

2013

57

40

33

2014

60

25

28

2015

44

36

35

2016

72

39

63

2017

69

52

66
RELEVANT LINKS
King County Metro's Anti-sexual misconduct page
King County Sexual Assault Resource Center