Reports have tripled following 'Report it to Stop it' campaign, leading to arrests and convictions
Summary
A joint effort to increase reporting and reduce unwanted harassment and sexual misconduct on public transportation is succeeding. Since the launch of "Report It to Stop It" last year, reports to law enforcement of such behavior have tripled. King County Metro, advocates and law enforcement continue to work to increase awareness, encourage reporting, support survivors and reduce misconduct as National Sexual Assault Awareness Month draws to a close.
Story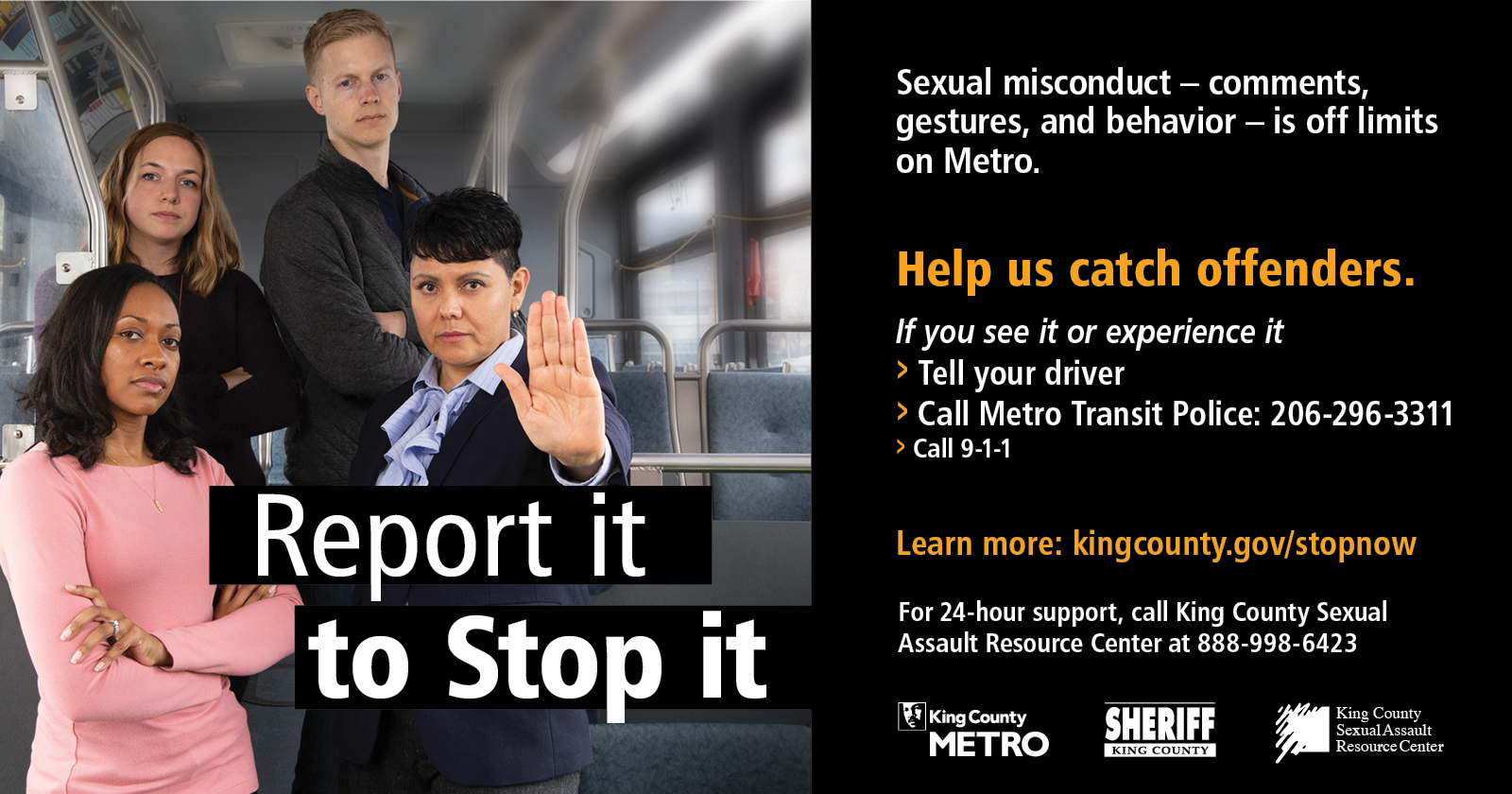 STORY
Sexual misconduct on public transportation is often underreported, and a problem that occurs in plain view on systems around the world.
Bus riders, regardless of gender, race or age, can be targeted in incidents of indecent exposure, lewd behavior, unwanted touching, harassment or unwanted comments. But these incidents go largely unreported, allowing offenders to continue to victimize people.
Metro Transit Police was eager to address this problem and remove repeat offenders to improve safety on Metro's system.
"We put offenders on notice and made it clear that sexual misconduct is not acceptable on public transportation or anywhere," said King County Metro General Manager Rob Gannon. "This whole program is about empowerment – empowering riders and bystanders and bus operators to report sexual misconduct. These initial results mark clear progress, but our goal is to end sexual misconduct on public transportation in our community."
As part of a public awareness and safety campaign promoted on 1,500 Metro buses, victims and bystanders were encouraged to report sexual misconduct. Depending on the situation, the 'Report it to Stop it' campaign empowered people to seek assistance or support from law enforcement, bus operators, or the King County Sexual Assault Resource Center (KCSARC).
The effort is showing results. Reports of sexual misconduct in the transit system tripled between 2017 and 2018 – growing from 59 to 178. Momentum built by the campaign and the #MeToo movement continues this year, with Metro Transit Police receiving 68 reports this year through March 31.
In the first 12 months of the effort (April 1, 2018 through March 31, 2019), the King County Sheriff's Office received 224 reports of sexual misconduct from victims on Metro transit service. Indecent exposure (99), assault with sexual motivation (59) and sexual harassment or stalking (40) represented the majority of the reported cases. Most of the reports (139) came through statements to law enforcement, with the remainder through bus operators or calls to Metro customer service.
Reports lead to arrests
Since 2013, Metro Transit Police have focused resources on investigating sexual misconduct reports. As they predicted, the awareness campaign increased the number of reports. This has in turn helped them better improve safety on Metro services.
"We continue to rely on reports from the public so we can identify and investigate suspects, which is essential for seeking justice for victims and stopping repeat offenders," said Sheriff Mitzi Johanknecht.
In the past year since the "Report it to Stop it" campaign launched, 40 cases led to arrests, and 24 are part of ongoing investigations. The balance of reported incidents either hit dead ends during investigations or no crime could be clearly determined.
During the investigative process, 17 suspects were suspended from riding Metro bus service. In at least three instances, repeat offenders have now been charged and convicted: one person for indecent exposure, one person for fourth-degree assault with sexual motivation, and another suspect named in multiple reports was arrested for three separate incidents and is now awaiting charges.
KCSARC reported 33 cases involving Metro services since the campaign began. Of those cases, more than half of the survivors received multiple services from KCSARC, some including legal assistance while reporting incidents to police.
"The campaign removes barriers to reporting sexual violence and sends a strong message to survivors that their reports will be taken seriously," said Mary Ellen Stone, executive director of the King County Sexual Assault Resource Center. "We are pleased to partner with Metro on this campaign, and hope other law enforcement agencies are paying attention to this promising result."
Arrests lead to prosecutions
Overall, for incidents occurring in 2018 to present, detectives forwarded 43 cases to prosecutors, including 14 felonies and 29 misdemeanors, for cases such as indecent exposure. Three of the cases involved repeat offenders with multiple victims. All three remain in custody on high bail, awaiting trial.
So far 37 charges have been filed in superior, district and municipal courts for incidents from Jan. 1, 2018 to April 30, 2019. Those cases resulted in 11 convictions. Twenty-five more cases are in the pipeline this year; a handful of other cases are pending determination, two were dismissed, and one suspect was found not-guilty.
"Thanks to this public awareness and action campaign, people who rely on King County Metro services are more likely to report sexual misconduct and harassment incidents," said King County Prosecuting Attorney Dan Satterberg. "By working together with law enforcement and King County Metro, we're doing our part to prioritize and prosecute these cases to keep our transit system safe for everyone."
The Sheriff's Office and Metro expect to receive a steady number of reports as victims and bystanders come forward.
"We've made investigating sexual misconduct our No. 1 priority, which holds offenders accountable and stops them from targeting more victims. With reports tripling, this problem is no longer able to hide in plain view," said Metro Transit Police Maj. Dave Jutilla. "By coming forward, victims and bystanders will help us make Metro's system safer for everyone."
Riders should report misconduct by:
Telling their Metro bus driver at the time of the incident,

Calling the King County Sheriff's Office/Metro Transit Police at 206-296-3311,

Calling 911.
Metro is providing resources and information
Promoting awareness that anyone can call the King County Sexual Assault Resource Center's 24-hour Resource Line for support at 1-888-998-6423.

Visiting

Metro's "Stop Now" website

for tips on how to stay safe and how to report an incident.

Tips and assistance are in brochures on Metro buses.
A problem on public transportation across the world
Offenses against riders on public transportation have led major transit agencies in New York, Boston, Washington D.C., Los Angeles, London and Vancouver, British Columbia, to raise awareness through campaigns and focus resources to help victims, bystanders and law enforcement address the problem. London's "Report It to Stop It" campaign launched in 2014. That city saw a 31 percent increase in the number of reports of sexual misconduct.
Metro's "Report it to Stop it" campaign builds on the existing "All Are Welcome Here" promotions, which encouraged riders, bus drivers and law enforcement to support each other and fight instances of racism and discrimination.
What is the difference between a crime and unwanted harassment? All incidents that make someone feel uncomfortable should be reported, whether the victim thinks a crime has been committed or not.
Examples of crimes

: Indecent exposure, unlawful imprisonment, stalking, sexual assault, simple assault, groping or grabbing passengers, rubbing up against someone in a sexual manner, harassment/threats, disorderly conduct, unlawful transit conduct.

Examples of other offenses to report

: Unwanted personal or sexual comments; behavior intended to humiliate and intimidate people verbally or physically; aggressive staring, insulting language, crude sexual comments or gestures; other behaviors that cause offense.
RELEVANT LINKS
King County Metro's Anti-sexual misconduct page
King County Sexual Assault Resource Center
King County Metro carried a record 122.5 million riders in 2018, among the top systems in the country in ridership growth and provides an estimated 400,000 daily rides. The agency was named Outstanding Public Transportation System in 2018 by the American Public Transportation Association (APTA) and is focused on serving the region by operating bus service, water taxi, light rail, streetcar, vanpools and community-focused mobility solutions.