Water Quality Benefits Evaluation (WQBE) Toolkit
Identifying how we can make the biggest impact on water quality.
King County is developing tools to help determine the most effective actions we can take to improve water quality.
We rely on clean water  for our health and the health of our environment, and we are committed to investing billions of dollars in water quality improvements in the next decade.  But how do we strategically prioritize our work to deliver the best outcomes for our investments?  To help answer these questions, we are building a toolkit from the latest scientific information that can evaluate the water quality benefits of potential actions.
The Water Quality Benefits Evaluation (WQBE) Toolkit will include:
Pollutant loading models, which estimate pollutant loads for major King County waterbodies taking into account major point and non-point sources.
System for Urban Stormwater Treatment and Analysis Integration (SUSTAIN) models, which identify cost-effective combinations of potential water quality projects and programs for reduction of pollutant loads or stormwater volumes.
Qualitative causal models, which define relationships between potential water quality projects and programs and a suite of ecological/human health endpoints (southern resident orca and Chinook salmon populations, toxics in fish, fecal contamination at shellfish beds, and algal toxins and fecal contamination at swimming beaches).
Questions? View Frequently Asked Questions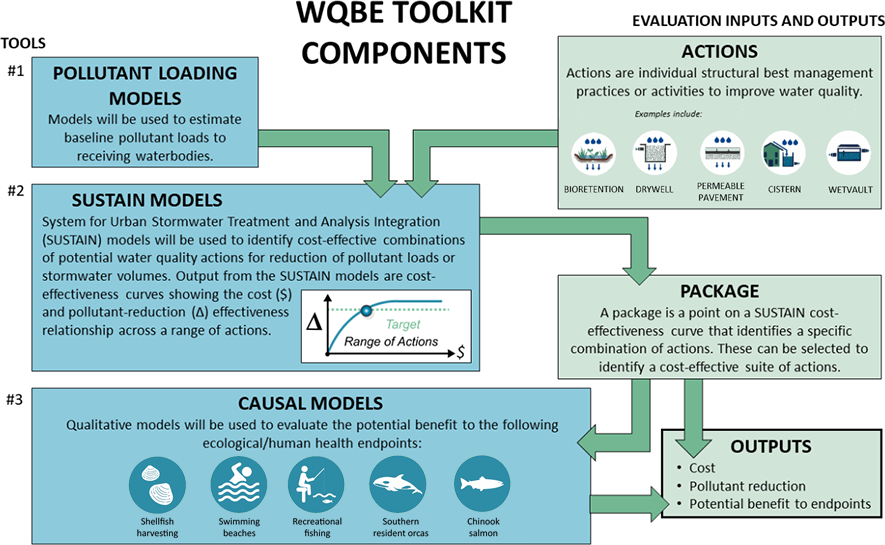 Why is King County developing the WQBE Toolkit?
The WQBE Toolkit will provide transparent, consistent methods for evaluating benefits of water quality projects and programs, such as a roadway stormwater treatment program or a rain garden installation.
WQBE will help water quality planners estimate the potential benefits to ecological and human health including open swimming beaches, safe fish and shellfish consumption, Chinook salmon populations, and the Southern Resident orca population from different water quality projects and programs.
Watch a short presentation about the project!
Learn more and tell us what you think!
King County is asking for feedback from our partners to improve the toolkit so that it can more effectively support our collective work in the region. Specifically, we would like to know the following:
Help identify any gaps to ensure we produce a robust Toolkit to inform King County planning efforts.
Hear whether there is interest in using information from the Toolkit for your work.
Flag any additions or improvements that could be incorporated in this phase of modeling or in future efforts. 
To learn more about the models, please visit our model-specific input sites:
Sign up for the WQBE mailing list to receive updates on project development and future opportunities to give input.
WQBE Toolkit milestones

To learn more, please contact the project manager: Carly Greyell.