Executive Constantine takes action to minimize risk in King County areas with unstable slopes
Summary
Updating Landslide Hazard Areas map is part of comprehensive approach to decrease risk to lives and critical infrastructure in areas that have unstable slopes similar to those near Oso in Snohomish County.
Story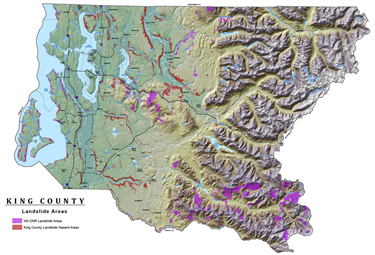 King County Executive Dow Constantine announced action to minimize risk to the public in areas of the County that have unstable slopes similar to those near Oso in Snohomish County.
A team he assembled shortly after the tragic landslide is also determining additional actions King County can take to decrease the risk to lives and critical infrastructure in all hazardous areas.
"With new technologies we have the ability to create more detailed hazard maps so that our employees and residents can make better-informed decisions about land use," said Executive Constantine. "We will continuously improve our approach to permitting, emergency response, and notification that places the highest value on public safety."
The Executive directed his team to seek federal funding to support an update of the County's
Landslide Hazard Areas map
, which was first developed in the 1990s. King County geologists and researchers will use the most current mapping technology and data to refine the boundaries of landslide-prone areas, including the run-out areas.
These new maps will bring together the best information in one location, making information on landslide hazards more accessible to the public. Employees updating the maps will use lidar, which illuminates a target with laser and analyses the reflected light. Another advantage of lidar is that it can penetrate tree cover and vegetation to provide more precise readings.
The team will also examine how the public learns about potential landslide hazards and other risks when they buy property. One option is to include landslide hazard information in property titles.
The team includes representatives from several departments, including Permitting and Environmental Review, Natural Resources and Parks, Executive Services, and Transportation.