Results show regional benefits of integrating Metro and Sound Transit services
Summary
Joint planning and integration of King County Metro and Sound Transit services will create greater operating efficiencies, a more seamless rider experience, and enable future service expansion in our growing region.
Story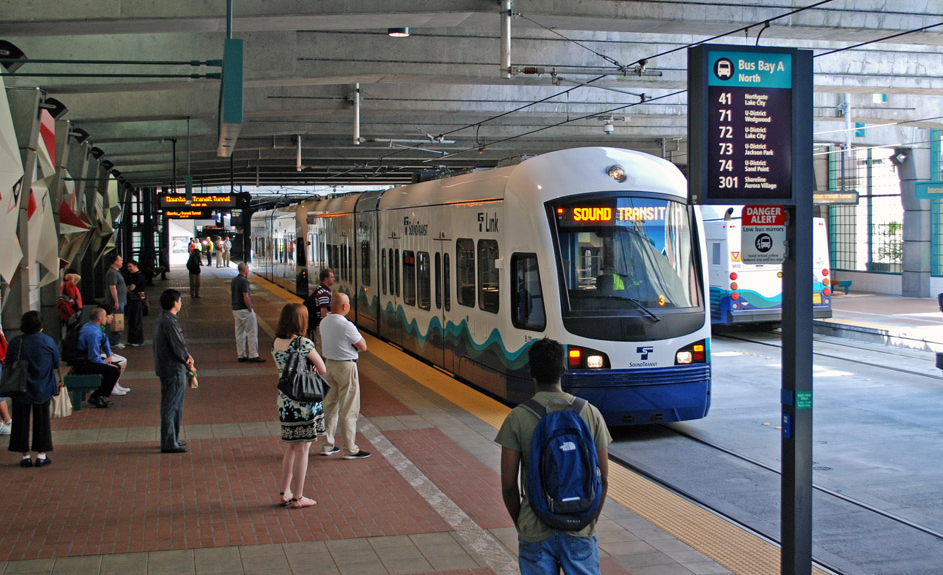 Download the full report. [PDF]
As the executive in charge of Metro Transit, and chair of the Sound Transit Board of Directors, King County Executive Dow Constantine announced actions under his initiative to integrate services between the two agencies—actions that will create a more seamless experience for riders and enable future service expansion.
"By further integrating the planning and operations of our transit agencies, we can create efficiencies as new lines open and provide innovative services that better serve the needs of a growing region," said Executive Constantine.
The report, Getting There Together, outlines further actions under the integration initiative issued in June by Executive Constantine as an executive order to Metro and as a motion unanimously adopted by the Sound Transit Board of Directors.
The report identifies "efficiency dividends" where transit agencies can provide more overall service with fewer resources. Efficiency dividends include stretching dollars and achieving significant long-term improvements in service for customers, including:
Redeployment of services to places that need them,
More bus service connecting to rail or bus rapid transit (BRT, such as RapidRide),
Further investment in the region's high-capacity rail and bus systems,
Redeployment of investment to capital improvements, and
Improved financial health and stability of agencies.
Recommendations include near-term collaboration on a range of customer tools:
New smartphone app for joint trip planning, and a pilot program that will enable riders to pay fares with their smartphones,
Pilot project to provide parking availability information for transit riders.
Launching a pilot project to display real-time arrival information at selected transit station, and
Providing cellular service inside the Downtown Seattle Transit Tunnel and the underground University Link line.
Planning for integration
Near-term work will also include managing impacts of upcoming Metro service reductions
. F
or example, restructuring Metro services in Kent/East Hill to connect with Sounder trains, and coordinating service along State Route 522 to shift riders from Metro to expanded Sound Transit service.
Many long-term opportunities are created by the more than 30 miles of light rail extensions that Sound Transit is on track to complete by 2023. Light rail and RapidRide bus rapid transit services create important opportunities to modify bus to move riders onto services with significantly greater operating speeds, reliability, and capacity while avoiding duplication.
In preparation for the early 2016 opening of Sound Transit's University Link light rail extension
—
which offers six-minute trips between UW and downtown Seattle regardless of traffic conditions
—
the agencies will plan for integrating services to provide easy connections with bus routes. Near-term planning for rail/bus integration will also put particular focus on connections at Mercer Island and Northgate. The agencies will study fully integrated bus/rail networks in planning for a potential future Sound Transit ballot measure.
The agencies will also work on longer-term customer-focused improvements such as potential coordination to improve rider alerts; jointly evaluating highest and best use of facilities such as Downtown Seattle Transit Tunnel and bus bases; and exploring opportunities for operational efficiencies in areas such as security and public safety.
Regional partners
Other agencies joining to increase collaboration on regional transportation services include Community Transit, Pierce Transit, Everett Transit, Kitsap Transit, Washington State Department of Transportation, Puget Sound Regional Council, and the City of Seattle.
Relevant links
Quotes
By further integrating the planning and operations of our transit agencies, we can create efficiencies as new lines open and provide innovative services that better serve the needs of a growing region.
We've accomplished a lot through partnership and we can accomplish more. We need to provide an alternative to gridlock by ensuring transit riders can make seamless transfers between services and getting the most from every transit dollaright rail.
As Central Puget Sound continues to grow, we must work together to improve the way we provide transportation options across the regionional light rail.
More than 40 percent of Seattle commuters already depend on transit to get to jobs downtown, and demand will only increase as we grow and increase the density of urban areas. In order for transportation in Seattle and around the region to work, we must intensify our focus on seamlessly integrating our future transit investments, including City streetcar expansions, bus service, and regional light rail.
Keeping a growing region like the Puget Sound moving requires a transportation system in which all modes integrate seamlessly and transit plays an increasingly important role. We look forward to continuing to work closely with the region's transit agencies as this initiative gets under way.
Everyone throughout the entire region will benefit by creating greater efficiency in planning and operating public transit. I and other members of the Puget Sound Regional Council's Transportation Policy Board are eager to roll up our sleeves and do our part to make this initiative successful.
Excellent transit service ensures King County residents have a great place to live, with commuting options that sustain our economy and protect our natural environment. Greater integration of Metro and Sound Transit will not only stretch public dollars but enhance citizen trust needed to expand investment in transit.
The significant population growth Snohomish County and Everett will see in the coming years ahead will make greater efficiency and innovation a necessity, not a nice-to-have. Our greatest opportunity is building more light rail extensions that dramatically expand the capacity of our transportation system, and ensuring excellent integration of bus and train services. Rail expansions can keep bus riders out of the worst traffic and free up buses for more productive uses.
I fully support an integrated regional transit system where all transit agencies work together to achieve operating efficiencies and cost savings wherever possible.
This effort will help ensure transit lives up to its potential in our region. Strengthening this partnership will lead to greater efficiencies and will help earn public support for the further transit expansions we need to shape a truly vibrant and sustainable region.
For more information, contact:
Frank Abe, King County, frank.abe@kingcounty.gov, 206-263-9609
Geoff Patrick, Sound Transit, geoff.patrick@soundtransit.org, 206-398-5313
---