Find out today if you qualify for ORCA LIFT, Metro's new reduced-fare bus pass
Summary
Metro is taking advantage of the network of community partners that King County has formed in recent years to help riders determine if they qualify for ORCA LIFT, the transit agency's new reduced-fare bus pass. Qualified riders can sign up for a card before the next fare increase goes into effect March 1.
Story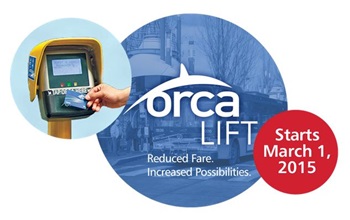 With Metro fares scheduled to increase March 1, King County Executive Dow Constantine is encouraging riders to find out now if they qualify for the new reduced-fare bus pass.
ORCA LIFT is one of the largest programs of its kind in the United States and will provide a discounted rate of $1.50 per trip for residents who earn less than 200 percent of the federal poverty rate, which is currently $23,340 per person.
Executive Constantine and the Metropolitan King County Council created the program to ensure that public transportation remains accessible after the transit agency's sixth fare increases since 2008.
"ORCA LIFT will help people across our region get to work and school each day even as bus fares continue to rise," said Executive Constantine. "By taking advantage of the strong network of community partners that we've built in recent years, we're making it convenient for riders to find out if they qualify for this new opportunity."
Riders can visit www.orcalift.com or call 206-553-3000 to find out if they qualify for the card. They can also visit Public Health – Seattle & King County locations across King County for enrollment assistance. The number of locations will grow to more than 45 this month when the eight partner agencies are fully trained.
Metro is tapping into the network of community partners that King County created during its effort that has helped nearly 200,000 local residents enroll under the Affordable Care Act. Representatives can assist residents in multiple languages to determine their eligibility for multiple programs and services at once.
Riders can start using ORCA LIFT cards in February, though it will not begin charging the reduced fare until March 1. The cards will be provided to riders at no charge. There will be a $5 fee to replace a lost or stolen card. Riders must re-verify their eligibility every two years.
The reduced fare applies to travel on Metro, Sound Transit Link Light Rail and the Seattle Streetcar. Reduced fares for the King County Water Taxi will range from $3 to $3.75 and $1 per trip on Kitsap Transit buses.
"Metro is only the second large transit system in the country to roll out a fare of this type—and with enthusiastic support from our transit stakeholders", said Metro General Manager Kevin Desmond. "I am proud that we are able to step up to ensure continued access to bus service for those who need it the most."
How to find out if you qualify for ORCA LIFT
On the web: www.orcalift.com
Call: 206-553-3000
In person: Visit one of these Public Health – Seattle & King County locations across King County