Soundgarden helps Executive launch the SoundGuardian, King County's new environmental research vessel
Summary
Executive Constantine launched the SoundGuardian, King County's new environmental research vessel named after the legendary Seattle band Soundgarden. Field scientists will use the vessel to monitor water quality, respond to illegal spills, and study the effects of climate change
Story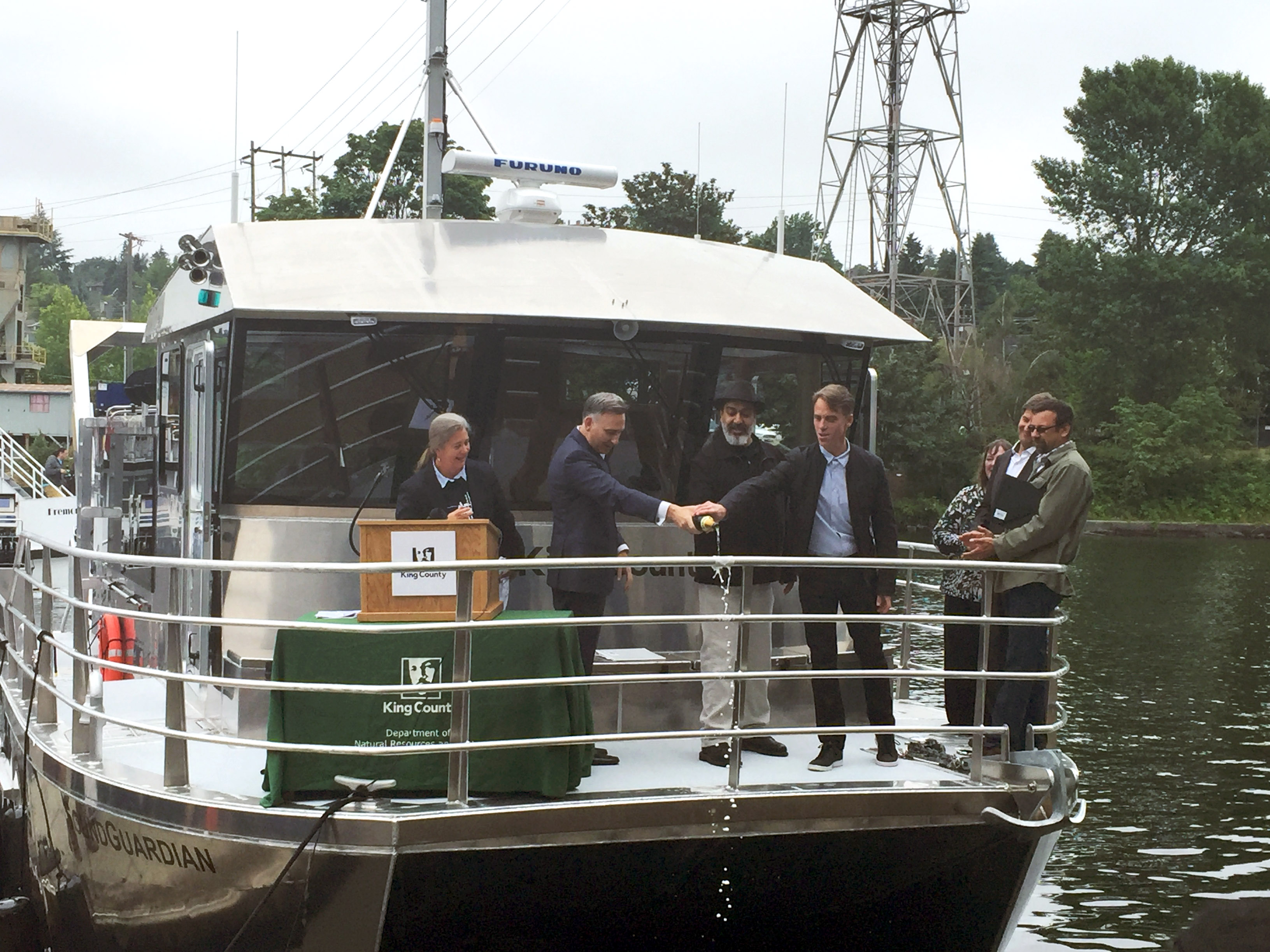 Executive Constantine and members of Soundgarden, Matt Cameron and Kim Thayil, dedicate the SoundGuardian, King County's new environmental research vessel.

King County Executive Dow Constantine was joined by members of the iconic Seattle band Soundgarden today to launch the SoundGuardian, King County's new environmental research vessel named in a public contest.
The new 48-foot vessel will be used by field scientists at the King County Department of Natural Resources and Parks to collect samples in Puget Sound, Lake Washington and the Duwamish River. It will also be used to respond to environmental emergencies, such as illegal spills and dumping, toxic algae bloom, fish kills and beach erosion.
"We're providing King County scientists with the equipment they need to monitor the quality of our water, quickly respond to emergencies, and study the effects of climate change," said Executive Constantine. "The work our researchers do in the field and on the water is critical to our quality of life, so it's important that they have the right tools to get the job done."
The SoundGuardian will replace The Liberty, an outdated vessel that has been in service since 1977.
In addition to monitoring local bodies of water for pollution, field scientists collect and analyze data to study trends in water temperature, which contributes to King County's effort to confront climate change.
The twin-hull vessel – built by local shipbuilders – is more fuel efficient and easier to navigate in choppy waters, which is critical during environmental emergencies. It will also increase productivity by enabling field scientists to conduct more research in the same amount of time.
The Department of Natural Resources and Parks considered other options, including upgrading the existing vessel and renting a boat. The department determined that it would ultimately be less expensive to purchase a new vessel for about $2 million, using the same capital program that the Wastewater Treatment Division uses to purchase other equipment.
King County invited the public to recommend and vote on the name of the new vessel. Bruce Kessler, who lives unincorporated south King County, received the most votes, submitting the winning entry. Band members Matt Cameron and Kim Thayil participated in the dedication ceremony on the Seattle Ship Canal.
FOR MORE INFORMATION, CONTACT:
Annie Kolb-Nelson, Wastewater Treatment Division, 206-477-5373