A new King County initiative prevented more than 3,000 people from becoming homeless in 2017
Summary
The first Best Starts for Kids initiative launched by Executive Constantine has prevented more than 3,000 people in 1,024 households from becoming homeless in its first year.
Story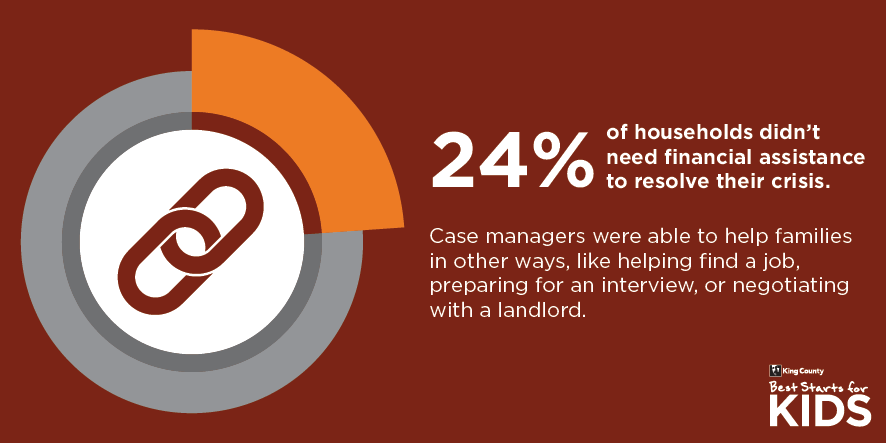 Twenty-four percent of households didn't need financial assistance to resolve their crisis.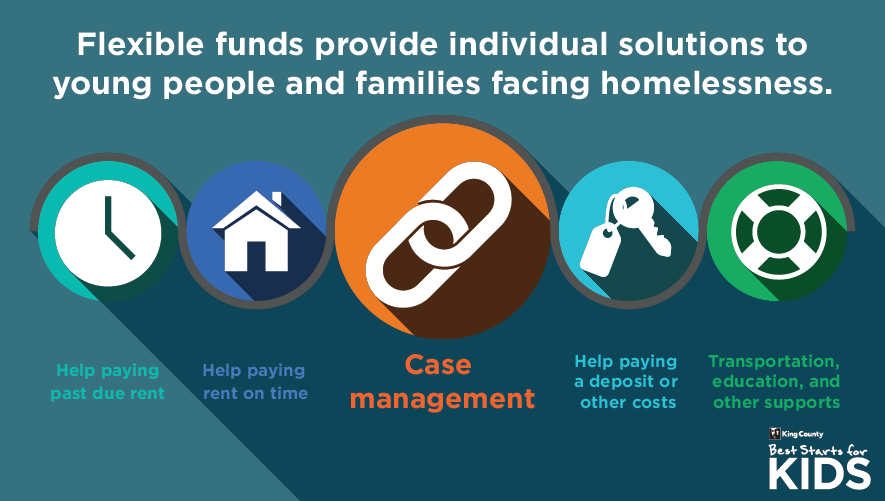 Flexible funds provide individual solutions to young people and families facing homelessness.

Ninety-six percent of households stayed housed.

A new initiative launched a year ago by Executive Dow Constantine has prevented more than 3,000 people in King County from becoming homeless.
Results from Jan. 1 through Sept. 30 – the latest data available – show that 96 percent of the 1,024 client households still had a place to live, which prevented the need for additional shelter beds. It also decreased the number of children who suffer the trauma that homelessness can cause, which can affect brain development.
Researchers at MIT and Notre Dame selected King County's initiative for an academic study on the effectiveness of homelessness prevention.
"Thousands of people who faced homelessness this winter are instead living in the safety of their own homes because of the prevention initiative we launched one year ago," said Executive Constantine. "Together with our partners, we are delivering on the promise I made to the people of King County to invest in what works, and deliver better outcomes for children, youth, and families."
Unlike the traditional approach to homelessness prevention that offers limited options for assistance, King County's approach provides case managers with the flexibility to meet the specific needs of someone who is on the verge of homelessness. Examples include transportation or utility assistance, help finding a higher-paying job, or help understanding their legal rights as a renter.
Twenty-four percent of clients ended up not needing financial assistance because case managers were able to help them in other ways, such as negotiating with a landlord to prevent an eviction or connecting them with other services.
The initial data also shows that King County is achieving its goal of engaging young people and families of color, who have been disproportionately impacted by the homelessness crisis.
Promoting healthier, more resilient children, youth, families, and communities
This is the first initiative funded by the voter-approved Best Starts for Kids levy, which will generate nearly $400 million for effective prevention and early intervention strategies that promote healthier, more resilient children, youth, families, and communities.
King County awarded $4.1 million to 25 community-based nonprofits – along with extensive training and rigorous evaluation – to provide prevention services during first year of the initiative. Young people between the ages of 12 and 24, and families who have children and are at imminent risk of homelessness are eligible to receive prevention services delivered by case managers. The county will invest a total of $19 million in the initiative over the course of the six-year Best Starts for Kids levy.
Executive Constantine launched several other initiatives funded by Best Starts for Kids in 2017, and brought other effective programs to scale: