Affordable Care Act repeal: Bad policy that weakens health care in King County
Summary
An analysis of the American Health Care Act passed by House Republicans would cut federal support to states and individuals, unraveling the most popular and successful aspects of the current law, according to Public Health – Seattle & King County. The legislation puts more than 200,000 King County residents at risk of losing their health care.
Story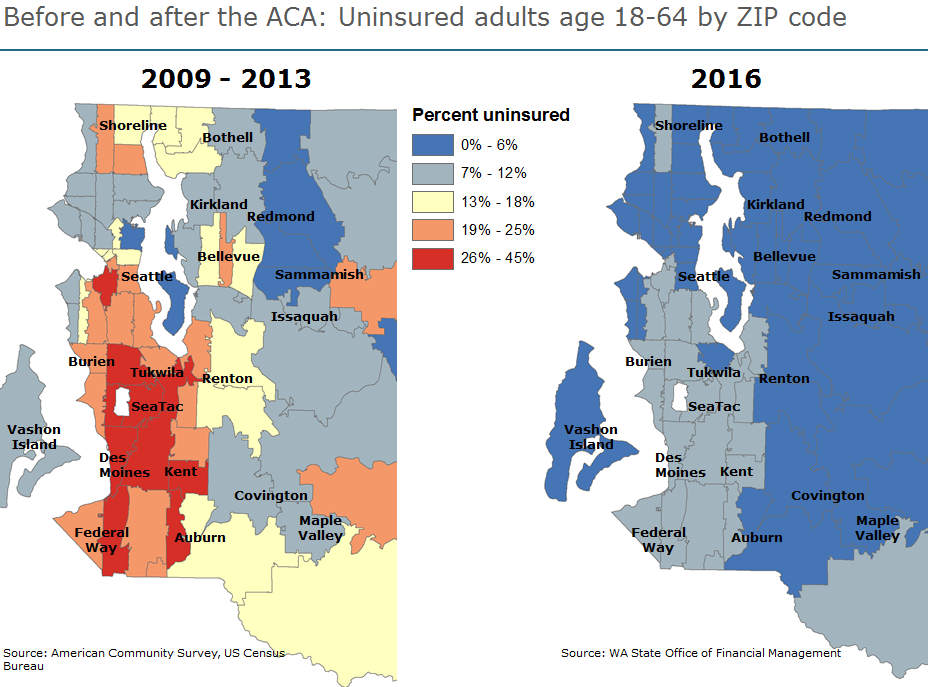 Before and after the ACA in King County

The vote today by Republicans in the U.S. House of Representatives to repeal the Affordable Care Act would make insurance more expensive for anyone with pre-existing conditions, increase out of pocket costs for low-income individuals, revoke coverage for mental health and substance-use disorder treatment, and erode King County's ability to respond to disease outbreaks.
"House Republicans passed a health care bill without fully explaining it to the American people, or even understanding its cost and consequences," said Executive Constantine. "Health care is too vital to be playing political games. King County has made health reform work, and improved the lives of hundreds of thousands of residents. The Trump/Ryan plan takes us backwards, putting at risk basic health insurance and treatment for people struggling with behavioral health and substance use. We will continue to fight to preserve what works in health reform, and beat back attempts to turn back the clock."
Using a measuring stick drafted by Public Health – Seattle & King County, the American Health Care Act (AHCA) falls short by:
Increasing the number of uninsured, leaving coverage unattainable for a large share of the 200,000 King County residents who have gained health coverage since 2013
Reducing essential benefits that support preventive care, including mental health coverage and contraception
Undermining the finances of local hospitals and health clinics, with ripple effects on the entire community
Carving a gaping hole in the public health fund that supports disease outbreak investigations and other prevention work
Worse than the original bill
Rather than improving the bill that was proposed and retracted in March, the amendments to the AHCA make it more damaging by making it likely that people with cancer, diabetes and any pre-existing condition will be priced-out of the insurance market. The AHCA also creates financial pressure for states to allow insurance companies to cut benefits.
Medicaid is particularly concerning. The bill would sunset the Medicaid expansion, the source of coverage for more than 150,000 people in King County. As of 2020, enrollment would freeze. And by turning Medicaid into a block grant, coverage for more than 400,000 of the lowest-income King County residents – including families and children – would also be endangered, with capped funding levels that would not keep up with rising costs, forcing cuts and reductions.
Concern about the House legislation prompted members of the King County Health Enrollment Leadership Circle made up of business, health care, community and labor leaders to write to members of Congress this week, urging them to reject the bill.
King County has experienced an historic reduction in the uninsured rate across all neighborhoods, racial groups, and income levels. The House bill would likely erode those gains and turn back the clock to a time when health care was unattainable for large numbers of residents.
Coverage for 65,000 people in King County who purchase coverage through Washington Healthplanfinder would be jeopardized. Financial support based on need would be replaced by far less generous tax credits based on age.
Other provisions of the AHCA include:
$4.5 million cut to local Planned Parenthood clinics, reducing access to contraceptives, cancer screenings, STD testing, and other critical family planning services.
Elimination of the Public Health and Prevention Fund, which provides $14 million annually to Washington State for local health needs. King County relies on these funds to prevent disease outbreaks. The elimination will impact King County's capacity to protect against emerging infections and diseases, or provide vaccines for outbreaks such as the mumps.
FOR MORE INFORMATION, CONTACT:
Alex Fryer, Executive Office, 206-477-7966