Executive Constantine promotes Obamacare in shortest enrollment period ever
Summary
King County Executive Dow Constantine kicked off this year's Affordable Care Act enrollment period, which begins on Nov. 1 for six weeks – the shortest since the health insurance exchanges launched in 2013.
Story
At Maple Valley Fire Station No. 80, Executive Constantine highlighted efforts by Public Health – Seattle & King County to enroll people in health insurance plans available on the state's exchange, Washington Healthplanfinder.
"King County is a health reform success story. We embraced the ACA and drove down the uninsured rate in King County by more than half," said Executive Constantine.
"Instead of making refinements and improvements, the Trump administration and congressional Republicans took aim at the ACA, and repeatedly tried to repeal it. Now in Year Six, the administration is still dragging its feet. This year's open enrollment period is the shortest ever – just six weeks. We're rolling up our sleeves and getting the word out that there are 20 plans to choose from, and for many people, the price of insurance will be the same or lower than last year. Our message is simple: Get health insurance, now is the time, and we'll make it easy."
Public Health – Seattle & King County is the lead agency for helping local residents get health insurance during open enrollment, which runs from Nov. 1 to Dec. 15.
Outreach activities have already started in communities where the data shows people are eligible for low-priced insurance but haven't enrolled.
For example, in Federal Way, Renton, Auburn, and other cities, healthcare Navigators have been meeting with local businesses, to inform them about helping part-time workers or small business employees get insurance.
In those same communities, enrollment events kick off in November, including "Health Care Happy Hours" where people can receive personal assistance to get signed up. Dozens of events are listed online, including:
Federal Way Enrollment Center (1640 South 318th Place, Federal Way), Saturdays and Mondays through Thursdays.
Maple Valley Fire Department, (22225 SE 231st Street, Maple Valley), on Nov. 1, from 1 to 5 p.m.
Auburn Library (39917 Auburn Enumclaw Road SE, Auburn) on Nov. 5, from 5 to 8 p.m.
The Landing (Renton) shopping center (828 North 10th Place, Renton), on Dec. 1, from 10 a.m. to 3 p.m.
South Park Community Center (8319 8th Avenue, South, Seattle), on Dec. 15, from 10 a.m. to 3 p.m. along with free dental screenings and mammograms
In King County, residents can choose from 20 different insurance plans.
The price of insurance for many people will be the same as last year, or even lower. More than half the customers who buy individual or family insurance plans from Washington Healthplanfinder get a discount, through credits that are based on income level.
Overall, about 7.6 percent of working-age adults remain uninsured in King County, and new health data shows that the percentages are different across the county, depending on location and demographic groups.
Reminder: Enrollment is offered year-round to individuals and families with lower incomes through Washington Apple Health (Medicaid). Customers enrolled in Apple Health will receive a notice of 60 days before the month they enrolled in or renewed their coverage last year.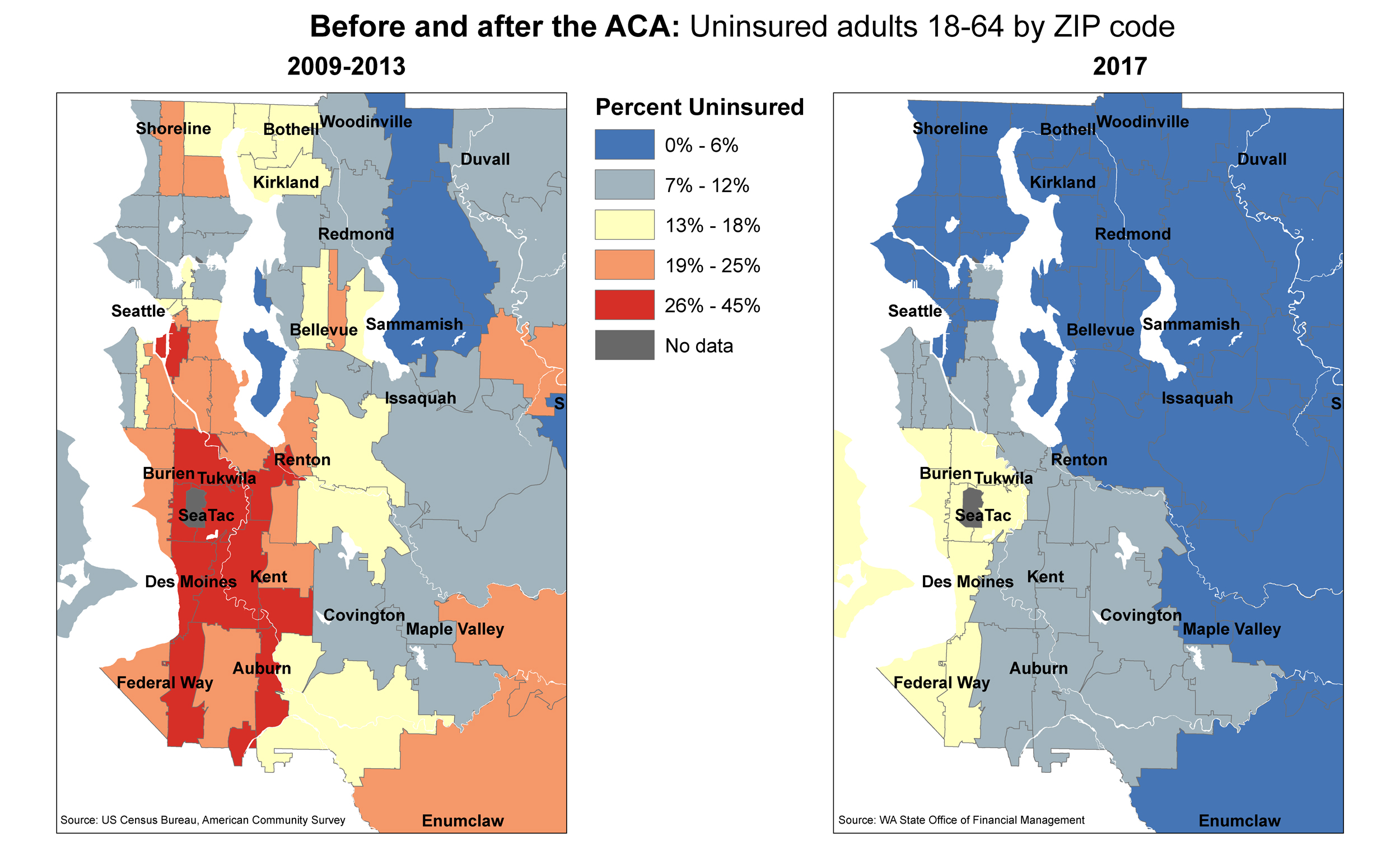 Relevant links
Quotes
King County is a health reform success story. We embraced the ACA and drove down the uninsured rate in King County by more than half. here. Instead of making refinements and improvements, the Trump administration and congressional Republicans took aim at the ACA, and repeatedly tried to repeal it. Now in Year Six, the administration is still dragging its feet. This year's open enrollment period is the shortest ever – just 6 weeks. We're rolling up our sleeves and getting the word out that there are 20 plans to choose from, and for many people, the price of insurance will be the same or lower than last year. Our message is simple: Get health insurance, now is the time, and we'll make it easy.




For more information, contact:

Alex Fryer, Executive Office, 206-477-7966

---