Executive Constantine announces winners of 2021 Green Globe Awards, King County's highest honor for environmental stewardship
Summary
Thirteen individuals and organizations from across King County were honored by Executive Dow Constantine on April 21 – Earth Day – with the 2021 Green Globe Awards for outstanding work to protect and restore the environment, including ensuring environmental justice for all.
Story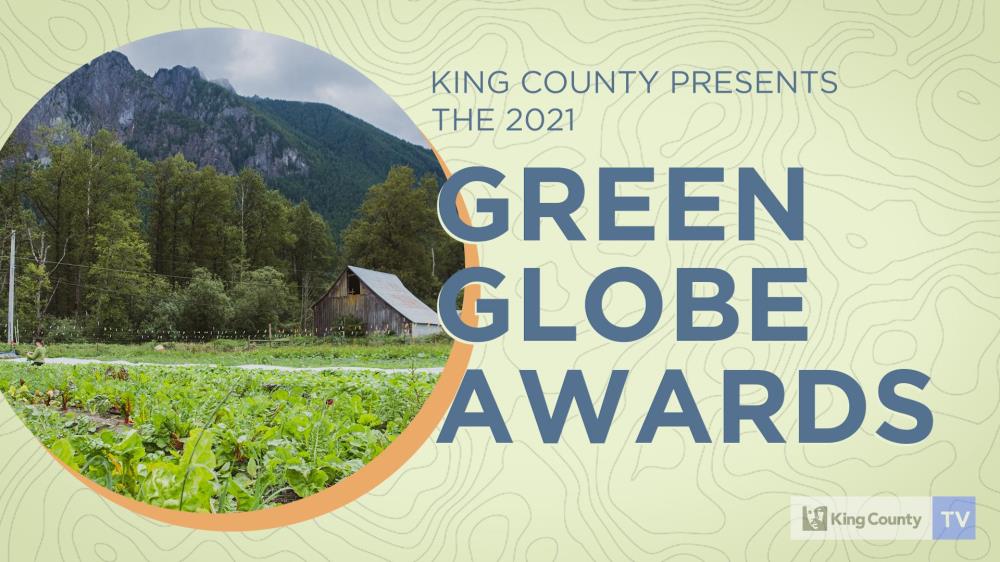 King County Executive Dow Constantine led an Earth Day celebration honoring the winners of the 2021 Green Globe Award, the region's highest recognition for environmental stewardship.
The 13 award winners include nonprofits, businesses, and people who have demonstrated exceptional environmental leadership, with many of this year's recipients focusing on more equitable climate future.
"King County is the proud home of innovators and achievers who are putting our corner of the country at the forefront of a green future," said Executive Constantine. "Many of this year's Green Globe Award winners have advanced environmental justice, producing measurable results that help us create a more resilient, more equitable community."
Learn more about our winners
Click the links below to watch videos about each of our honorees.
The top honor— the Environmental Catalyst Award — went to the Climate Equity Community Task Force, which helped shape Executive Constantine's proposal for the 2020 Strategic Climate Action Plan. The group of 22 leaders representing frontline communities – especially Black, Indigenous, and People of Color communities – that are disproportionately impacted by climate change, elevating their voices and expertise to shape policies for an equitable climate future.
One example of how the task force contributed to Executive Constantine's proposal for the Strategic Climate Action Plan was including housing security and anti-displacement as a focus area, promoting housing that is green, healthy, and affordable.
Ron Sims, former King County Executive and County Council member who went on to serve as Undersecretary of Housing and Urban Development for President Obama, was presented with the Environmental Legacy Award for his visionary work on climate change, environmental preservation, and equity and social justice.
This year's awards were again crafted by King County Parks employees who used an in-house laser router to create a unique design on lumber that was milled from storm-damaged and hazardous trees that had to be removed from parks and trails.
In response to ongoing health and social distancing considerations because of the pandemic, the 2021 Green Globe Awards were announced in a special video production rather than the traditional in-person ceremony. The presentation was produced by King County TV.
Winners of the 2021 King County Green Globe Awards
Environmental Catalyst Award: Climate Equity Community Task Force
The Climate Equity Community Task Force is a group of leaders representing frontline communities and organizations who bring multi-ethnic and multi-racial experiences to climate-related community building, and is the primary body for identifying community-driven climate actions for the County's 2020 Strategic Climate Action Plan and the Sustainable and Resilient Frontline Communities section.
The Task Force is developing recommendations on actions and priorities focusing on climate equity and recognizing agency for frontline communities, mitigating environmental injustices, ensuring equitable distribution of environmental benefits, and recognizing intersections with other social issues, such as affordable housing, and food security.
Environmental Legacy Award: Ron Sims
Longtime County Councilmember and County Executive Ron Sims's career is filled with forward-looking environmental stewardship accomplishments.
His commitment to implementing Critical Areas Ordinance laws protecting wetlands and other sensitive lands was matched by his advocacy for siting and building the Brightwater Treatment Plant. His expansion of the county's parks and trails systems included acquiring former railroad corridors that are now the East Lake Sammamish Trail and Eastrail.
The Transfer of Development Rights program Ron enacted created a financial incentive for rural landowners to permanently preserve open space and offered urban housing developers a way to pay for increased project density.
Leader in Environmental Excellence: Greg Wingard
A longtime conservationist and environmentalist, Greg Wingard co-founded eight grassroots environmental organizations, including the Green River Coalition and Duwamish River Cleanup Coalition, led a wide array of prominent conservation organizations, and contributed to numerous government advisory committees.
Wingard was a primary author of the City of Kent's draft wetland ordinance and co-authored the City of Covington's tree ordinance. He worked on the closure and cleanup of numerous toxic sites in the Green Duwamish Watershed, and he helped develop and fund an internship at Green River College's Natural Resources program, with interns working on more than 20 watershed restoration projects through the Green River Coalition.
Leader in Salmon Recovery: VanWieringen Organic Dairy Farm
John VanWieringen converted the family dairy farm near Enumclaw to organic farming about 20 years ago and became a supporter of efforts to restore Boise Creek, a White River tributary and the only King County stream with a spawning population of spring Chinook salmon.
VanWieringen provided land through donation and conservation easements for habitat restoration projects along the creek banks involving more than 6,500 native trees, shrubs, and plants – preserving more than 3,200 feet of stream habitat in perpetuity and dramatically increasing high-quality habitat for spring Chinook, fall Chinook, steelhead, chum, pink, and coho salmon, and bull trout.
Leader in Climate Equity Awareness: U.T.O.P.I.A. (United Territories of Pacific Islanders Alliance) Seattle
U.T.O.P.I.A. Seattle works to create a safe, welcoming, and supportive space for Pacific Islander LGBTQI community members, addressing basic needs, building pathways toward new opportunities, and advocating for social justice, education, and wellness.
U.T.O.P.I.A. Seattle's focus expanded to include environmental and climate justice through community member storytelling of experiencing climate impacts, partnering with the King County Climate Action Team to produce climate infographics to help community members connect with the impacts of climate change.
The group is an active member on King County's Climate Equity Community Task Force, helping develop the Sustainable and Resilient Frontline Communities section of the 2020 Strategic Climate Action Plan.
Leader in Forest Stewardship: Northwest Natural Resource Group
The Northwest Natural Resource Group (NNRG) partners with King County on forestry-related work and holds King County Parks' Forest Stewardship Council certification.
NNRG prepared a systemwide forest assessment to help Parks prioritize stewardship related to ecological health, carbon sequestration, and climate resilience – allowing King County to strategically achieve forestry-related commitments described in the 2020 Strategic Climate Action Plan.
It secured grant funding to test climate adaptation in forest management at Taylor Mountain. Over the next two years they will work with King County to thin the forest, create gaps to mimic natural conditions, and test forest management approaches for a changing climate.
Leader in Waste Reduction: South King Tool Library
The South King Tool Library provides access to tools and training to help maintain neighborhoods and reduce unnecessary consumption by all households, including low-income residents and underserved populations.
Their "fix-it" events feature experts repairing everything from electronics to clothing. In 2020, the South King Tool Library completed more than 500 tool checkouts to 600-plus registered users, while maintaining an inventory of more than 700 tools. In 2020 the group co-hosted virtual repair classes – including several in Spanish – with several hundred participants. Drive-thru and socially distanced events diverted an estimated 10,000 pounds and $45,000 worth of usable goods from the landfill.
Leader in Green Building: SKL Architects
SKL Architects partner Gladys Ly-Au Young – a longtime leader in green building, affordable housing, and community development – provides her expertise on projects across King County, including lead architect to Zero Energy, CORE, and Living Building Challenge projects.
She was instrumental in advancing the White Center Hub, St. Edward Environmental Education Center, and Othello Affordable Home Ownership Development projects – providing low income, workforce, and frontline communities access to carbon neutral, green building housing and commercial spaces.
She thrives on challenges: from the intimate complexities of a residence to more expansive ideas of adaptive reuse and urban design, while creating environmentally sensitive, elegant, functional work.
Leader in Affordable Green Housing: Zero Energy White Center Hub
The White Center Community HUB project pursues carbon neutral development for affordable housing and a community center where working families can find affordable housing along with essential services. Development goals include:
Building 86 quality homes affordable to individuals and working families earning between 30 and 60% of the area median income of the area median income.
Creating a hub for education, including workforce training, small business incubation, college classes, youth tutoring, computer labs, childcare, and more.
Providing space for behavioral and physical health services.
The project team includes the White Center Community Development Association, Southwest Family and Youth Services, HealthPoint, Community Roots Housing, YES Foundation of White Center, And FEEST Seattle.
Leader in Food System Resiliency: Harvest Against Hunger and King County Farmers Share VISTA
Nonprofit Harvest Against Hunger works to reduce hunger and food waste by connecting farmers, truckers, volunteers and food banks.
Harvest Against Hunger created the King County Farmers Share Program where hunger relief agencies can receive funding to purchase King County farmers' produce. In response to the impacts of COVID-19, Harvest Against Hunger used King County CARES Act funding to expand local emergency food system purchasing from local farms.
Harvest Against Hunger also partners with the Neighborhood Farmers Market Alliance and PCC Markets to purchase local produce from farms for use by area food banks and food pantries.
Leader in Green Job Pathways: Dirt Corps, LLC
Design-construction company Dirt Corps provides training for adult workers, specifically encouraging women, people of color, LGBT, and other non-traditional workers to enroll.
With a focus on rain garden and cistern design and build, operations and maintenance, vegetation management, and ecological restoration, Dirt Corps embodies vertical mentorship to bring others into a growing field of green jobs.
Examples of Dirt Corps partnerships with King County include building Green Stormwater Infrastructure demonstration facilities and workforce development, including advanced skill-building and project maintenance; and doing critical area and restoration work for workforce and equity development for the Solid Waste Division's new South County Recycling and Transfer Station.
Leader in Community Resiliency: United Indians of All Tribes: Labateyah Bridge
United Indians of All Tribes provides educational, cultural, and social services that reconnect indigenous people to their heritage by strengthening their sense of belonging and significance as native people. The Labateyah Youth Home provides a safe and nurturing environment for homeless youth, combining Native American wisdom and ceremony with modern health and social services.
The organization completed a project funded by WaterWorks: Labateyah Native Water Stewards. They installed a large demonstration rain garden; residents engaged in water stewardship education; and resident interns created an on-site food garden for the kitchen. Through this project, interns and residents learned new work skills and sustainable practices.
Leader in Industrial Strength Stormwater Solutions: Equinox Studios and ECOSS
Shared artist space Equinox Studios and nonprofit ECOSS partnered on a Green Stormwater Infrastructure demonstration site with multiple stormwater runoff solutions. Equinox collects and filters an estimated 1.3 million gallons of stormwater annually through several combined green stormwater installations:
Rain garden boxes
Permeable concrete, asphalt and pavers
A living wall
Oyster shell barrels to remove zinc and other contaminants
Stormwater cisterns
Signage created by King County helps visitors learn about the project, which was funded through grants from the Boeing Company, King County Flood Control District, the Rose Foundation, and in-kind donations from Dirt Corps, the Port of Seattle and King County Wastewater Treatment Division.
Relevant links
Quotes
King County is the proud home of innovators and achievers who are putting our corner of the country at the forefront of a green future. Many of this year's Green Globe Award winners have advanced environmental justice, producing measurable results that help us create a more resilient, more equitable community.
For more information, contact:
Doug Williams, Department of Natural Resources and Parks, 206-477-4543
---