Confronting climate change
Climate change is one of the paramount challenges for our generation and generations to come
Releasing kokanee salmon in Ebright Creek with former U.S. Interior Secretary Sally Jewell.
Confronting climate change by reducing greenhouse gas emissions and preparing for climate change impacts is one of my top priorities. Climate change will impact many of the things we care about the most: our health, safety, economy, and environment. Some changes, like more frequent and prolonged summer heat events, will disproportionately impact residents of color and those with lower incomes who already experience higher exposure to air pollution and prevalence of health conditions like asthma.
Fortunately, the actions we need to take – expanding access to transit, conserving energy, using more renewable energy, and preserving open space - will also bring a multitude of benefits to our economy, environment, health, and quality of life.
We're also making our community more resilient to climate change impacts through research, changes in how we plan and design major infrastructure, and community partnership.
Learn more about King County's regional approach to confronting one of the greatest challenges of our generation. Read more information on the county's progress on climate and energy goals and commitments.
Recent successes
Here are just a few of our recent successes:
King County surpassed its goal of reducing normalized energy use in government operations by 15% by 2015, reducing energy use by more than 20%. Energy efficiency investments made since 2010 are generating more than $3.5 million a year in annual savings.
We operate the largest array of made-in-Washington solar panels atop our King County Aquatic Center. King County now produces renewable energy greater than what it uses in operations, excluding the public transit fleet.
Transit ridership increased by 5 percent in 2016, the fastest ridership growth for large metro area in the U.S.
This spring Metro Transit announced a commitment to acquire 120 all-electric battery buses by 2020, creating the largest all electric transit fleet in the nation.
We're working in partnership with more than a dozen cities to tackle share climate goals and actions through the award winning King County-Cities Climate Collaboration.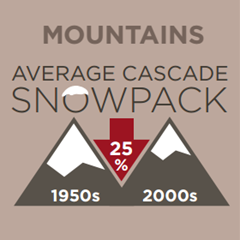 Infographic: What does climate change mean for King County?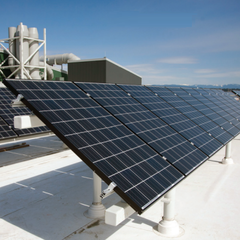 Leadership: Collaboration with Cities
Local governments play a central role in combatting climate change through their decisions about transportation, land use, building codes, and community partnerships to save energy.
King County has joined with 13 cities to create the King County—Cities Climate Collaboration (K4C).
Through K4C, the county and cities have developed shared goals and action commitments to combat climate change.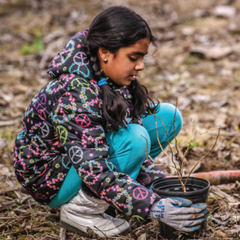 Action: King County's Strategic Climate Action Plan (SCAP)
King County's Strategic Climate Action Plan is a comprehensive five-year blueprint for action for achieving an 80% reduction in greenhouse gas emissions by 2050 and preparing for climate change impacts.
Key actions include doubling transit by 2040, focusing 97% of new development in urban areas, using 100% carbon neutral electricity in government operations by 2025, and planting 1 million trees.
King County monitors and reports its progress against climate and energy goals