Welcoming Immigrant and Refugee Communities
Executive Constantine Announces Rapid Response Services to Protect immigrants and refugees in King County
Executive Constantine and members of the King County Council have established a rapid response fund to protect immigrants and refugees amid rising concern for communities safety and well-being. The proposed one-time $750,000 funding would also help ensure that immigrants and refugees know their rights if they are approached by a federal agent or are the victim of a hate crime. King County will also ensure that all of its key facilities are prepared to help those at risk and welcoming to all residents. This fund is intended to increase empowerment, advocacy, and democracy in our communities. We expect that through streamlined, transparent and competitive process we will be able to fund community-based partners protecting civil and legal rights of King County Residents through education and advocacy, especially to vulnerable residents and those at risk of deportation.
Why this Fund:
King County proudly upholds the fundamental, self-evident truth announced at our nation's founding: that all are created equal. We embrace the basic American value that we are a nation of opportunity for all. Immigrants and refugees are welcome here, and our region has acted decisively to become more inclusive, removing barriers to affordable housing, transit, health, economic opportunity and strong childhood development. We continue to uphold the same values and move forward with a strategy that sets our region apart as a leader in protecting the rights of all people in our communities.
To learn more and to submit an application please click here.
A permanent Immigrant and Refugee Commission
The new King County Immigrant and Refugee Commission – which will act as a hub for immigrant and refugee services and align efforts by governments and nonprofits – will be staffed and operational by mid 2017. The County Council approved funding for the permanent commission in the 2017-2018 budget that was proposed by Executive Constantine.
Please click here to read more about the commission.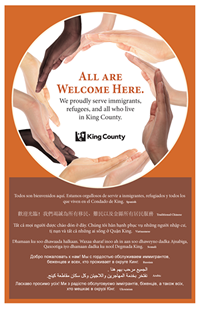 Click the image to
download this poster.

Click here for printable poster version with FMD Approved stamp (best printed on 11X17 paper)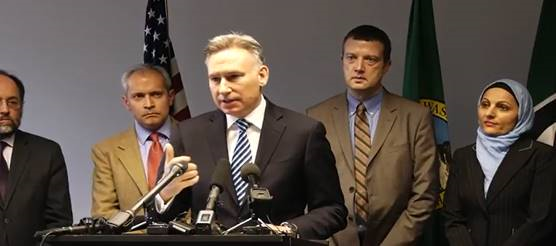 Watch
Executive Dow Constantine's Press on the announcement of the
Rapid Response Services
to Protect immigrants and refugees in King County.