Working to keep youth and adults out of jail
Determinants of equity: Equitable law and justice system, community and public safety, access to health and human services.
Who: Department of Public Defense, Prosecuting Attorney's Office, Sheriff's Office, Executive's Office, Community and Human Services, Public Health and Superior Court, with partner agencies and organizations.
What: Working for one King County to reduce involvement in the justice system and address racial disproportionality.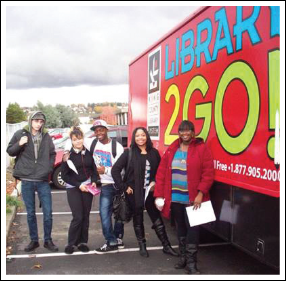 Participants in youth programs.
Last year in King County, people who are African American represented 30 percent of all bookings even though they only represent seven percent of the total population. Similarly, according to the Sentencing Project, "three-fourths of all persons in prison for drug offenses are people of color."
More alarmingly, in Seattle, blacks were more than 21 times more likely to be arrested for selling serious drugs than whites in 2005-2006, despite the fact that multiple data sources suggest that whites are the majority of sellers and users of serious drugs in Seattle.
The outcomes for youth are no better. According to King County juvenile detention data, two-thirds of all individuals booked in 2012 were youth of color. Of this, 40 percent of the youth were black and almost 14 percent were Latino.
The disproportionate number of youth and adults of color in the justice system locally and across the country perpetuates a cycle of racial inequity that contributes to multiple, long-term and harmful consequences. These trends can be changed by addressing the systemic causes of disproportionality and using strategies that are centered on the individual, their families and their communities, as well as the institutional and systemic factors contributing to justice system involvement.
Following are examples for the adult and juvenile justice system that demonstrate how King County is working internally and with partners to reduce justice system involvement and address disproportionality.
Law Enforcement Assisted Diversion (LEAD) for adults
Law Enforcement Assisted Diversion ("LEAD") is a diversion program that allows police officers to redirect those involved in low-level drug and prostitution activities to community-based services, instead of incarceration. African Americans have historically been overrepresented in these kinds of police bookings, thus this program has the potential to reduce disproportionality.
The pilot program began operating in Seattle's Belltown neighborhood at the end of 2011, and recently it expanded to unincorporated King County. LEAD relies on two central elements: complete buy-in and extensive training of participating police officers, and immediate access to needed services for program participants.
Law enforcement officials are supportive of LEAD because it gives them another way to handle public safety issues. Instead of jailing every person booked on a low-level drug or prostitution offense, veteran police officers determine whether someone is an appropriate candidate and eligible to receive services from LEAD.
Evaluation of the program will begin in October of this year, and anecdotal evidence suggests that the program will demonstrate reductions in justice involvement for participants who engaged with the program. For example, according to "James," who was previously regularly arrested in Belltown for drug activity, is now housed and engaged in treatment:
LEAD helped me get back to my true self. I got out of jail last year and I was getting high every day. You lose yourself. It's like another character, a monster. You lose your self-esteem, your mind. Since I started this program I can walk through Belltown and keep going. I can keep walking because I have a place to go. A roof over my head. Read my books. Take a shower. I can look in the mirror and say, 'That's me.'
Juvenile justice prevention and intervention
King County serves approximately 338,000 youth through almost 100 programs ranging from education and youth development to community and mental health services.
Many of these programs are specifically designed for youth involved in or at high risk for involvement in the juvenile justice system. The primary goal of these programs is to reduce overrepresentation of youth of color in the juvenile justice system and to provide the conditions so youth can make responsible choices.
As an example, starting in the fall of 2011, King County began funding a set of programs in response to gang activity in south King County. Besides focusing on law enforcement and intervention (helping youth immediately at risk of gang involvement), the funding aimed at prevention – "up-stream" investments to reduce the risk of gang involvement.
The South King County Gang Intervention Program provides education, employment and violence prevention and intervention services to youth with moderate-to-high risk assessment scores and/or gang involvement in order.
The Avanza program, located at New Start High School in Burien, is an early intervention program to address the high rate of Latino/Latina youth dropping out of school and prevent gang involvement.
Data show that the Gang Intervention Program has served 147 youth in south King County since the program began. Of those youth, 82 percent areyouth of color, and 78 percent are young men.
I first heard about the program from a judge. They told me that this would help me get occupied for the summer while I earn some money… I would like to share to others that coming to this program helps you learn more about our world… that was cool.

Rene, 15-year old student
This program has been like family to me. I'm not sure what I would be doing if it weren't for this (summer job). I have learned so much and overcame so much to be here.

TJ, 16-year old student
At enrollment, 97 percent were educationally at-risk and 96 percent were unemployed. For the youth completing the program, 84 percent increased their employability by completing a work experience, completing job readiness training and/ or completing their high school credential. Of the youth currently active in the program, 94 percent are in school or have employment.