Judge Mary E. Roberts - Superior Court
How to contact a King County Superior Court judge and get ready for your trial or motion.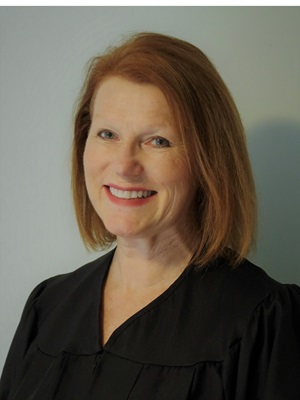 Courtroom Number: E-912
Bailiff: Lisa Tran
Department: 4
Assignment:Seattle and Kent Drug Court
Biography
Judge Roberts was appointed to the bench by Governor Gary Locke in 2003, and has since been elected to the position. Immediately prior to her appointment, she was a partner in a 7-attorney law firm that emphasized labor and employment litigation on behalf of employees and unions. Prior to that, Judge Roberts spent several years in the Civil Division of the King County Prosecutors Office, where she practiced management side labor and employment law. Judge Roberts started her legal career with one-year stints as a superior court law clerk/bailiff, and as a public defender. She received her JD from the University of Washington School of Law in 1984, and her BS in Mathematics from the University of Puget Sound in 1981.
Requests
Non-dispositive motions
Parties must comply with all the requirements of KCLR 7 when setting motions without oral argument. Please provide a copy of all proposed orders that conform to CR 56(h) and RAP 9.12, i.e., in Word format to the Court by electronic working copies. Copies of signed orders will be delivered to counsel or the parties electronically if email addresses have been provided to the Court. If no email address is available for an attorney or a party, please provide preaddressed, stamped envelopes to the Court for its use in sending the order by mail.
Dispositive motions and hearing requests
Oral argument on motions is generally scheduled for Friday mornings. Requests for hearing dates are accepted by emailing or telephoning the bailiff.
Electronic working copies
Judge Roberts prefers to receive electronic working copies submitted to the Clerk using the Clerk's eFiling Application pursuant to LGR 30(b)(4)(A)(iii). Please do not email any working copies directly to the Court or to her law clerk/bailiff without prior permission.
Copies of Non-Washington Authority not necessary
LCR 7(b)(5)(B)(v) requires that "copies of all cited non-Washington authorities upon which parties place substantial reliance shall be provided to the hearing judge…." Judge Roberts does not require parties to comply with this requirement.
Trial Procedures
The Estimate of Witness Examination (16KB) is required in any trial expected to last longer than 4 (5-hour) trial days.
Court's Voir Dire procedures and questions
Please review Judge Roberts' general voir dire questions before your court date
General Voir Dire Questions - Civil (175KB)