Councilmember Sarah Perry's photo highlights
View photo highlights of King County Councilmember Sarah Perry's work in District 3.
Girl Scouts help pass ordinance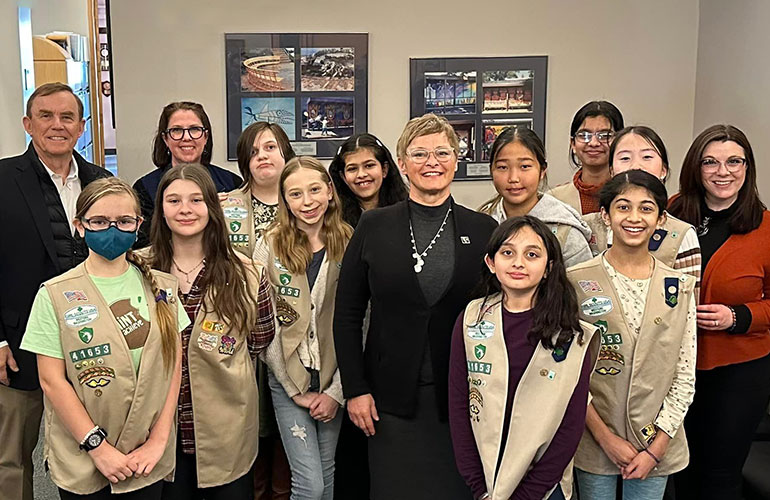 December 14, 2022 | Congratulations to Issaquah's Girl Scouts troop 41653 for their excellent work over the last year and a half to promote gender equity in uniforms for King County employees, resulting in the passing of ordinance 2022-4029 by the King County Council! These 10 inquisitive and compassionate members of Troop 41653 identified a concern, thought through an approach, and engaged local representatives in dialogue—including King County Sheriff Patti Cole Tindall—resulting in enduring change and the earning of their bronze badge! The Girl Scout in me is proud of their truly wonderful display of civic engagement and leadership!
Committee assignments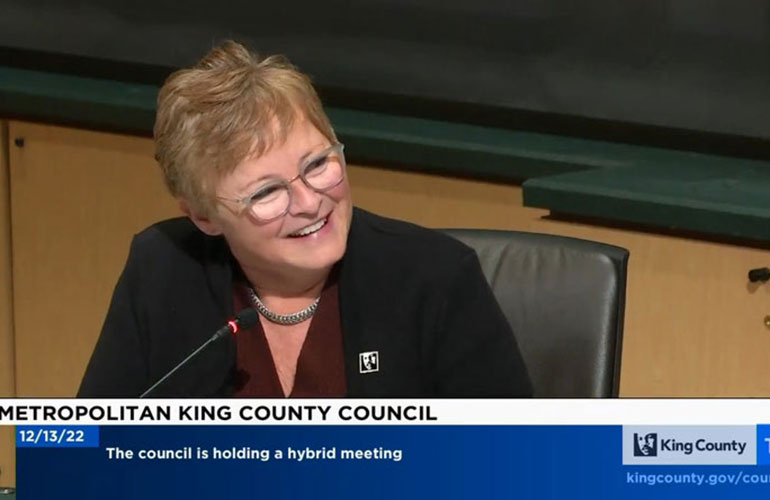 December 14, 2022 | The Council finalized committee assignments for 2023. I am excited to share that my colleagues have once again elected me as Chair of King County Council's Local Services and Land Use (LSLU) Committee! In addition, they chose me to chair the Regional Transit Committee (RTC), which engages in important transportation initiatives across the county, including in our rural communities. I also will serve as Vice Chair for both the Law, Justice, Health and Human Services (LJHHS) Committee and the King County Flood Control District Board!
Passage of the 2023-2024 biennial budget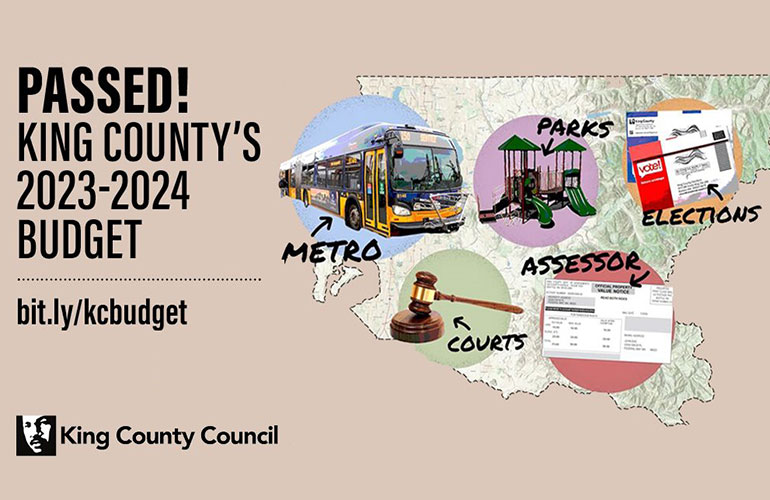 November 15, 2022 | After months of hard work in Council, with community organizations, and in open community budget meetings where we heard from and integrated the concerns and interests of our King County residents, we passed the King County 2023-24 biennial budget! To read more about some of the successes in the budget, check out this community email!
The 2023-2024 budget honors and deepens the County's commitment to ensuring access and opportunity to those without sufficient income, housing, and healthcare to enable all King County residents to live stable, productive lives.
Among many other areas, below are just a few highlights for our specific district:
$1.2 million for King County Search and Rescue!
$500,000 for a Fall City Community Center!
$200,000 for a Multi-Cultural Behavioral Health & Art Therapy Pilot Program!
$35,000 for the Snoqualmie Railroad Museum Pullman Car!
$25,000 for Eastside Pride PNW Programs!
Recognizing September as Recovery Month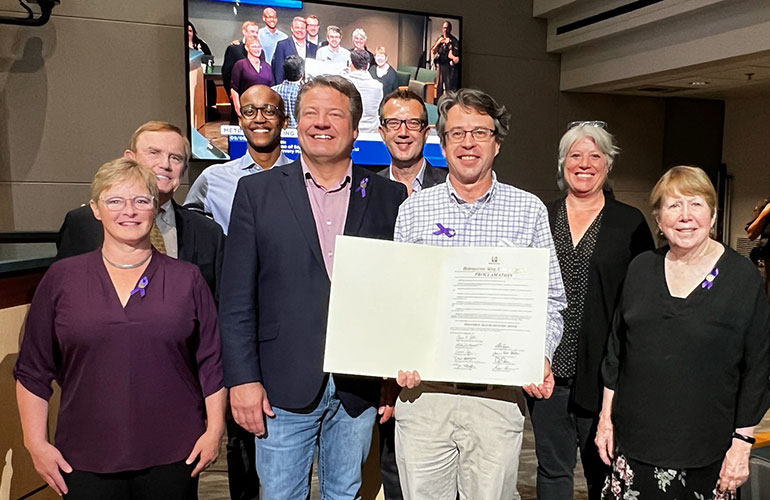 September 15, 2022 | Grateful to join my King County Council colleagues in recognizing September as Recovery Month. There is a great reason to hope for all those who are living through the struggles of addiction. Recovery and a better life Is Possible!
Recognizing American Muslim holidays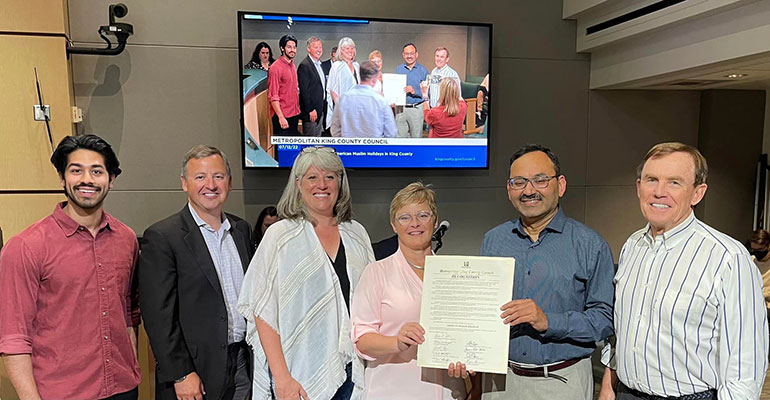 July 11, 2022 | We wanted to bring forward this recognition because Muslims all around the world celebrated Eid al-Adha this past Saturday. Eid al-Adha, one of two major Islamic holidays in the year, is so important for Muslims as it is a day of gratitude, purification, recognizing sacrifice, gathering with friends and family, and ultimately a time of joy and blessing!
In recognition of our Muslim Communities in District 3 and across the county, I am so happy to have brought forward this recognition with my co-sponsor Councilmember Girmay Zahilay along with our own District 3 Communications and Community Engagement Manager Osman Salahuddin, who led the initiative to draft this recognition!
I want to especially thank Muslim Association of Puget Sound – MAPS President Hyder Ali for his remarks as he joined us to accept the recognition and MAPS AMEN Executive Director Aneelah Afzali for sharing some words virtually on behalf of MAPS, the largest Islamic community center in the PNW and one of the largest on the west coast. Watch a video of the Recognition reading.
Donating a Metro van to Centro Cultural Mexicano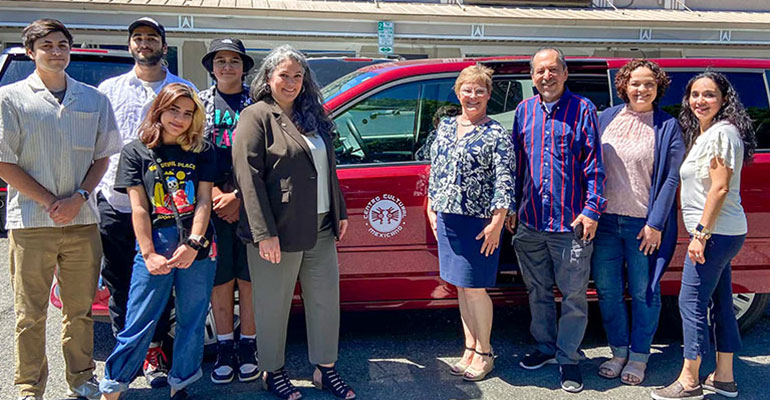 July 11, 2022 | We had the pleasure of meeting with Angie Hinojos, Carlos Jimenez, and many of their team members to officially hand over the keys of a Metro van from King County to Centro Cultural Mexicano! This organization is doing incredible work with our many Latinx communities throughout the Eastside. And it was great to see their progress on their Art Innovation Center, and their brand-new radio station. Congratulations Angie and Carlos!!
Emergency ordinance passage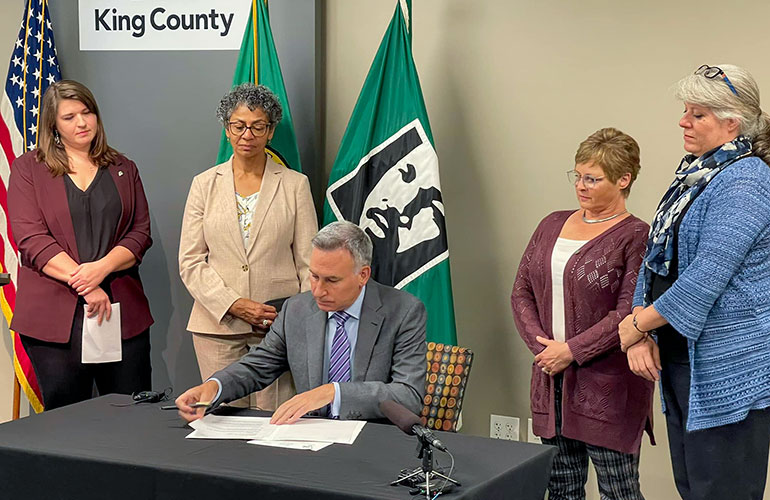 July 5, 2022 | The King County Council passed $500,000 in emergency funding for abortion care. These actions are one part of an emergency response to an emergency situation and I was proud to co-sponsor the proposal brought forward by Chair King County Councilmember Claudia Balducci, along with Councilmember Jeanne Kohl-Welles and Councilmember Girmay Zahilay. The proposal was sent to us by Dow Constantine, King County Executive.
I was also grateful to stand together on this with King County Sheriff's Office, Sheriff Patti Norman Cole-Tindall and with Planned Parenthood Advocates of Greater Washington and North Idaho's VP of Policy and Regulatory Affairs, Lisa Hume Schultz.
Our neighboring state of Idaho and other states have turned one of the most critical and private decisions in a person's life into a felony, not only for that individual, but for anyone supporting them in this deeply personal decision. With King County Council's Emergency Ordinance 2022-0267, and the King County Executive Emergency Proclamation, the sovereignty of individuals from other states will be upheld for them in our county, if not in their own state. King County will never stop fighting to uphold the full rights of every individual.
Read the full press release.
First in-person Council meeting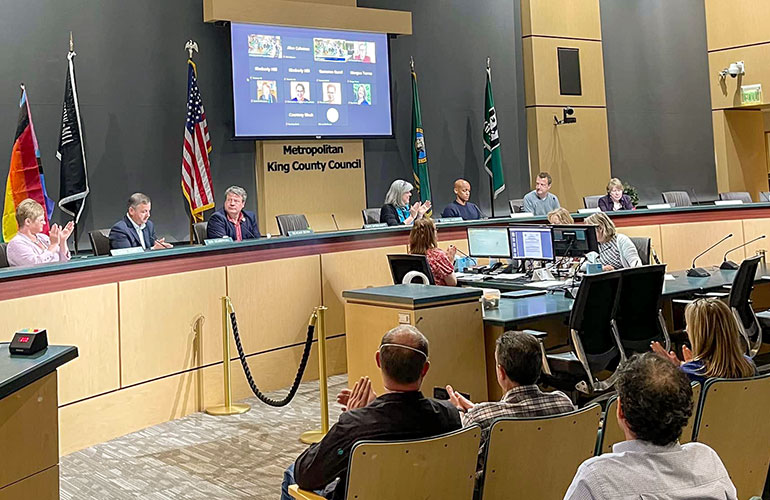 June 7, 2022 | After my first six months as a King County Councilmember member in completely remote meetings, it is really exciting to be in person for our King County Council meeting with all of my colleagues on Council!
Proclamation of Asian/Asian-American mental health awareness day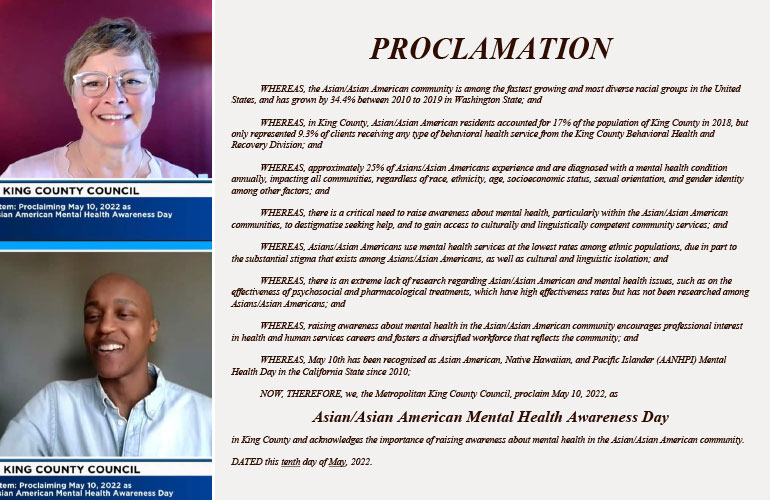 May 22, 2022 | Councilmember Girmay Zahilay and I sponsored a Proclamation to Recognize May 10th as Asian/Asian American Mental Health Awareness Day in King County which the Council passed unanimously!
In this month of May, which is both Asian American and Pacific Islander Heritage Month and Mental Health Awareness Month, it's important that we have the conversation about supporting the behavioral health of everyone in our community, especially anyone who isn't receiving support out of fear or stigma. We need to use this time to lift up the work of providers, organizations, and resources, both of which need to be at the forefront of behavioral health discussions. One organization that has been doing excellent work in this field is Asian Counseling and Referral Service (ACRS), who offer great resources in supporting those in our county. Their CEO Michael Byun had many conversations with us in getting this proclamation out.
Raising awareness about behavioral health in the Asian/Asian American community will not only encourage people to seek the support that they need but might also encourage professional interest in health and human services careers which will lead to a more diverse workforce that reflects the community!
An important conversation on behavioral health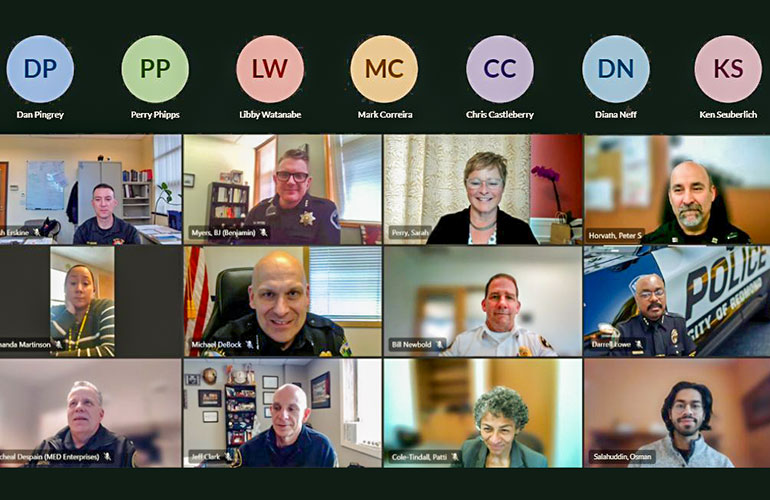 April 27, 2022 | Convened a meeting with the King County Sheriff, District 3 Police Chiefs, Fire Chiefs, and Tribal Representatives from Snoqualmie Indian Tribe and the Tulalip Tribes. This behavioral health conversation helped us understand gaps and overlaps in our services as well as opportunities and next steps together for the optimal health of our communities!
Strengthening our building and energy codes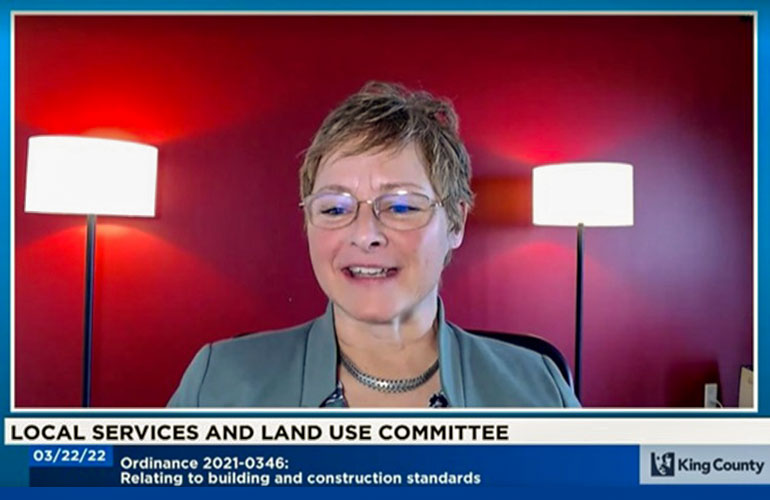 In the Local Services and Land Use committee which I Chair, we recently passed an Ordinance to strengthen King County's building and energy codes, improving air quality and reducing emissions for new housing in unincorporated areas!