Water Quality Benefits Evaluation (WQBE) Toolkit
Identifying how King County can improve water quality for communities and the environment.
King County developed a set of tools to identify effective actions that improve water quality.
We rely on clean water for our health and the health of the environment. King County is committed to making big investments in water quality over the next decade. Cleaner, controlled stormwater is one of six core goals of King County's Clean Water Healthy Habitat Strategic Plan. To ensure we deliver the best outcomes with public funds, we developed the Water Quality Benefits Evaluation (WQBE) Toolkit.
How does WQBE work?
The WQBE Toolkit includes a series of models that answer the following questions: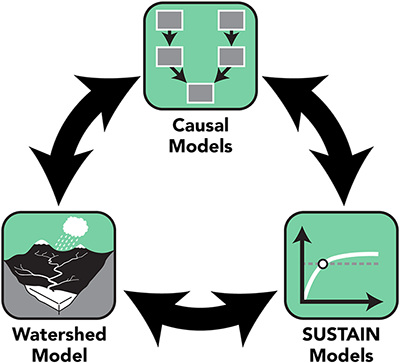 How and where is pollution getting into King County streams, lakes, and Puget Sound? (Watershed Model)
How can we cost-effectively reduce stormwater pollution and prevent flooding? What types of actions do we need? (SUSTAIN Stormwater Best Management Practice (BMP))
How will people, salmon, and orca benefit from the actions we take? What pollution threats should we target? (Qualitative Causal Models)
The WQBE Toolkit uses the latest scientific methods, and we can adapt the toolkit over time as we learn more. We developed the Toolkit using input from scientists and experts from nonprofit organizations, cities, consultants, and regulatory agencies.
Who is using WQBE?
The WQBE Toolkit provides information and data for water quality managers and policy advisors. It helps them to understand which projects and programs are most effective at reducing pollution that threatens people, salmon, and orca. Information from the WQBE Toolkit is just one piece that goes into decision-making. King County decisions also consider equity and social justice, water quality outcomes, sustainability, finances, and more. We are working to make WQBE data available to the public so we can improve water quality together.
WQBE schedule
King County developed the WQBE Toolkit in phases. We will continue to invest in this resource to support regional water quality solutions.
Learn more
To learn more about the WQBE Toolkit and our findings, visit the WQBE StoryMap.
To access information about methods and findings, visit our document collection.
Data request
If you would like to request data or information from any of the models, please email wqbeinfo@kingcounty.gov. The WQBE team is available to meet with cities and other partners to provide customized data outputs.
Stay informed
Join our mailing list King County, Washington (govdelivery.com) to receive future project updates.