Dutchman Road Revetment Repair Project
Project Overview
The Dutchman Road Revetment is located on the north bank of the Snoqualmie River, about one mile downstream of the Northeast Woodinville Duvall Road Bridge. In recent years, high river flows have damaged parts of the revetment causing a safety risk. The riverbank could erode further and damage West Snoqualmie River Road Northeast.
King County, as the primary service provider to the King County Flood Control District, is planning to repair the revetment in summer of 2025. This repair project will reduce flood and riverbank erosion risks to property, local utilities, and roads.
What is a biorevetment?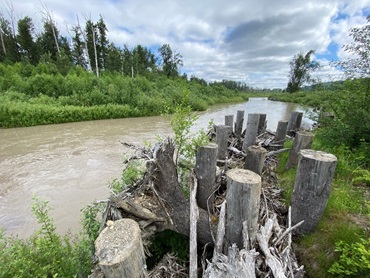 A biorevetment is a structure built along a riverbank or shoreline to prevent erosion. A biorevetment uses wood and plants to prevent erosion, rather than layers of rock, and it provides cover and habitat for fish.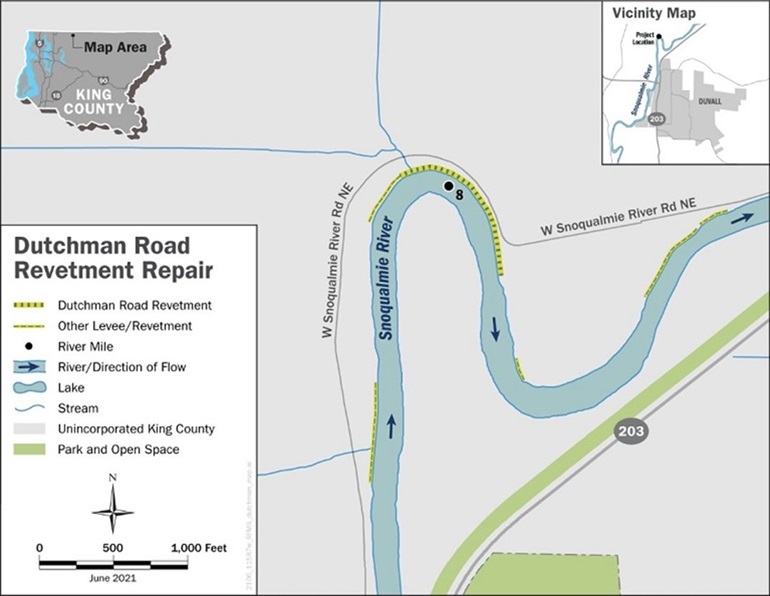 Project goals
Repair damage and improve stability of the revetment to reduce flood risks.
Conduct repair in a timely manner to prevent more expensive emergency repairs and long-term maintenance needs.
Maintain or improve habitat for salmon and other fish.
Project schedule
| Activity | Date |
| --- | --- |
| Design and permitting | 2021 to 2024 |
| Construction | Summer 2025 |
| Site monitoring and project closing | 2025 to 2026 |
Construction impacts
King County is working to limit the impacts of construction. Construction may temporarily impact use of West Snoqualmie River Road Northeast. The road will remain open but may have restricted lane access during construction.
We will update this webpage as the project moves through design and permitting. We will also notify local businesses and residents before and during construction. To receive updates, please sign up for the project email list.