Molasses Creek Fish Barrier and Habitat Improvement Study
Project overview
Molasses Creek, a tributary stream to the Cedar River, is fed by headwater wetlands as well as other stormwater inputs. About a mile upstream from its mouth, Molasses Creek flows through a roughly quarter-mile-long stretch of 48-inch culvert pipe, which connects areas of good habitat. Downstream of this pipe system, Molasses Creek flows through a forested ravine.
This pipe system does not provide quality habitat and is a possible fish barrier. King County is studying how to improve fish passage and habitat along the existing pipe system. This study will help guide decisions about future capital projects. King County has already completed several capital projects to address aging infrastructure in the study area.
King County frequently works with interested landowners to purchase property in natural areas to improve habitat, conserve open space, and manage surface water.
A portion of the study area contains a 48-inch pipe system on property owned by Seattle Public Utilities. King County will work with the City of Seattle to explore restoring the creek and freeing the flow from the pipe, along all or a portion of this piped section. This study will inform project planning and discussions with stakeholders that may include the City of Renton, the Muckleshoot Indian Tribe, Washington Department of Fish and Wildlife, the City of Seattle, and the local community.
Project location
Molasses Creek drains portions of the Fairwood community before flowing into the Cedar River near River Mile 4.1. A stretch of the creek is confined in a pipe, preventing fish passage and reducing habitat.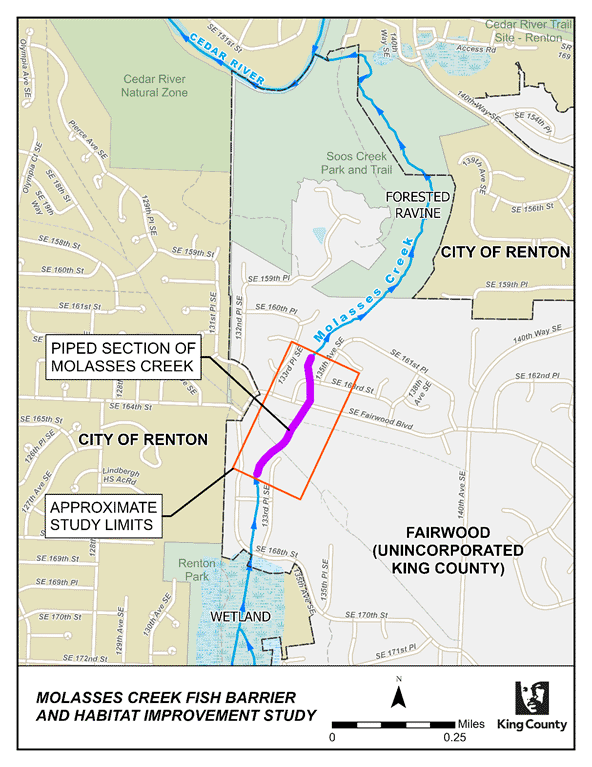 Molasses Creek Fish Barrier and Habitat Improvement study project area.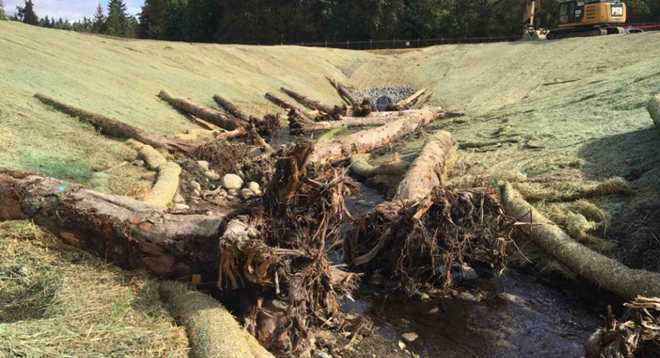 Recent fish passage project at the upstream end of the Molasses Creek Fish Barrier and Habitat Improvement Study area.
Goals
Explore removing and restoring the creek from part or all of the pipe system.
Improve fish habitat and remove fish barriers within the study area.
Engage property owners in voluntary sales for potential environmental projects.
Project benefits
The study project will help identify barriers and benefits to the community and environment.
Project schedule
| Benchmark | Period |
| --- | --- |
| Study begins | Winter 2021 |
| Property owner outreach phase | Summer 2022 to fall 2022 |
| Study concludes | Spring 2023 |