About the RainScapes Program
The King County RainScapes partners with home and business owners to fund and install GSI features, like rain gardens, cisterns, and native plant landscaping, on their property.
This program is for properties in unincorporated King County, where there are currently little or no built-in rainwater runoff control features. GSI allows us to tackle flooding and water quality problems in these areas while bringing extra benefits to property owners and communities.
GSI is a great tool for property owners who want to beautify their landscaping and property, save money, and help prevent flooding and water pollution.
How it works
Here's everything you need to know about how the RainScapes Program works:
Cost and affordability
Private Properties: Construction costs are 100% covered by King County during the program's current pilot phase. Maintenance costs are also 100% covered for the first year after construction is done.
Commercial properties: Owners may receive a discount on Surface Water Management fees included in property taxes, based on the amount of rainwater treated by GSI on the property.
Technical support and coaching
King County will provide support and coaching for property owners, so that you feel confident maintaining your new GSI feature.
Technical assistance is available if you have any questions about or problems with your new feature.
King County engineers come up with designs that work for the property owner.
King County manages hiring construction teams and contractors to do the work.
Requirements for property owners
After the first year of fully-paid maintenance, property owners are responsible for maintaining the GSI feature on their property.
Property owners are expected to disclose information about the GSI feature if/when the property is sold.
Commercial property owners will only receive discounts on stormwater management fees as long as the GSI feature is maintained.
Types of GSI features offered
GSI often uses some of the simplest and most powerful tools available to capture and naturally filter water: plants, trees, and soil.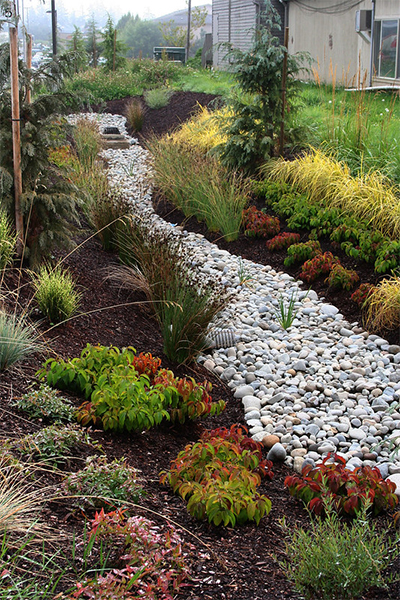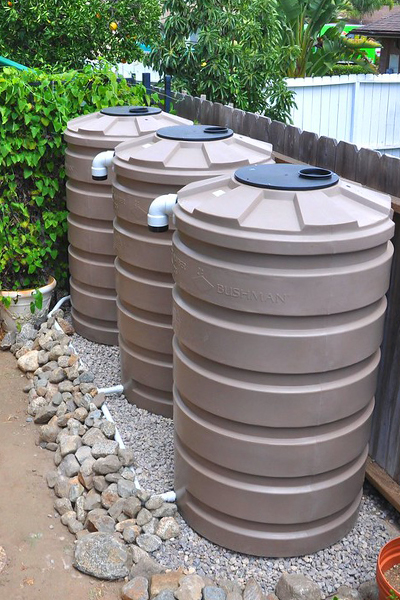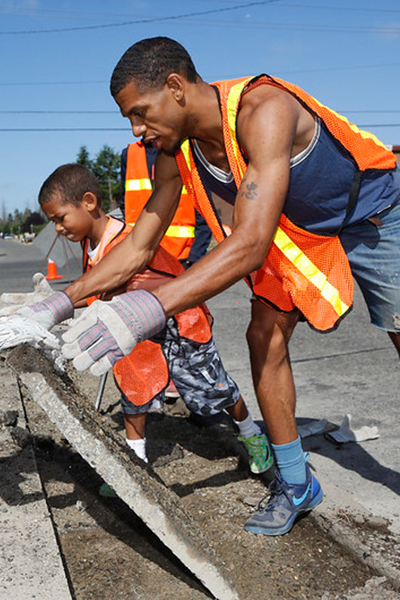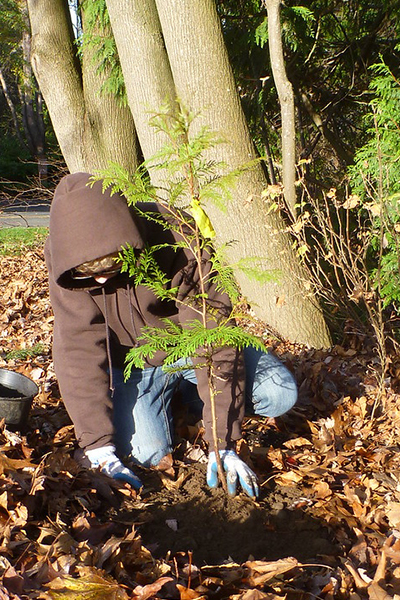 Is this program right for you?
This program serves home and business owners in unincorporated King County. Even if you are not eligible for the King County RainScapes Program, there are other GSI assistance programs in the region that may be able to support you.
Get started with GSI today
We're excited to partner with you to bring GSI to life on your property! Take the first step with a free, no-strings-attached consultation with a King County GSI expert.
Get in touch to learn more
We know that sometimes, it's just easier to talk to a real person. We welcome questions, comments, and conversations, and look forward to talking with you.
Actions you can take on your own: quick and easy fixes
Disconnect downspouts
If your property's gutters or downspouts drain straight into the ground or a hard surface, you can redirect the flow to the lawn, rain barrel, or a garden so that water is filtered and slowed down. Learn more about disconnecting downspouts (4MB).
Use compost and mulch to soak up the rain
Compost and mulch can help soil absorb more rain, which helps slow down flooding and stop water from collecting on your property. Find out how to get mulch and manure for your property.
Reuse leaves as mulch
Gather leaves and debris that collect on your property, and put them to use as water-absorbing mulch. Learn how to mulch with leaves.
Use native plants in landscaping
Plant native plants that are well adapted to our rainy climate and can play a role in helping water soak into the ground. Read more natural lawn care tips.