Open house
Learn more about the Northeast Recycling & Transfer Station project and what is studied in the draft Draft Environmental Impact Statement (EIS), scheduled for publication in early 2024.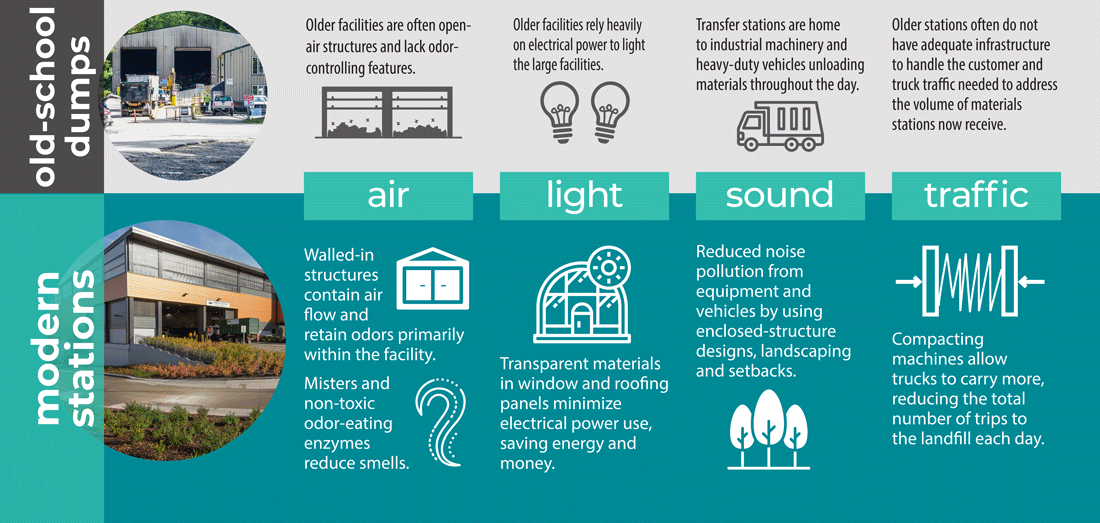 Background and purpose
A new modern transfer station to expand recycling services and make waste disposal more convenient and accessible
To meet the region's growing demand for environmentally responsible waste management services, King County's Solid Waste Division plans to site, design, and build a modern transfer station in northeast King County. The need for a new station was identified in the 2019 Comprehensive Solid Waste Management Plan, which was adopted by 24 cities and the Washington State Department of Ecology.
When it begins operating in 2029, the Northeast Recycling and Transfer Station will replace the aging Houghton Transfer Station in Kirkland, which has been in service since the mid-1960s and cannot accommodate the recycling services customers need and want. The new station will make recycling and waste disposal services more convenient for many customers in this area. Expanded services will help keep recyclable materials out of the landfill, and compactors will reduce the number of truck trips out of the station.
The Northeast Recycling & Transfer Station will be fully enclosed to control noise and odors and designed with the environment and the community in mind. Community members will have opportunities to help shape decisions on station design, amenities, and services.
Site alternatives
Since 2019, we have worked closely with the cities of Redmond, Woodinville, Sammamish, Kirkland, and with unincorporated King County to understand community needs, interests, and values. We also worked with residents, community groups, and organizations representing diverse interests and backgrounds on a Siting Advisory Group convened in fall 2021.
Through this partnership, we developed criteria to narrow the list of potential sites for the facility to three. Learn more about the site selection process.
King County's Solid Waste Division will study two potential site alternatives and a no-action alternative for its Northeast Recycling & Transfer Station Project in an environmental review process set to begin this fall.
The site alternatives that will be studied in an Environmental Impact Statement (EIS) include: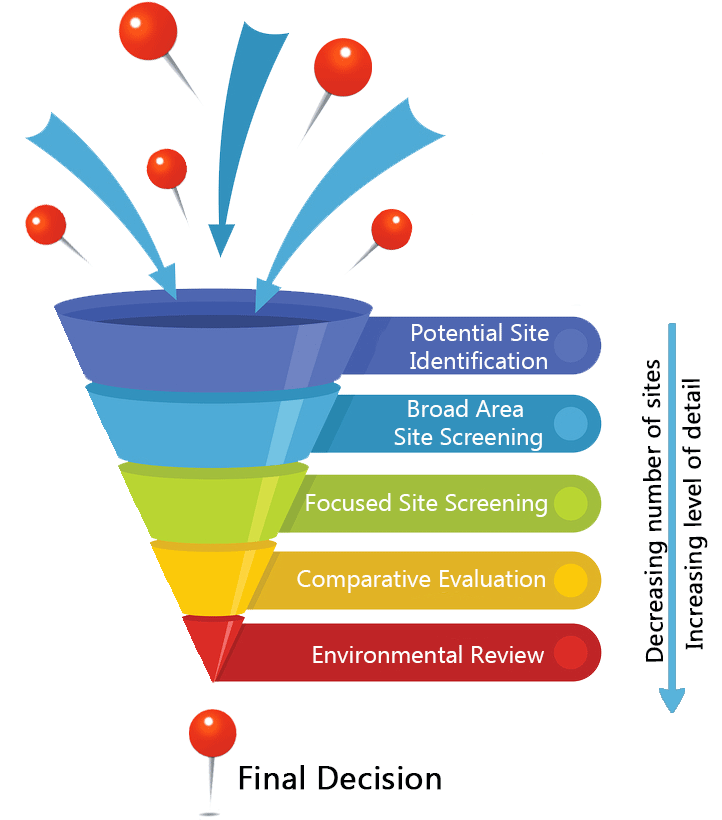 Overview of site selection process (enlarge image)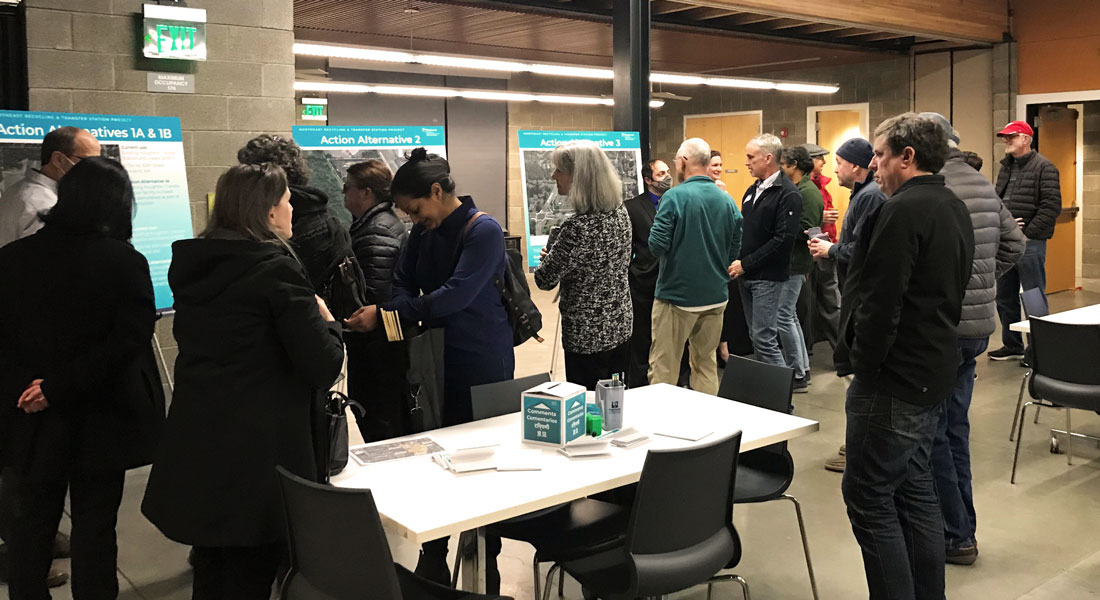 What is SEPA and what is an Environmental Impact Statement?
Enacted in 1971, the State Environmental Policy Act (SEPA) is a law that requires state and local agencies to identify the potential environmental impacts of proposed actions and plans through a formal review process. When potentially significant impacts are anticipated, an Environmental Impact Statement (EIS) is required.
Environmental impacts to be analyzed could include such things as Noise, Odor, Surface Water, Wildlife, Human Health, Transportation, and others relevant to the specific project and location. The SEPA review process is designed to help agency decision-makers and the public understand how a proposed action will affect the environment.
What are alternatives, and why are they included?
SEPA requires agencies to consider a range of alternatives that meet the goals of their proposed plans. These include the proposed action alternatives and a no-action alternative, which looks at the impact of not taking action, or the status quo. Alternatives are important because they allow decision-makers and the public to compare the merits and impacts of different choices.
What is mitigation?
A proposal may include actions to avoid, reduce, repair, minimize, and/or monitor impacts—this is mitigation. An example would be designing a project to avoid sensitive habitat such as a wetland, or replanting trees and shrubs to restore disturbed areas after a project is completed.
How can I participate?
There are two important ways you can participate in the EIS process:
Scoping gives the public the opportunity to review and comment on what will be studied in the Draft Environmental Impact Statement (EIS).

During scoping, you are invited to comment on the alternatives and tell us what we should be looking at during our analysis; you may also suggest mitigation measures. This is your opportunity to make sure we are evaluating the issues you care about. People in affected communities often have valuable information to share with the project team.

Scoping for the Northeast Recycling and Transfer Station Project was first conducted between November 3, 2022, and January 17, 2023. Following the removal of the Houghton Park and Ride as a site alternative, scoping has been reopened and new comments will be accepted through April 10, 2023.

Comments may be submitted via the comment tab on the Open House webpage, by email, or by mail to:

King County Solid Waste Division
Attn: Mary K. O'Hara, P.E., PMP
NERTS Project Manager
201 S. Jackson Street
Suite 5701
Seattle, Washington, 98104



Draft EIS. Once the draft EIS is released, you can review and submit comments on the analysis and any mitigation measures that are proposed. Comments will be responded to in the EIS and information you offer may be incorporated into the text of the final EIS.

It is important to make sure your comments are substantive. A substantive comment is one that offers information rather than stating an opinion.

A comment:
Should be specific and factual
May be a suggestion for a different approach to meet the project need or a different approach to a specific part of the proposal
May correct a factual error in the analysis or offer additional information
Statements that simply express support for, or opposition to, the project or an alternative are not considered substantive comments and are not helpful for analysis of the project.
Final EIS - comments on a draft EIS are considered in the development of a final EIS, which informs the decision on which site will be selected to move forward into design and construction. The final EIS will include any modifications to the text of the EIS stemming from the comments received on the Draft EIS. The final EIS will reflect the comments received on the draft EIS.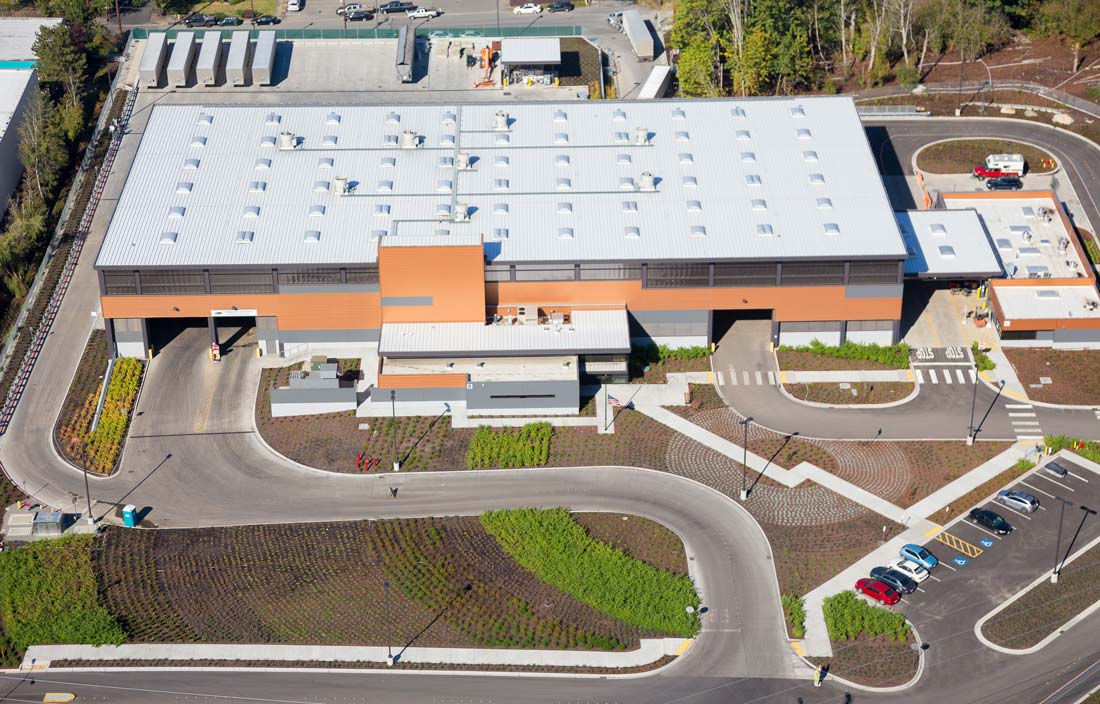 Aerial view of Factoria Recycling & Transfer Station
What is a recycling and garbage transfer station?

King County recycling and garbage transfer stations are where residents, businesses, and waste haulers bring garbage and recyclable materials. Garbage is taken to the Cedar Hills Regional Landfill. Recyclable materials are trucked to private companies and made into new products.

Why do we need a new transfer station?

King County identified the need for a new station in the 2019 Comprehensive Solid Waste Management Plan. The aging Houghton Station, in operation since the mid-1960s, cannot accommodate our growing Eastside community because it:

Lacks flexibility for comprehensive recycling services, which are needed to support larger environmental goals to reduce waste and address climate impacts
Does not have waste compactors to reduce truck traffic, which contributes to greenhouse gas emissions
Lacks adequate queuing space for customers

How will the new transfer station impact the environment?

The new transfer station will be a modern, enclosed facility that meets the latest environmental standards and best operational practices. It will feature a fully enclosed waste and transfer building to control noise and odor and will provide larger and easier-to-use customer loading areas to reduce wait times. Modern equipment will include waste compactors, which will reduce truck traffic and road impacts, as well as greenhouse gas emissions.

Three potential sites will go through an environmental review process required under the State Environmental Policy Act (SEPA), where impacts to the natural and built environment are evaluated for each site alternative. There will be opportunity for formal comment during the environmental review process.

How and when will the final decision on the site be made?

After the Environmental Impact Statement (EIS) is completed, King County will carefully evaluate the technical feasibility, environmental impacts and possible mitigation, equity and social justice considerations, costs, and public comment before selecting the site for the new transfer station. The decision is expected to be made in mid-2024.

What will happen to the current Houghton Transfer Station after the new site is selected?

One of the sites being considered for the new recycling and transfer station is the present location of the Houghton Transfer Station. King County will determine what will happen to the current facility after the site for the new transfer station has been selected.
This glossary provides general descriptions of terms related to the State Environmental Policy Act (SEPA) and the environmental impact statement process. Guidance from the Department of Ecology may be found here
State Environmental Policy Act (SEPA) is intended to ensure that environmental values are considered during decision-making by state and local agencies. It is often referred to as a "look before you leap" policy. It allows agencies and the public to better understand the impacts of a proposal before it is implemented and provides opportunities for public involvement in decision-making.

Environmental Impact Statement (EIS) is required when it is anticipated that a project could have significant effects on the environment. The EIS provides discussion of the existing environment, significant environmental impacts, reasonable alternatives to the proposal, and mitigation measures that would avoid or minimize adverse impacts.

A draft EIS is issued first, and the public, agencies, and tribes are invited to submit comments on the analysis.
The final EIS incorporates any new information or requests for further analysis that arise from comments submitted on the draft EIS.

Alternatives are some of the basic building blocks of an EIS. They present different options for fulfilling the purpose of a proposal. The EIS evaluates the potential environmental impacts of various alternatives so that different courses of action can be compared, including a no-action alternative.

Action alternatives are alternative options for accomplishing the purpose of a proposal.
A no-action alternative is defined as what would be most likely to happen if the proposal did not occur. It provides a way of comparing the impacts of the action alternatives to the status quo.

Scoping is the beginning of the environmental review process, where agencies, tribes, and the public are invited to submits comments on the range of alternatives, areas of impact, and possible mitigation measures that should be evaluated in the EIS. Scoping helps establish the scope of the environmental analysis and provides an opportunity for those who would be affected by the proposal to offer knowledge or insights that can make the analysis more complete.

Impacts of an alternative fall into three categories:

direct impacts result directly from the proposed action
indirect impacts might include development that could be facilitated by the proposed action—e.g., expansion of a road system could lead to new development
cumulative impacts are the impacts of the proposed action in combination with other past or future actions, e.g., clearcutting of a forest area combined with previous clearcutting nearby might eliminate an important wildlife corridor

Elements of the environment are aspects of the natural and human-built environment that could be significantly affected by the some or all of the proposed action alternatives and which are evaluated in the EIS. Examples might include air quality, earth, surface water, odor, noise, light and glare, transportation and traffic, historical resources, etc.

Mitigation is action to avoid, minimize, reduce, compensate for, or eliminate a proposal's adverse impacts to the environment. For example, where a project site contains a fish-bearing stream, mitigation for development of the site could include enhancements to the stream to improve fish habitat.

Comments submitted on the draft EIS should be as specific as possible and address either the adequacy of the environmental analysis, the merits of the alternatives, or both. Substantive (specific and factually based) comments are most useful, and will receive a response in the final EIS, which may include additional analysis or a correction or clarification. Expressions of opinion will not receive a response in the final EIS. A guide to commenting may be found here