Secondary school programs (grades 6-12)
We provide classroom workshops at no charge to middle and high schools in King County, outside of the City of Seattle. Teachers can choose from a variety of 2023-24 workshops that explore current trends in waste reduction and recycling, resource consumption, and sustainability through interactive, hands-on lessons.
About Our EcoConnections Workshops
EcoConnections workshops are designed to be interactive, engaging and offer a unique way to support student learning. All workshops include discussion around both environmental issues and human considerations such as equity and social justice. Supporting materials include worksheets, interactive follow up quizzes, and an introductory video.
All EcoConnections workshops are:
Offered free to schools in King County, outside the City of Seattle
Flexible in length, typically lasting 50 minutes, but some workshops are adaptable for longer block periods.
Standards-based, aligning with learning standards for science, communications, reading, social studies, and other subjects. All workshops support Next Generation Science Standards.
Engaging and relevant to students' everyday lives.
Interactive and discussion focused, with students either working in small groups as they rotate through stations or sharing ideas and questions as a class.
Critical-thinking-based, challenging students to make connections to real-world issues and think for themselves.
Tied to environmental justice concepts, encouraging students to connect environmental issues to people and communities locally and globally.
Action-oriented, asking students to consider how the topic relates to their lives and what steps they can take to make a difference for the environment. We explore personal actions around consumption and waste, as well as actions youth can take to influence systems and stay informed.
Workshops should be scheduled consecutively. The workshops are adapted for different grade levels.
Schedule a workshop
To schedule a workshop or for more information contact Triangle Associates at workshops@triangleassociates.com or call 206-583-0655 ext. 111.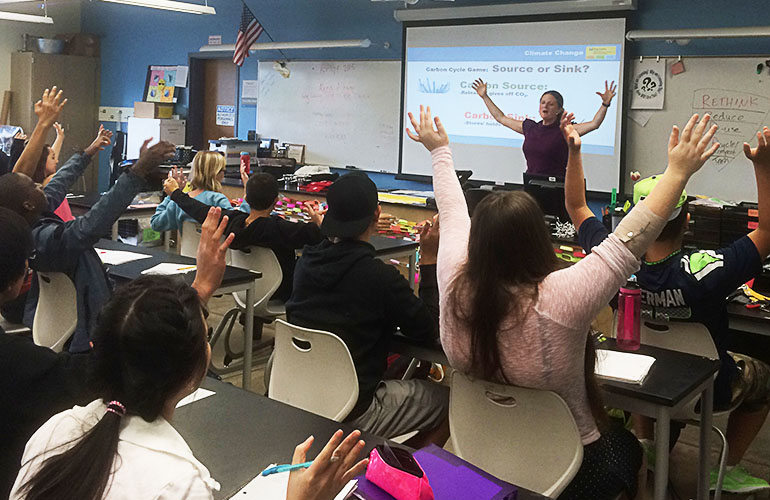 2023-2024 Workshops
These free workshops are available for the 2023-2024 school year.
Life science and ecosystems
Biodiversity – Grades 6-12
How might our use of natural resources and disposal of waste affect biodiversity? Students will explore the connections between consuming natural resources and generating waste and the impacts those systems have on habitats, ecosystems, and wildlife. Features lab stations and class discussions.
Biospheres – Grades 6-12
How does resource consumption in a closed aquatic ecosystem compare to human consumption of natural resources on Earth? Students will think critically about how our consumption of resources and generation of waste compares to what they observe in a natural system. Features small group work and class discussions.
Earth systems and human activity
Consumption Junction – Grades 6-9
How does recycling conserve natural resources and help to reduce human impacts on ecosystems? Students explore the product lifecycle of an aluminum can and think critically about how the consumption and waste of valuable resources impacts ecosystems and people. Features lab stations and class discussions.
Earth Impact: Overconsumption or Sustainability? – Grades 9-12
How and why do we choose what to buy, and what impacts do these choices have on our planet? Students will discuss the many factors that influence our choice of products and our consumption and the potential impacts of overconsumption. Features lab stations and class discussions.
Food for Thought – Grades 6-10
What are we really wasting when we waste food? Students will discuss the common causes of food waste and possible solutions to reduce food waste. Features small group work and class discussions.
Four Rs for Our Climate – Grades 6-10
How might our consumption of resources and waste disposal habits contribute to climate change? Students will discuss how overconsumption and waste relate to greenhouse gas emissions, global warming, and climate change. Features small group work and class discussions.
Plastic Pollution and Our Oceans – Grades 6-9
Where does plastic come from and what impact does it have on our planet? Students follow plastic through its product lifecycle and learn how plastics move through ecosystems and impact wildlife and people. Features lab stations and class discussions.
*New* Waste Systems and the Circular Economy - Grades 6-12
Why do we need different waste systems and what do they do? Students will learn the role of different waste disposal and material recovery systems, explore the role of a circular economy, and be introduced to many of the career connections related to keeping those systems operational. Features small group work and class discussions.
Environmental justice and action
Climate and Communities: Exploring Environmental Justice – Grades 9-12
What is environmental justice and how does it relate to climate change? Students will develop an understanding around how our consumption and waste impact communities locally and global through a lens of social and environmental justice. Features small group work and class discussions.
FAQs
While both versions of the workshop follow the same basic outline, high school students are presented with more challenging questions and are asked to reach a deeper level of critical thinking and problem solving. Student worksheets are also often differentiated. Workshop presenters are skilled at modifying the workshop based on the ability of the students and differing curriculum.
Yes, we can present to all class periods if each class is a minimum of 45 minutes. We can schedule additional days if needed, pending availability.
The program is designed to provide one workshop topic to all your classes in one day. If you would like to request an additional workshop topic on a separate day, please reach out to the scheduling team, for updated availability.
The workshop presenter will teach for the allotted time, but the teacher is expected to be in the classroom during that time. It's helpful for our presenters when teachers help supervise small group activities and intervene with any behavioral issues, as needed.
Yes, in fact, we encourage whole grade levels to participate in the program, particularly if there is school-wide focus on waste reduction and recycling or other environmental topics. If both of you have only one or two classes but during different periods, then we can often accommodate both of you on the same day. Otherwise, we will schedule you on two different days.
Each year, an independent professional evaluator reviews our educational programs based on teacher surveys. Teachers consistently say that the workshops are grade-level appropriate, interesting for students, and enhance student understanding of resource conservation. Early scheduling is recommended as the workshops are popular.