Brightwater Treatment System
Completed – Fall 2012
In response to increased growth in our region, King County has built a new $1.86 billion regional wastewater treatment system called Brightwater to serve the northern portion of the King County service area. Treatment plant operations began in September 2011. The conveyance system and outfall began full operations in fall 2012.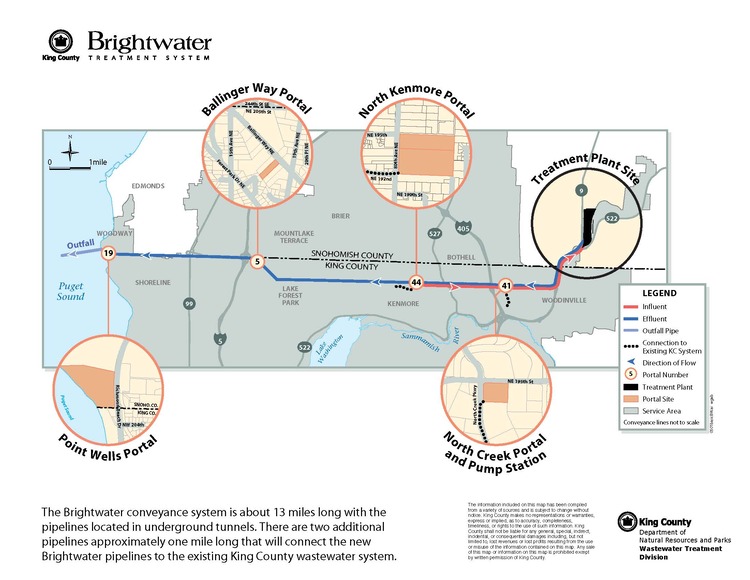 Brightwater treatment system. View more detailed 11x17 inches map.

The new facilities include:
The Brightwater Wastewater Treatment Plant is located in unincorporated Snohomish County, north of Woodinville. The plant is designed to have the capacity to treat an average of 36 million gallons of wastewater per day (mgd). By 2040, treatment capacity could be expanded to 54 million mgd.
The conveyance system is the tunnels, pipes, and other facilities that carry wastewater to and from the treatment plant. The Brightwater system includes 13 miles of pipeline built in underground tunnels, shallower connector pipes, and an influent pump station to send wastewater to the plant.
The marine outfall consists of twin, 5-foot-diameter pipes with a diffuser at the end where highly treated wastewater from the Brightwater Treatment Plant is discharged into Puget Sound. The mile-long, 600-foot-deep outfall extends off of Point Wells.


Project photos
Project videos