Sunset and Heathfield pump stations and force main upgrade
Substantial completion - April 2022
The Sunset and Heathfield pump stations and force main upgrade project reaches operational completion
We have reached operational completion on the Sunset and Heathfield Pump Station and Force Main Upgrade project! As King County operates this updated part of the system, we may still need to adjust the new equipment, but the bulk of the work is now complete and the areas we disturbed along the way have been restored.
The Sunset and Heathfield Pump Stations and related sewer pipes send sewage from Sammamish, Issaquah, and Bellevue to be cleaned at King County's treatment plant in Renton.

This project upgraded both pump stations, the connected force main pipe and the Eastgate Trunk structure near I-90. The Eastgate Trunk connects the force main pipe to a larger pipe, carrying flows to be treated at the South Treatment Plant in Renton. The improved system will help serve the growing population for many years.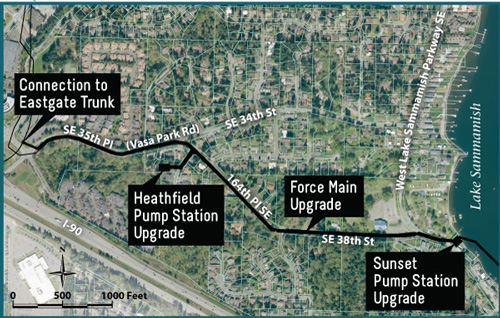 Sunset & Heathfield Pump Station upgrades
Both pump stations are now upgraded so they can help transport sewage from the area for years to come. Some upgrade highlights:

Four new pumps at each station increased the amount of wastewater the plants can process each day. capacity.
5,766 linear feet of new sewer pipe installed under 164th PIace SE and SE 35th PIace. The new 24 inch pipe replaced a 12 inch pipe, doubling the capacity.
Two new standby generators to allow the stations to continue operating during power outages and avoid a sewage overflow.
The stations both have new roofs, including a green roof at Sunset.
A novel oxygen injection odor and corrosion control system was installed at Heathfield Pump Station This new system will reduce pipe corrosion and extend the life of the carbon bed odor control units at the pump stations.
New energy-efficient lighting at both stations as well as a new fence at the Sunset Pump Station to enhance safety and security. Both the lighting and fence design were based on community preferences.
Environmental enhancements
The project prioritized sustainability, fish and wildlife habitat, and green stormwater infrastructure, including:
Installed a new green roof at Sunset Pump Station to reduce rainwater runoff and improve water quality.
Planted new trees throughout the project area, replacing trees removed by the project in wetland and stream buffers at a ratio of about 5:1.
Improved fish habitat by creating a low-flow channel in Vasa Creek and restoring the Lake Sammamish shoreline at the Sunset Pump Station with native plants and large woody material.
Enhanced the nearby environment and wetlands by removing invasive species and planting native vegetation, adding grading to reduce erosion, and installing animal habitat features like bat houses.