Brightwater trails 
The Brightwater Center and natural area features 3 miles of trails for you and your family to enjoy.
The Brightwater Center and natural area were created as a promise to our neighbors that Brightwater Treatment Plant would become a community amenity. Three miles of public trails connect Brightwater Center to the art, restored riparian habitat, and stormwater treatment landscapes.
Take a stroll on the walking trails that travel through native plant landscapes, restored wetlands, and mature forested areas, which are home to a variety of wildlife including amphibians, mammals, birds, and fish. There are overlooks and plenty of picnic spots to enjoy! The natural areas, trails, and parking lots are open each day from dawn until dusk.
Keep your dog on a leash in all areas of the trails, pick up your dog's waste, and dispose of it in a trash can. Help your dog be a good visitor and respect all users!
Two short hikes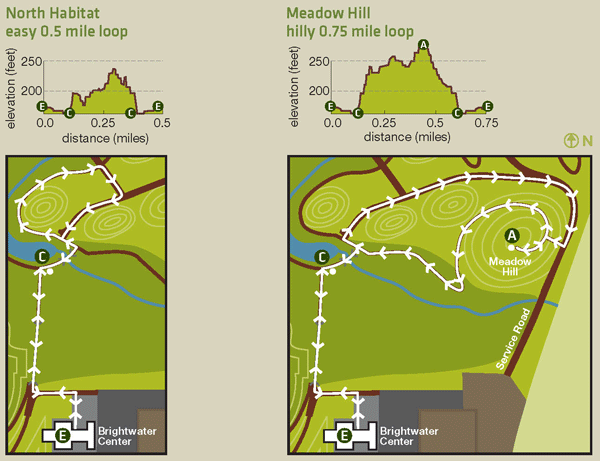 North Habitat: Flat 0.5-mile loop
Meadow Hill: Hilly 0.75-mile loop.
Download the trail map.
Enjoy a series of fun exploratory videos of the natural areas surrounding Brightwater Center. Print a field journal and come visit the trails, which are open to the public every day from dawn until dusk.