Utility services in unincorporated King County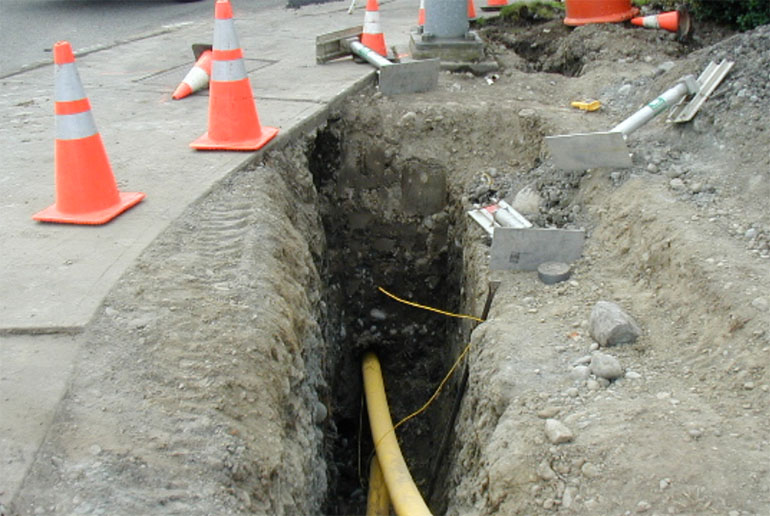 A trench in the right-of-way for underground utility lines and cables.
Utility right-of-way construction permits
Utility Right-of-Way Construction Permits are required for all utility construction, reconstruction, relocation or maintenance activities within the King County right-of-way or easement -- see King County Code Chapter 14.44. The right-of way is the designated area granted to the County through an easement or other instrument for the purposes of maintenance or expansion of existing transportation services within the right-of-way.
Common projects requiring a utility right-of-way construction permit include:
Construction, repair or replacement of mains, lines, poles or other utility appurtenances
Maintenance activities which affect traffic flow, the roadway surface, or right of way, by any utility
Test boring for utility purposes
Apply for a utility right-of-way construction permit
The Road Services Utility Inspection Unit reviews permit applications and inspects utility work performed in the right-of-way. The inspection process ensures that utilities are installed safely and efficiently and with minimal impact to the traveling public, the environment and the county road system. Inspection rates are set by King County Code. The current inspection rate is $176 per hour, charged in half-hour increments. Learn more about the Road Right-of-Way Permit Application procedure.
Notice to utilities about 2023-28 proposed culvert replacement projects
Why the culvert replacements occur
Each year Road Services identifies drainage structures throughout King County that are in need of repair or replacement. Due to current design standards or permit requirements, some of these structures may need to be replaced with much larger pipes or box culverts.
Proposed culvert replacement projects map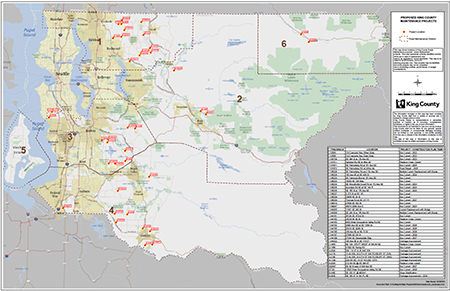 2023-28 proposed culvert replacement projects map (4MB PDF)
About the map
We are providing a map of the larger proposed drainage projects currently anticipated for construction to give advance notice to utility companies with facilities located within the road right-of-way. This will give utilities time to budget and prepare for any relocation required. Included with the map is a table identifying the approximate size of the replacement structure, the location, and the county tracking number. Since many of these projects are still in design phase, the actual size may vary from what is shown.
The map is not all-inclusive and provides a listing of only those projects currently planned for construction. Emergency projects may still occur without notice. New projects may be identified, and some projects may not be completed due to scheduling conflicts, budget considerations, or other issues.
If your agency has facilities in the right-of-way at any of these locations, you may be affected. If there is a utility conflict with a county road project, you will be required to relocate your facilities pursuant to your franchise or other agreement.