Sign up for Road Alerts in unincorporated King County
About King County Road Alerts
Road Alert is an email and text alert service for travelers on roads in unincorporated King County.
Subscribers get emails and text messages about unincorporated King County road construction projects, significant weather-related road closures and natural disasters. You can receive all alerts or just messages for roads in specific zones.
Road Alert subscription zones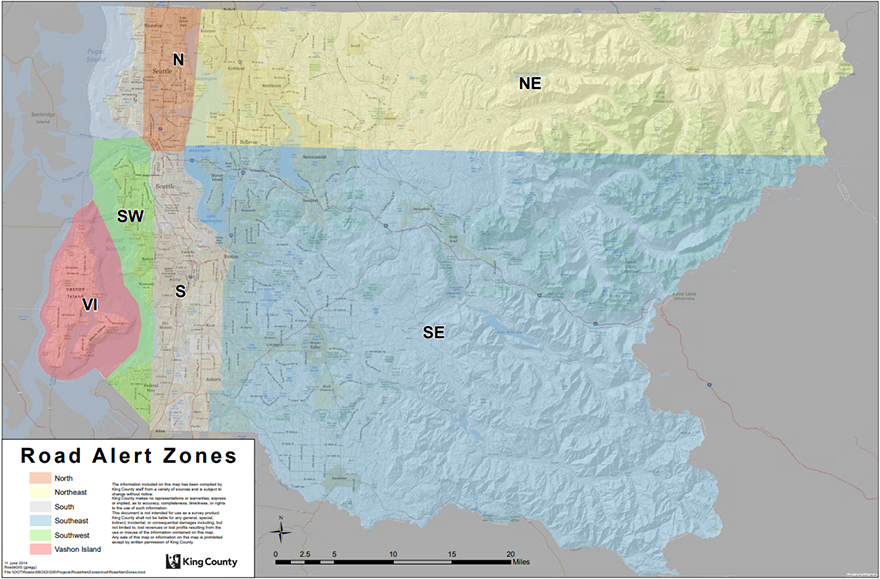 Map showing Road Alert subscription zones in unincorporated King County. See a larger view (PDF).
Frequently asked questions
King County Road Alert is a web-based email and text message subscription service designed to notify residents about upcoming unincorporated King County road construction projects and road closures or hazardous travel conditions in the unincorporated areas of the county.
The travel advisories provided by Road Alert are incorporated into the county's My Commute Map.
Visit GovDelivery, the county's email alert service provider, to create an account and update your subscription. If you're having trouble, please contact maint.roads@kingcounty.gov and be sure to include the name and e-mail address or phone number used with the subscription.
No. These messages are about planned closures and restrictions, and unplanned closures and restrictions due to weather, natural disasters and emergency repairs.
Disclaimer
King County Road Services Division provides Road Alerts as a service to the public. While we try to provide accurate and timely information, estimates of the nature and duration of closures are subject to variables such as weather and traffic conditions that are beyond the control of King County and, therefore, difficult to predict. People relying on this information should do so at their own risk. Neither King County nor its employees or agents shall be liable for the accuracy of this information or any actions taken as a result.