Becoming a Mobility Agency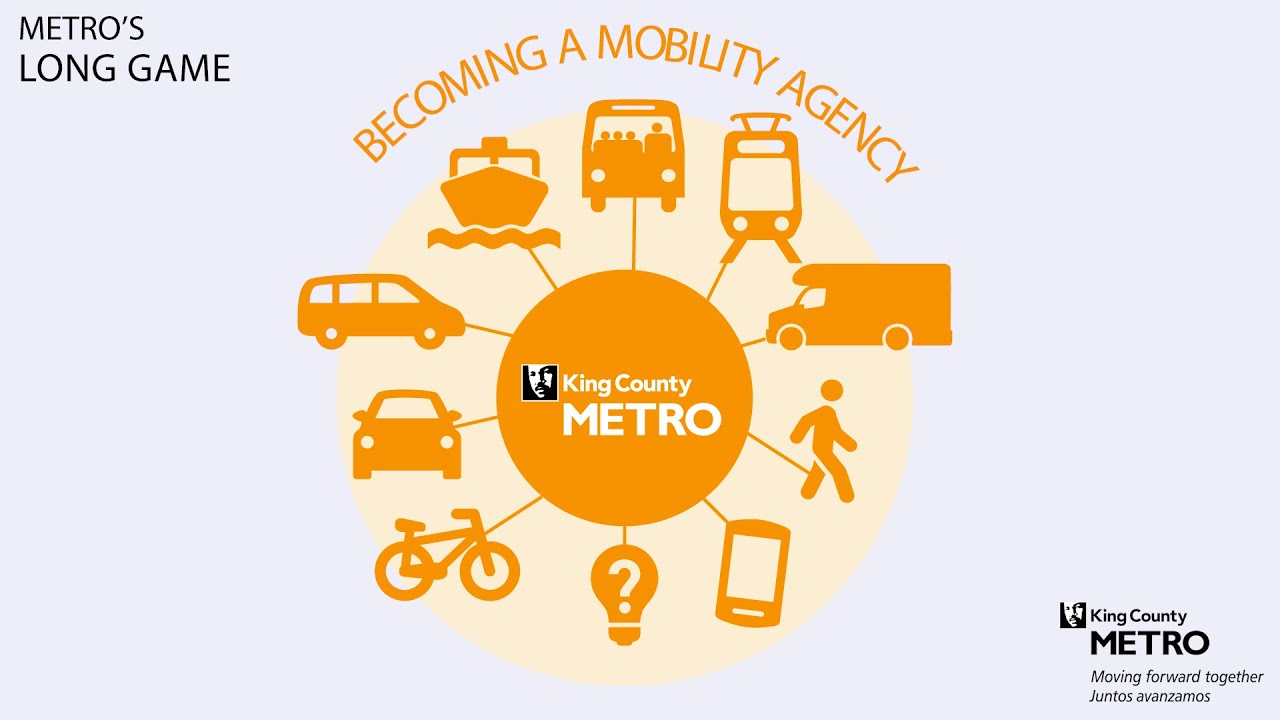 Our vision for the future—a region served by seamless, multi-modal transit—gives Metro an opportunity to expand our thinking about what mobility means. To Metro, Mobility means the ability to get where you need to go, when you need to go—efficiently, equitably, and sustainably.
Metro's mission remains the same: provide the best possible public transportation services and improve regional mobility and quality of life in King County.
Metro is focusing on four key strategies:
The long game
Where we are now: d2D
Currently, Metro provides over 430,000 rides every weekday—and annually logs 4 million service hours. In approximately 20 years, Metro is estimated to provide service to 1 million riders every weekday and log 6.5 million service hours a year as the population grows.
The accompanying graphic shows where we are now in the diagram of the four pillars—accessibility, build, partnerships and workforce—resting upon the foundation of our core principles of who we are as an agency—equity and social justice, safety and sustainability. This represents our internal d2D work and was recently recognized by the American Public Transportation Association (Metro was named the number one transit agency in North America) and our riders; Metro achieved record-high ridership at a time when nearly every major transit market declined.
Becoming a mobility agency
Metro is committed to provide transportation services that connect all people and all communities of King County, focus on the equitable distribution of our service and the equitable application of our work (inside and outside the agency), and combat climate change by doing our work in a sustainable manner.
The region is calling for us to provide more transportation services. To achieve this, we must become more than a direct service provider, but also a convener/facilitator of services to help improve mobility in our region. We will ensure our fixed route system is enhanced by dependable, easy to use options that safely connect people with where they need to go and improve the local community, economy and environment.
The virtuous cycle
We are optimistic about the future, but we can't control the future. We can, however, control the value of our service and influence the region's willingness to continue funding transit. This is what we are calling the virtuous cycle.
Here is how it works. We do good work and demonstrate Metro's value, which creates a sense of confidence in the region about our ability. When that sense of confidence is manifest in good service, then their (riders, voters, King County Council, key stakeholders, the public) willingness to continue to invest in us is stronger. When we have more resource (whether that's human resource, capital resource, funding resource), we can grow capacity and provide more service. And when we do that and measure progress by our accomplishments and efforts (costs, safety, equity and quality of service), we demonstrate our value, and then there is a likelihood we get more resource, and with more resource we provide more service…and that's the upward virtuous cycle.
Building healthy communities, thriving economy and sustainable environment
We believe that core infrastructure connects communities. It makes them stronger, healthier and advances meaningful issues of equity by serving underserved communities, providing new economic opportunities in those communities and combating climate change. When we do that, we are not just a transit agency and not just a mobility agency—but a great demonstration of what true public service is.
---
See also:
Metro Department Guide
---
Structure of the Metro Department
General Manager 's Office
---
Management Structure