Kokanee salmon identification
Kokanee salmon
Oncorhynchus nerka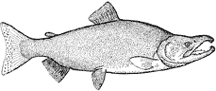 Photos from Inland Fishes of Washington by Whitney and Wydoski, © 1979 University of Washington Press. Reprinted by permission of the University of Washington Press.


Identification characteristics:
In males, back and sides are bright red to dirty red-gray, head is bright to olive green, tail is green to black
In females, colors not as bright, but red above lateral line
Possible spots on back or tail fin
Males have a large dorsal hump
Range in length from 10-18 inches
Spawn timing:
November through February, peaking in mid-December
Now that you know all about identifying salmon in streams, test yourself! Click on the mystery fish page to find out more!