The Salmon Watcher Program was a multi-jurisdictional effort that involved volunteers watching streams for spawning salmon in King and Snohomish Counties. This effort mainly focused on waters within the Lake Washington Watershed. After 20 incredible years of volunteer service and fish data collection, the program ended after the 2015 spawning season. Some of the program's long-time partners, such as the Bellevue Stream Team, continue to hold Salmon Watcher trainings and collect data each fall. This website will continue to provide information for how you can help salmon as well as how you can get involved in on-going volunteer efforts in the region.
Other local programs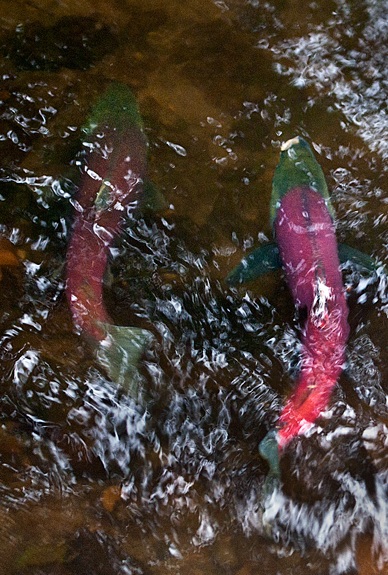 Where to see fish...
If it is salmon spawning season (September through December) and you'd like to get out and see fish, here are some ideas and opportunities:
Salmon SEEson -- good places to see salmon spawning in the Lake Washington Watershed
Check our Streams page to see what fish you might expect to show up in your stream in the fall.
What can you do to help salmon?
What if you see poaching or code violations?
In King County, report code violation for clearing or grading too close to the stream. These King County pages have information on what is a violation and how to report them.
See someone fishing for salmon in a creek during the fall spawning season? This page from Washington Dept. of Fish and Wildlife has information on who to contact. In short, if you are seeing it happen, call 911. If it already happened, go to their web site to find out about how to report it.
Want to learn more?
Learn more about the ecological impacts of stormwater runoff, including coho pre-spawning mortalities including a video (external link).
Learn to identify the salmon species found in our local streams.
Learn more about salmon and other animals in the water
Related information
Related agencies