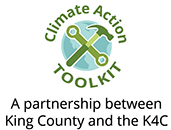 The Climate Action Toolkit, developed in partnership with the King County Cities Climate Collaboration (K4C), advances King County's leadership in equitable climate solutions, charting policies and investments that cities can take to reduce greenhouse gas emissions, spur the growth of a clean energy economy, and protect the natural environment.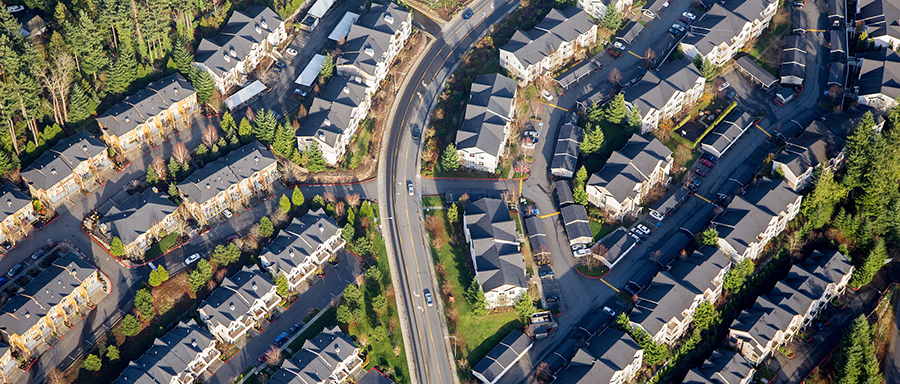 The Toolkit reflects the shared Joint Commitments of the K4C and the countywide carbon emission goals of 50 percent reduction by 2030 and 80 percent reduction by 2050 against a 2007 baseline adopted in 2014 by all 39 cities in King County through the Growth Management Planning Council. The Toolkit will:
Identify resources for cities to conduct emissions inventories.
Provide strategies for different sectors, including transportation and land use, and buildings, that can be adapted to each cities' unique characteristics.
Provide clear directions and a range of actions and policies that can be used by any city, even those that have limited financial or staff capacity to develop and implement plans.
Download here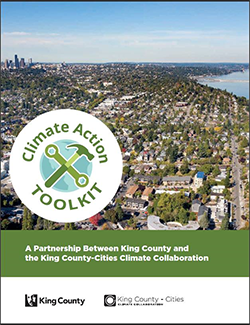 Download the Return on Climate Tool
The Climate Action Toolkit will help mobilize cities throughout King County, uniting our efforts to rapidly cut greenhouse gas emissions and prepare our region for climate impacts. We designed the toolkit to meet the specific needs of all local cities – urban, suburban, and rural – to help them develop customized climate solutions to produce results at a region-wide scale.
—Dow Constantine, King County Executive
News & updates