From more intense wildfires and harmful smoke to increased drought and less snowpack in our mountains, we are already experiencing climate change in King County. We have an urgent need to act boldly as a collective to create a healthier, more just, and resilient region. That's why the King County-Cities Climate Collaboration, or the K4C, exists. We're a partnership of local governments of all sizes working together to accelerate climate action. We combine our knowledge, resources, and advocacy power to shape policy and programs that cut harmful greenhouse gas emissions to our region can thrive in a changing climate.

The K4C is a partnership of local governments of all sizes. We combine our knowledge, resources, and advocacy power to accelerate collective climate action in King County and across the state.
Since it began in 2012, the K4C has grown to 22 partners – King County, Bellevue, Bothell, Burien, Duvall, Issaquah, Kenmore, Kent, Kirkland, Lake Forest Park, Maple Valley, Mercer Island, Normandy Park, North Bend, Redmond, Renton, Sammamish, Seattle, Shoreline, Snoqualmie, Tukwila and the Port of Seattle – who together represent more than 85% of the King County population.
K4C partners work together to reduce harmful greenhouse gas emissions by sustainably increasing mobility, investing in renewable energy, promoting clean energy use in buildings and vehicles, and expanding farm and forest protection.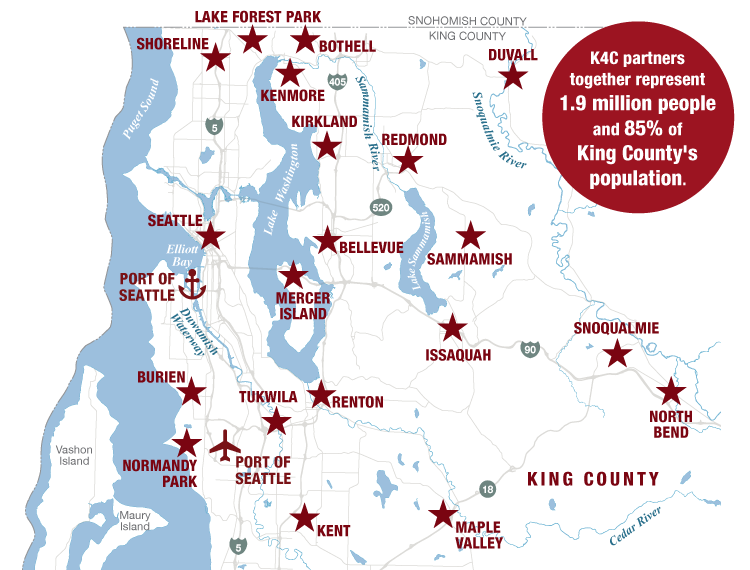 How to join
All cities in King County are welcome to join the K4C. Membership requires signing an Interlocal Agreement, modest annual dues based on the member's population size that are invested in projects, and a commitment to provide staff resources for regular meetings. Members are encouraged to sign the Joint Climate Action Commitments that outline actions and policies to meet our ambitious regional climate targets.
Contact K4C co-chairs:
Matt Kuharic, Senior Climate Change Specialist
King County Department of Natural Resources and Parks Director's Office
206-477-4554
David Barnes, Senior Planner
City of Kirkland
425-587-3250
For more information about the K4C:
Read recent news and sign up for email updates on King County and K4C climate work from our news and announcements page.
K4C events
May 10, 2022 Town Hall Recording
King County Executive Dow Constantine, Bellevue Council Member Janice Zahn, and Maple Valley Council Member Victoria Schroff hosted a virtual Town Hall to discuss key themes from the recent K4C Elected Official Work Session. Topics of discussion included:
State and federal funding opportunities for advancing regional climate priorities
Mobility safety as a climate and public health policy
Opportunities to reduce regional greenhouse gas emissions with increased urgency
Communicating the climate crisis with residents
March 30 K4C 101 webinar
K4C staff hosted a "K4C 101" webinar, which was open to all members of the public on March 30, 2022. Presentation highlights include:
A brief history of the K4C
Information on what the K4C has been up to, and how our members work together
Information on how new cities can join the K4C, and the benefits of membership
October 19, 2021 Town Hall recording
King County Executive Dow Constantine, Redmond Mayor Angela Birney, Issaquah Mayor Mary Lou Pauly, and Burien Councilmember Nancy Tosta hosted a virtual Town Hall for King County residents. King County staff recapped discussions from the October 14th Elected Official Work Session and facilitated a series of panel discussions with elected officials. Constituents asked questions throughout, and key themes of interest/questions included:
Funding retrofits for existing buildings (both commercial and residential) to remove natural gas, become more efficient, and add cooling
Plans cities have to adopt more stringent building codes and how to bolster these efforts
How to encourage more cities to join the K4C
July 1, 2021 Town Hall recording
On July 1st, Executive Constantine hosted a virtual Climate Town Hall with several other King County elected officials to discuss recent K4C work and address constituent questions on the climate crisis. YouTube version .
Special thanks to Lynda Lyshall. Her graduate research at Antioch University helped lead to the formation of the K4C.