Traditional infrastructure investments to Protect Our Waters
Storage tanks, pipes, and wet weather treatment stations
King County uses different tools to keep more sewage and stormwater out of the environment. Not every tool is right for every situation. Before King County builds a facility, a project team thinks about which tools will work best. To find the right way to serve an area, King County has to answer these questions:
What tools will be the most reliable?
How can the County's existing pipes and pumps help solve the problem?
Can natural drainage solutions like rain gardens or cisterns help?
What will keep the facility size small?
If there is a need to buy property, is property already available?
How can costs be kept low?
How will the facility fit in with the neighborhood?
There are three major ways to prevent untreated sewage and stormwater from overflowing from combined sewer overflows (CSOs) during heavy storms:
Hold more water until after a storm
Clean the water before releasing it to a water body.
Storage: Hold more polluted water to avoid overflows
Protecting Our Waters uses underground storage tanks and tunnels to store water during storms. When heavy rains fill the sewer pipes, regulator stations send the water into storage until the storm is over.
When there is room in the pipes, the water travels to a regional treatment plant. Operators can also sometimes make adjustments during storms and use existing pipes to hold more water. This is called "system optimization." King County has recently built CSO storage projects in North Beach, Magnolia, West Seattle, and the Rainier Valley.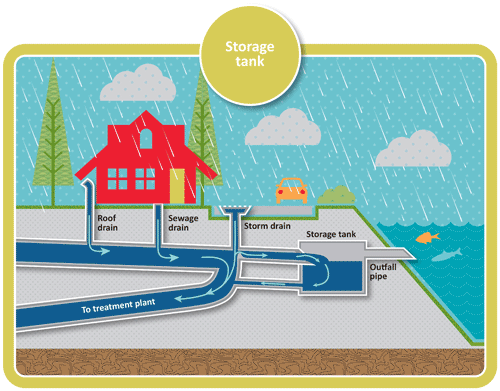 Treatment: Clean & disinfect polluted water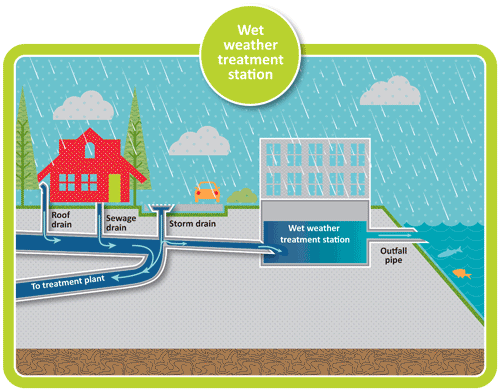 Janice Johnson
CSO Control Program